Frontpage Popular News
Guilty! Disgraced Actor Bill Cosby Found Guilty on All Charges
"America's Dad" can serve up to 30 years in jail.

A verdict was reached today in the long-running Bill Cosby sexual assault scandal.
---
The jury slammed the longtime actor/comedian with their decision… guilty on three counts of aggravated indecent assault.
After 14 grueling hours of deliberation, the 5-female, 7-male jury found Cosby in the wrong, handing him a fate that could result in up to 10 years behind bars per each count. For an 80-year-old, this is more like a life sentence.
The three counts are penetration with lack of consent, penetration while unconscious, and penetration after administering an intoxicant.

The trial covered an incident that occurred in January 2004 when Cosby was accused of slipping drugs to Andrea Constand and sexually violating her without her consent in his Elkins Park, PA home. At the time, she was a Temple University employee. Constand, as well as the 60+ other women who have accused Cosby of similar inappropriate conduct must finally be able to breathe a sigh of relief as they saw justice served. For many, this ordeal was decades long.

Six accusers were in court during this retrial (the first ended in a deadlock), and Constand's testimony was reportedly more graphic as she laid out the sordid details of the crime.

As the verdict was handed down, The New York Times reports, "Mr. Cosby sat back in his chair and quietly stared down. Several women who have accused Mr. Cosby of abusing them briefly cheered, then fell silent."
Cosby's wife and family have stood by him during the years of allegations, as have many fans and friends. Now that the jury has done their job, will they still be on the side of "America's Dad?"
Looks like Kanye didn't hit the mark with this 2016 tweet...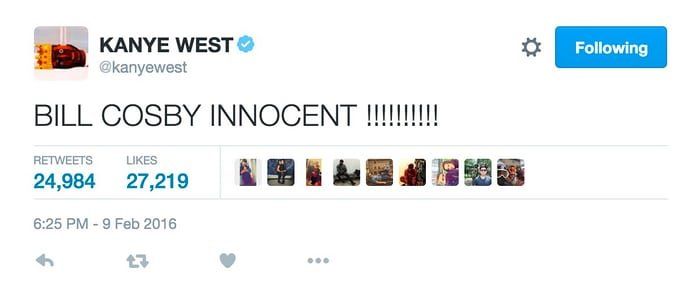 i.guim.co.uk
Whether Cosby serves time in the slammer or the judge hands him another punishment is yet to be reported. Follow Popdust for updates on Cosby's fall from grace and how his accusers move on now that they've had their collective day in court.
WATCH THE LIVE VIDEO WE BROADCAST ON FACEBOOK JUST NOW:
---
Melissa A. Kay is a New York-based writer, editor, and content strategist. Follow her work on PopDust as well as sites including TopDust, Chase Bank, P&G, Understood.org, The Richest, GearBrain, The Journiest, Bella, TrueSelf, AMC Daycare, and more.
---
POP⚡DUST | Read More Trending Stories
John Cena and Nikki Bella Split