CULTURE
Why Are Black TikTok Creators on Strike?
Wondering why there hasn't been a viral dance to Meg Thee Stallion's new hit "Thot Shit?" Because Black TikTokers haven't made one.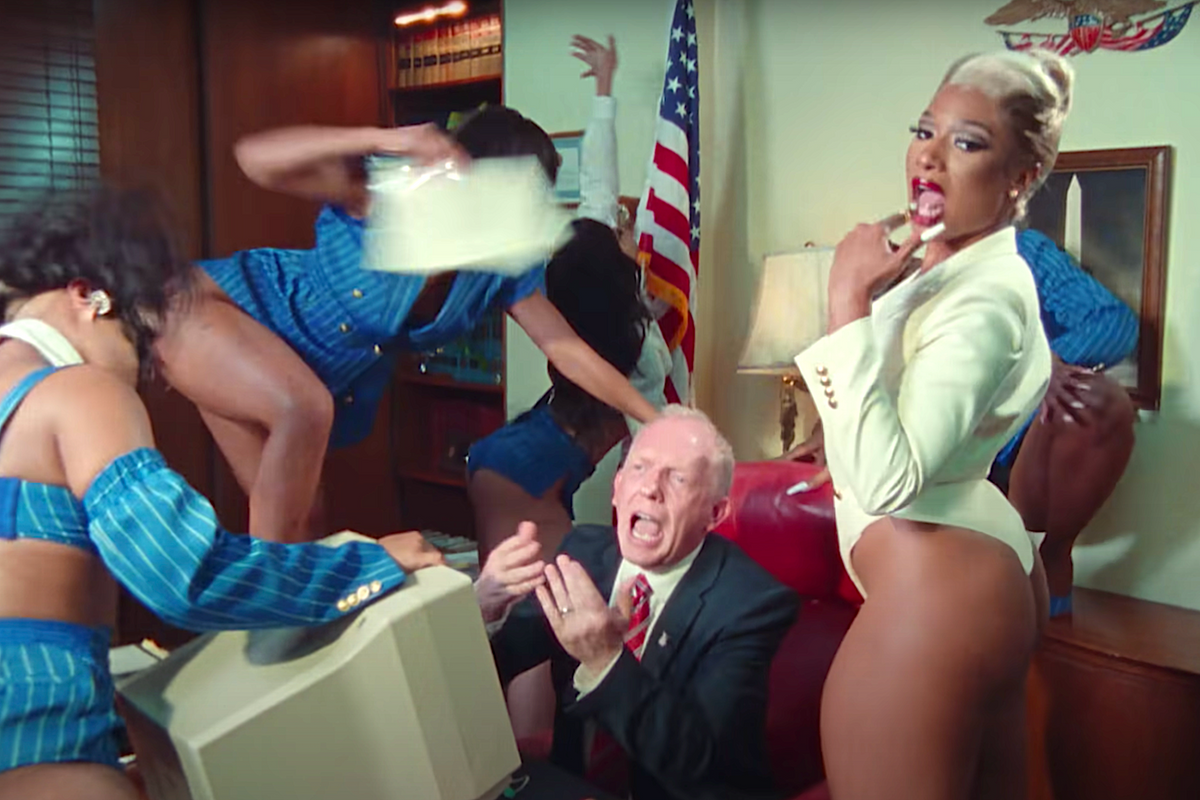 Oh TikTok, the latest evil in the cesspool of social media. The app went from a burgeoning community of adolescents to a global sensation.

As the app reached mainstream audiences, many of its biggest creators skyrocketed to fame. Most of the highest earners on the app are famous for dancing along to viral dances — often at the expense of the people who created the dance challenges themselves.
---
Predictably, the newly minted millionaire "creators" who go viral doing the challenges are often white, while the actual choreographers are usually Black. Who is surprised?

Large scale controversies have erupted over this disparity. Charli D'Amelio, the highest earning TikTok star who has now reaped the benefits of brand deals and an upcoming TV show, was credited for popularizing one of the most famous TikTok dances, the "renegade," until a New York Times article credited the actual author. Similarly, Addison Rae was invited onto The Tonight Show Starring Jimmy Fallon to demonstrate TikTok dances … most of which were created by Black users.
Addison Rae Teaches Jimmy Eight TikTok Dances | The Tonight Show Starring Jimmy Fallonwww.youtube.com
After their respective call-outs, Charli D'Amelio posted a collaboration video with Jalaiah Harmon, the creator of the "renegade" dance, and Fallon invited the creators of the challenges onto his show, but it all felt a little too late.

Why do Black creators have to fight so hard to get recognized? And why, after all this, are white creators still paid disproportionately more?
Sure, some blame is on the TikTok algorithm, which has come under fire for privileging certain types of content aesthetics (think: rich, white, conventionally attractive people — heterosexual doesn't hurt, either), but it's more than that.
Black creators have historically been exploited for their creativity and not fairly compensated, constantly having to fight harder for recognition and barely ever reaping the rewards.
Tired of being looked over, taken for granted, and not getting credit for their impact on mainstream popular culture, Black TikTok creators decided to strike.
In a move that would bring a tear to Karl Marx's eye, Black TikTok creators decided to strike.
When the new Meg Thee Stallion song "Thot Shit" dropped on June 11, Black creators banded together in solidarity, proclaiming that they would not make any dance challenges or routines for the song.
What's the Impact?
While the app has expanded to more and more types of content as it has grown into the mainstream, the dance challenges are still its bedrock.
Many artists have been propelled to fame or new relevance based on viral TikTok songs, and the combination of a catchy song and a fun dance challenge has become the secret sauce for getting streams as an artist — see: Justin Bieber's desperate attempt to make his 2020 single "Yummy" the next TikTok craze. Obviously, this did not work out well for JB.
Stars who have been successful on the app, however, include Houston rapper Meg Thee Stallion — AKA the progenitor of "Hot Girl Summer" … Meg, thank you for your service.
Her 2020 single "Savage" became so successful partly because of its viral TikTok success, which came with its own dance challenge that had seemingly everyone making an attempt.
The song eventually won a Grammy for its remix with the one and only Beyoncé Knowles-Carter, and it wouldn't be exaggerating to attribute a portion of that success to TikTok.
Then, Meg's single "WAP" with Cardi B received the same royal TikTok treatment, so it seemed natural that her new single would too.The song is perfect fodder for TikTok, with its rhythmic cadence and lyrics which literally seem to direct potential dance moves.
However, since Black creators encouraged others on the platform not to choreograph anything, no dance to the song has gained traction.
The way nobody knows what to do…. because we won't make dances LMFOAJFKFOFKFJFOFK

— Challan (@Challan) 1624172835.0
Instead, what has emerged are video reactions to flailing attempts to respond to the instructional lyrics and make the most out of a song which might as well have been built for TikTok. Black creators laugh and cringe at awkward interpretations of the song, and some videos pivot to pointing out the unfair pay gap.

Though Black creators have been advocating for themselves for years, this display is undeniable and has had the exact intended effect.
The microcosm of TikTok has made clear the impact of Black artists on popular culture, which permeates all through the media, entertainment, and arts industries.
So much of TikTok and internet culture is mimicry of Blackness that some aspects of Black culture are now attributed to Gen Z culture — case in point: SNL's Gen Z Hospital sketch which was just a cringey misappropriation of AAVE.
With the receipts now visible on TikTok, the hypothesis has been proven: The app is nothing without Black creators, and pop culture is driven by Black creativity.
The app, and industry at large, are now faced with the obligation to acknowledge the root of the trends they monetize and need to respond by turning to Black creators first.
TikTok: Open your purse! The bills are well past due.