CULTURE
Before Its Time: "Bring It On" and the Black TikTok Strike
If you've watched "Bring It On," the ongoing TikTok drama should feel familiar.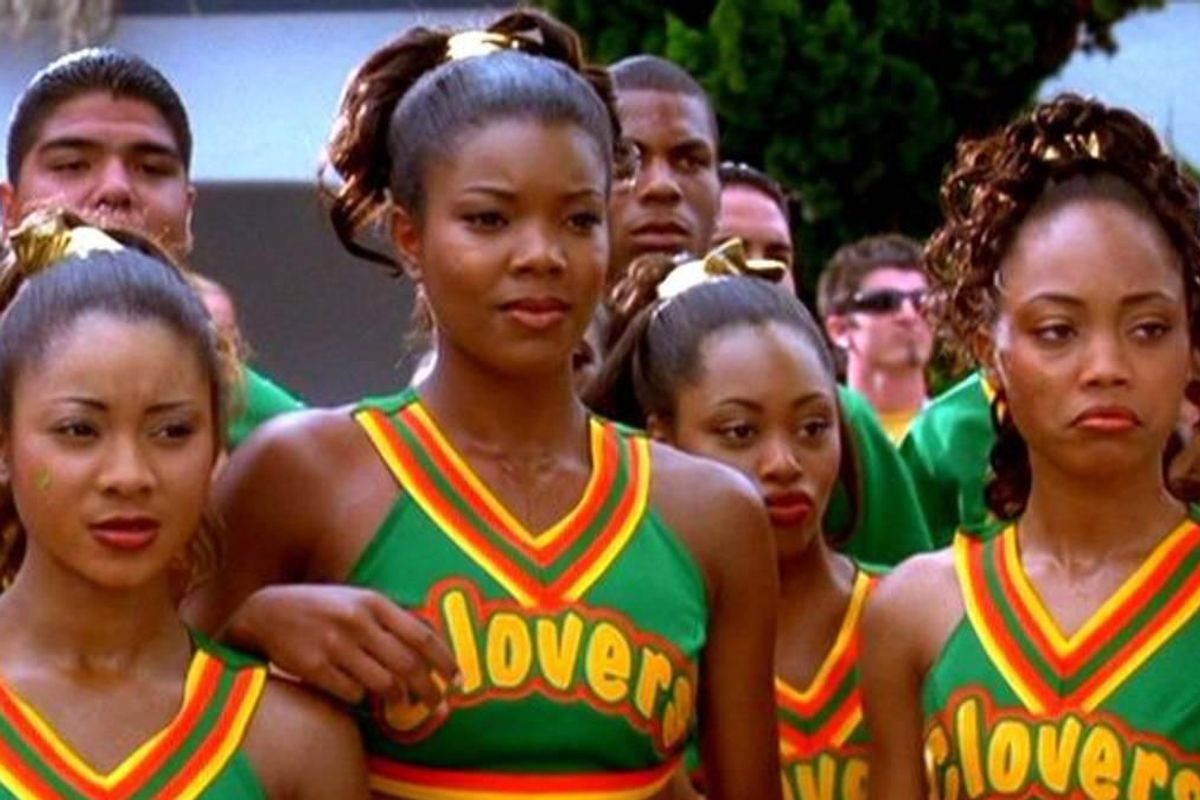 The late-90s to early 2000s was the heyday of cult-classic, kitschy high school dramas.

---
The '80s had the existentialism of John Hughes and dark irony of films like Heathers, but the era of films like 10 Things I Hate About You, She's All That, and Legally Blonde all occupy a specific space in the collective consciousness. Call them a mausoleum of the pre-digital age or the peak, perfect renderings of high school that could only exist in the chaos that anticipated Y2K and preceded 9/11.
Either way, those films will have a hold on us forever — and one of the most iconic among them is the Bring It On. The marker of its success? Not one, not two, but five spin off sequels, which somehow persisted despite none of them doing particularly well or holding a candle to the original.
Over the years, the first in the Bring It On series has proven its longevity. Why wouldn't it? It has everything: the magnetism of a good high school drama, the tension of a gripping sports film, and an incredible cast including Gabrielle Union and Kirsten Dunst (meanwhile, the only redeeming factor of the sequel, Bring It On: All or Nothing, is that it has a cameo from literally Rihanna).
But it's not just another throwaway film to come back to every few years when you're mindlessly scrolling through channels. More recently, it has become a cultural staple beyond the realm of film and pop culture, also reaching the conversation about cultural appropriation.
While cultural appropriation has existed in media and entertainment for decades, it finally started making its way into the mainstream lexicon in the mid 2010s, as hip-hop culture and other elements of Black culture started to become more popular.
From Miley Cyrus's twerking phase to the entire Kardashian-Jenner empire, as culture vultures began to profit more and more from cultural appropriation, Bring It On entered the chat. Social media memes circulated as a way to explain what the issue was with cultural appropriation.
Now, it's back on the brain as people respond Black TikTok creators going on strike. Don't understand why? Rewatch Bring It On.
@rubasworld

The best way to explain why black TIKTOK is in strike.
In the seminal 2000 film, Dunst plays a cheerleader who is surprised to find that the dances she learned from her former captain were not the originals she thought and had been directly stolen from Union's Black cheer squad in Crenshaw.

The movie is a perfect allegory for what's going on with TikTok — dancing and all.
When the new Meg Thee Stallion song — which was primed and ready for a TikTok dance — was released, Black TikTok creators refused to choreograph dances to the song. Instead, they have been sitting back, watching all attempts at virality to the tune of "Thot Shit" fail.
While some critics of the Black TikTok strike say that most white dancers don't purposely steal from Black creators, Bring It On illustrates the difference between intent and impact.
Though Dunst's character inherits the stolen dances without knowledge of their origin, once she finds out, it's up to her to right the wrong and, beyond just apologizing, go out of her way to make it right with Union's team and never repeat the mistake again.
The film also shows the effect of demonstration and collective action. In order to get recognition for their cheers, the Black cheer squad, the Crenshaw Clovers, could not just say the cheers were their own — they had no clout or power, despite having all the creativity. Instead, they showed up and demonstrated knowing the dances as Dunst and her team performed them.
What the TikTok creators are doing is similar. After so long trying to advocate for themselves with only paltry offerings from giant media companies to show for it — while their pretty, straight, white counterparts cash in giant paychecks — Black TikTok creators took a stand and demonstrated what happened without them: nothing.
The TikTok strike truly is amazing b/c it shows not only how US pop culture is built on stealing from Black people,… https://t.co/E89CURflhZ

— DEFUND & ABOLISH POLICE, REFUND OUR COMMUNITIES (@DEFUND & ABOLISH POLICE, REFUND OUR COMMUNITIES) 1624578420.0
Part of why Bring It On is such a feel good movie is that the underdogs win. Despite not being the center of the film, Union and the Crenshaw Clovers win the nationals tournament that they could never afford to go to in years prior — with the dances that the Toros had tried to steal.

As TikTok as a platform and the entertainment industry in general watches the strike unfold, we can only hope for an ending to all this as happy and resolute as the one in Bring It On.If this were a movie, the lessons would be learned, Black creators would get the recognition and partnerships they deserved, and TikTok would be less of a cesspool of cultural appropriation and misattribution.
However, history shows us that, most likely, placating gestures will be offered to Black creators, but the pattern will continue. And in a few years, when some other hell-platform emerges and some other element of Black culture is being diluted by the mainstream, we'll dredge up Bring It On references and hope this time something finally sticks.