MUSIC
"There is nothing that the public could present to us that would scare us."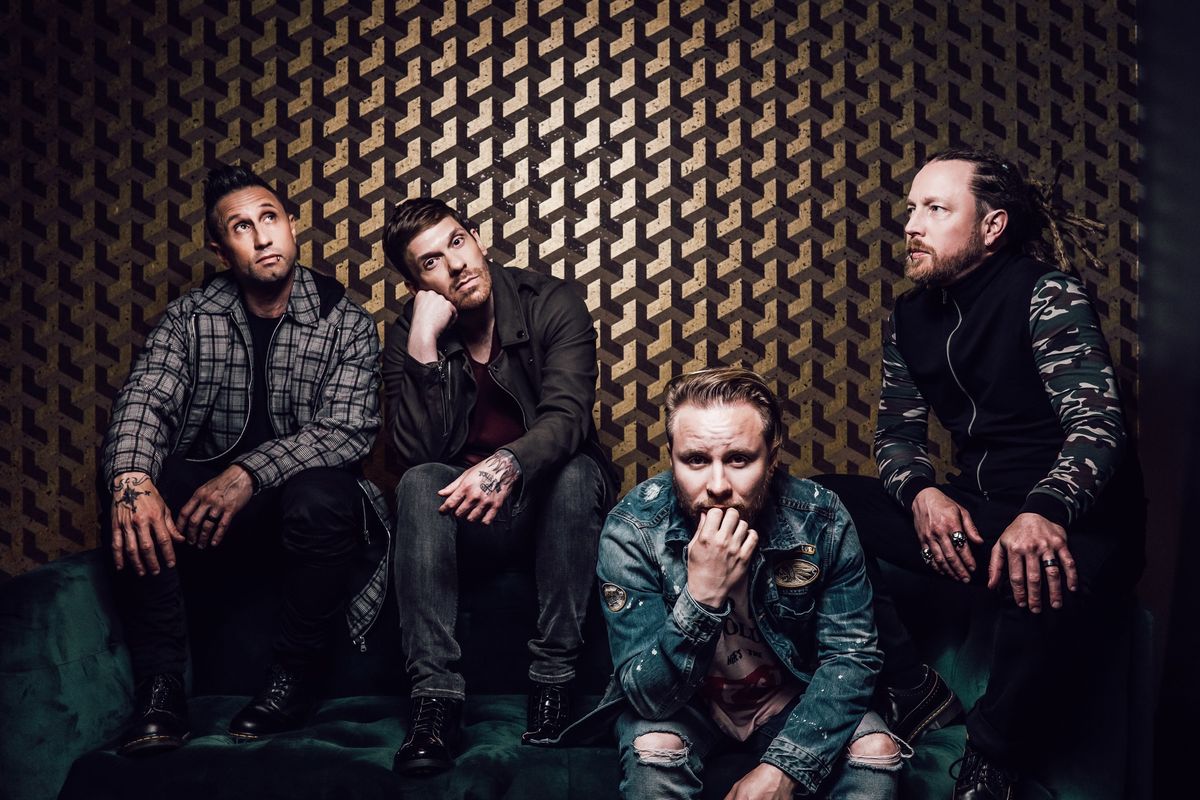 Sanjay Parikh
After two decades and six critically acclaimed albums, alt-rock quartet Shinedown is seemingly the last remaining success story of the early-2000's post-grunge movement.
Their tracks were inescapable on the radio in that era, playing alongside tracks from Paramore, Staind, Hoobastank and Puddle Of Mudd. All of these bands would go on to either drastically shift their sound or disband completely. But Shinedown, through their unique amalgamation of pop and hard rock, has maintained popularity and relevance.
The band's latest single, "GET UP," off of their sixth studio album, Attention Attention!, has amassed over 36 million streams and was the band's 13th #1 single on Billboard's Mainstream Rock Songs Chart, tying with Van Halen for the most #1's in history. Even with this impressive legacy, the 41-year-old frontman, Brent Smith, still spoke of the band's career with youthful exuberance. "There is nothing that the public could present to us that would scare us, because we don't look at music like that," he said. "After Sound of Madness, a lot of people told us that [it was over], and people wanted to know how we were going to ever 'beat' that album. And it's like, we're not going to beat Sound of Madness. We're not gonna try and make a carbon copy of that album. You have to be aware of what you are trying to say, because the audience isn't stupid." Brent spoke with me more about their new single, caring for his bandmates, and the importance of physical fitness.
How's the tour going, man?
We just started our new tour about three days ago, and we've just hit the ground running. We're headlining about nine different festivals this month, and we got some residency shows in Florida and Atlanta, so it's kinda a unique month of touring.
After all this time, does touring that extensively ever exhaust you guys?
Absolutely still energized by it. We've been professionally touring for two decades, and you're either built for it or you're not. This is what we do, and we've always had the same outlook on things in regards to being performers. For me, personally, I'm on the road 280 days out of the year, so it's kinda in our DNA.
You also just put out a piano version of your single "GET UP"?
The song itself was very instrumental for Attention Attention!, and we just celebrated the album's first birthday, actually, on May 4th—and anytime you can share a day with Star Wars, it's a good day. So we thought we'd just put out a little something. We're in good company—is the way I look at it.
So as a whole, though, how did the song come about?
So our bass player, Eric Bass, who is way more than just a bass player, actually produced Attention Attention!, and it was the first album we did in-house as a band. When you tell a record label you're going to do everything yourselves, they think you're gonna build a spaceship.
So "GET UP" was part of that in-house process?
Well, Eric had the piano part for a while, and I'm normally quick with lyrics, but I said I'm gonna take it back to the hotel, sit with it, and come back tomorrow. I didn't come back for about 11 days.
What was so challenging about the lyrics?
Well, the thing is, I knew what the song was gonna be about, and it was gonna be about Eric. So on the 11th day, he calls me and says maybe we should just move on. I kinda [hesitated], and I was like, "No, no I've got it." So I went in and [recorded the track.]
Did Eric figure out it was about him?
We listened to it [twice] the next day, and I remember looking at him going, "So, what do you think?" and Eric tells me he loves it. And I go, "You know what it's about, right?" and he already knew it was about him.
Did you feel weird about it?
Honestly, my heart kinda fell to the floor, 'cause I thought I had overstepped the line in regards to our friendships. So I just started rambling and apologizing, and he puts his hands on my shoulders and goes, "Dude, it's exactly what it needs to be."
That sounds like the best reaction he could have had.

Well, Eric deals with clinical depression, and it's something that he deals with on a daily basis. He has to respect his mind, and some days are awesome, then some days are really rough, and the reality is that the song was the platform for every other song on Attention Attention!. Eric said if we're gonna talk about this, we can't hold anything back. The whole [message] of the album is that people don't need to feel embarrassed or ashamed if they need to talk to someone. The song is about not being afraid of your failures. You're not gonna be defined by your failures, but by the fact that you refused to give up. The song is comforting to our fans.
Well, you guys are clearly good at embodying that mindset. All of your albums have been well-received by both fans and critics, and you guys have continued to somehow evolve your sound without going in a more pop direction, like the other bands you came up in the industry with.
That's very valid, and the truth is when you separate genres apart from each other, people try to put you in a box and say, "Well, what are you?"—and frankly, we're just Shinedown. We're looking at every single lane, and what we present holds merit and there is a reason behind it. When NWA was inducted into the hall of fame, they said that "rock and roll was a spirit," and they're right. Each of our albums is so different because they're just snapshots of our life.
After the success of Sound Of Madness, was there pressure to put you guys into some sort of box?
There was a lot of turbulence in the band when that album came out. I had to let two members go, 'cause the band just wouldn't have furthered. We have good relationships with them still, but the band needed to go in a different direction. I remember the media at the time was saying that we were done because of that, but when Barry and I met Zach and Eric, our whole lives changed. In terms of pressure, we just naturally put that on ourselves. We played over 400 shows during that album cycle!
You guys tour so extensively and have all kinda dealt with your own trials and tribulations, and I'm curious how, after all these years, you guys can maintain the same lifestyle but still find a way to keep yourselves healthy.
Fitness. During The Sound of Madness era, I was in really bad shape. I weighed about 222 pounds, and a life-changing moment for me was when we played "Second Chance" on the Today Show, and the first thing that came out of Kathy Lee's mouth was "at first I thought you were Meat Loaf."
Wow. That's hard to hear.

I know. Let me be clear: Meat Loaf is badass. No disrespect to him at all—he's a legend. But it definitely triggered something in me. So when we finished touring in 2010, I moved to Los Angeles and met a trainer and lost 70 pounds before our third album came out. So I brought some workout tapes and stuff on the road, and slowly everyone started to join in, and now we work out as a band.
Anything else you want fans to know?
We want people to know it's okay to talk to someone and be receptive. We need to be empathetic and ask people how they're doing!
Shinedown is on tour now. Get tickets here.
---
Mackenzie Cummings-Grady is a creative writer who resides in the Brooklyn area. Mackenzie's work has previously appeared in The Boston Globe, Billboard, and Metropolis Magazine. Follow him on Twitter @mjcummingsgrady.

---
POP⚡DUST | Read More...
The Lo-Fi Revolution: How Minimalism Is Changing Music
Alesso on His New Song "REMEDY" and Why He's Not Slowing Down