MUSIC
Camila Cabello and Shawn Mendes may have taken the title of 2019's "Best Collaboration," but fans doubt the extent to which they earned that award.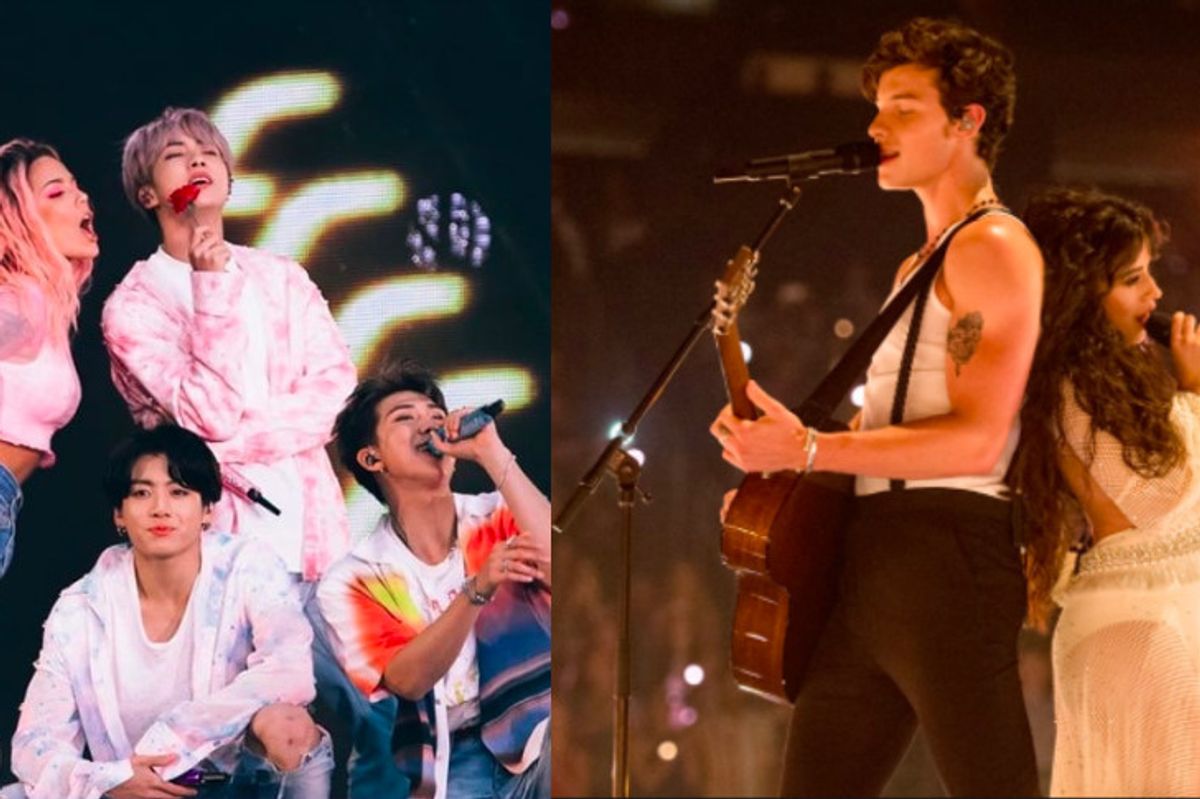 Shawn Mendes and Camila Cabello took home the VMA for Best Collaboration, but who's really surprised?
They're a match made in heaven—or, more likely, brewed up in a corporate conference room.
THE FAKE COUPLE WON INSTEAD OF BTS AND HALSEY!!!! 💀💀💀 #PurpleCarpet #BTSMVAs https://t.co/DpXACavb97

— 𝕱𝖆𝖙𝖎𝖒𝖆 & 𝖇𝖙𝖘 (@𝕱𝖆𝖙𝖎𝖒𝖆 & 𝖇𝖙𝖘) 1566874264.0
Fans were enraged when the duo beat out Halsey and BTS, whose track "Boy With Luv" set both artists' fanbases ablaze when it appeared in April. Some fans even questioned whether the VMAs were rigged, with BTS's fan base, ARMY, being notoriously passionate about their boys.

BTS (방탄소년단) '작은 것들을 위한 시 (Boy With Luv) feat. Halsey' Official MV www.youtube.com
Mendes and Cabello's collaboration, "Señorita," is a slick, crisp song tailor-made to take over the last airwaves of summer. The fact that the duo became linked romantically at the exact same time their song was released could be the result of spending a lot of time on set together at the video shoot, or it could be a publicity play, or maybe a little bit of both.
Shawn Mendes & Camila Cabello Perform 'Señorita' | 2019 Video Music Awards www.youtube.com
For her part, Halsey is no stranger to the dating-your-duet-partner schtick. After she released "Him & I" with G-Eazy, the two were linked for more than a year, and their relationship probably did more to bolster the rapper's career than anything he'd ever release on his own. Of course, Halsey mined gold from the remnants of that relationship, penning her No. 1 hit "Without Me" about their failed love affair.
Halsey - Without Me www.youtube.com
Overall, Halsey and BTS have incredibly close and largely organic relationships with their fan-bases. Comparatively, it's hard to imagine how Mendes and Cabello could've rallied the votes to rival BTS.

While some fans suspected that the VMAs voting system was rigged, others accused the awards show of racism and xenophobia.
not @ the way bwl broke WAY more records than señor*ta and counted WAY more votes señor*ta yet m*v still gave it to… https://t.co/Pbn82Yhyh8

— 𝒌𝒂𝒚 🐻 (@𝒌𝒂𝒚 🐻) 1566873788.0
The VMAs had already come under fire for creating a K-Pop category, with many members of the ARMY accusing it of creating the category in order to keep BTS out of the main competition. Shawn Mendes and Camila Cabello have also faced slack for their own previous racist comments and tweets.
In truth, though, the VMAs have always been racially insensitive, along with many other music and awards shows. Overall, the music industry has also always worked in favor of people who garner large corporate support systems.
This isn't to say that Mendes and Cabello's relationship is definitely an industry plant or that their win was definitely racist, but it is to say that music awards shows could use a socially conscious overhaul.
they can keep their collaboration award, halsey bought all seven members of bts friendship bracelets and sticks up… https://t.co/o00BWGfZ0z

— nessa (@nessa) 1566874309.0