Music Features
Halsey clapped back at a concert-goer who kept yelling the name of her famous ex-boyfriend, but it shouldn't have happened in the first place.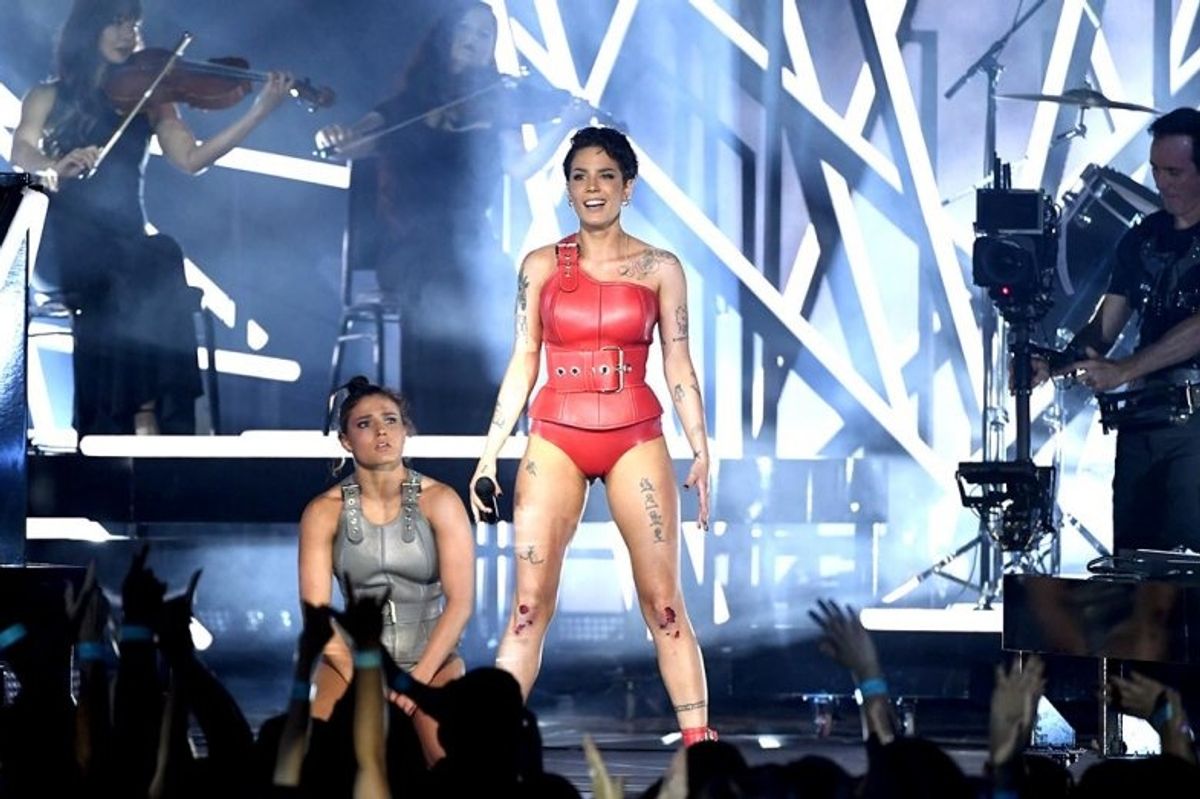 Whether its her evocative lyricism or unfiltered tweets, Halsey is widely known for her openness on her mental health issues and her personal life.
The singer's vulnerability has also resulted in a close public eye on all of her romantic relationships, particularly her on-again, off-again love affair with rapper G-Eazy. Though the details of their rocky relationship remain mostly unconfirmed, Halsey has alluded to the fact that he cheated on her, and some have suspected G-Eazy was abusive towards her based on his troubles with the law. Either way—judging by Halsey's reaction to a concert-goer who kept shouting G-Eazy's name—the split was apparently ugly.
Videos surfaced over the weekend of a recent Halsey performance at which someone in the crowd yelled her ex's name multiple times. "If you say G-Eazy one more f--king time, I will kick your ass out of this party," she yelled. It's unclear if the name-caller ended up being escorted out of the show, but the incident points to an irritating trend in which female pop stars struggle to escape from the shadows of their famed relationships.
halsey went off and didn't give a fuck https://t.co/sBSRoC7OIv

— yari ⛓ (@yari ⛓) 1580622967.0
When Mac Miller was charged for a DUI following a May 2018 car crash, fans were quick to blame the incident—as well as his fatal overdose that followed a few months later—on Ariana Grande, with whom he'd recently split. Grande stood up for herself in a Twitter statement, and Miller's friend Shane Powers sang praise for her stabilizing presence as Miller tried to get his substance abuse under control. And then, perhaps most prominently, there's Taylor Swift, who even amid attempts to keep her love life under wraps has spent the majority of her career in an unfair narrative centered around whoever she's dating. Halsey, Grande, and Swift are currently among pop's most successful women; why are they still living as extensions of their ex-boyfriends? Is it because the music industry, generally speaking, is still hesitant to acknowledge a woman's success can exist without the support of men?

Halsey was right to call out the person in the crowd who kept yelling G-Eazy's name, and doing so shouldn't be considered unprofessional. It's a knee-jerk reaction to pent-up anger that results from your career being too often associated with exes, in a way those previous male partners will likely never understand.
From Your Site Articles
Related Articles Around the Web