CULTURE
Lights, Camera, Cannes: What to Expect at Cannes 2023
Cannes Film Festival 2023 is almost here, spotlighting all the most exciting — and surprising — films coming soon to cinema and streaming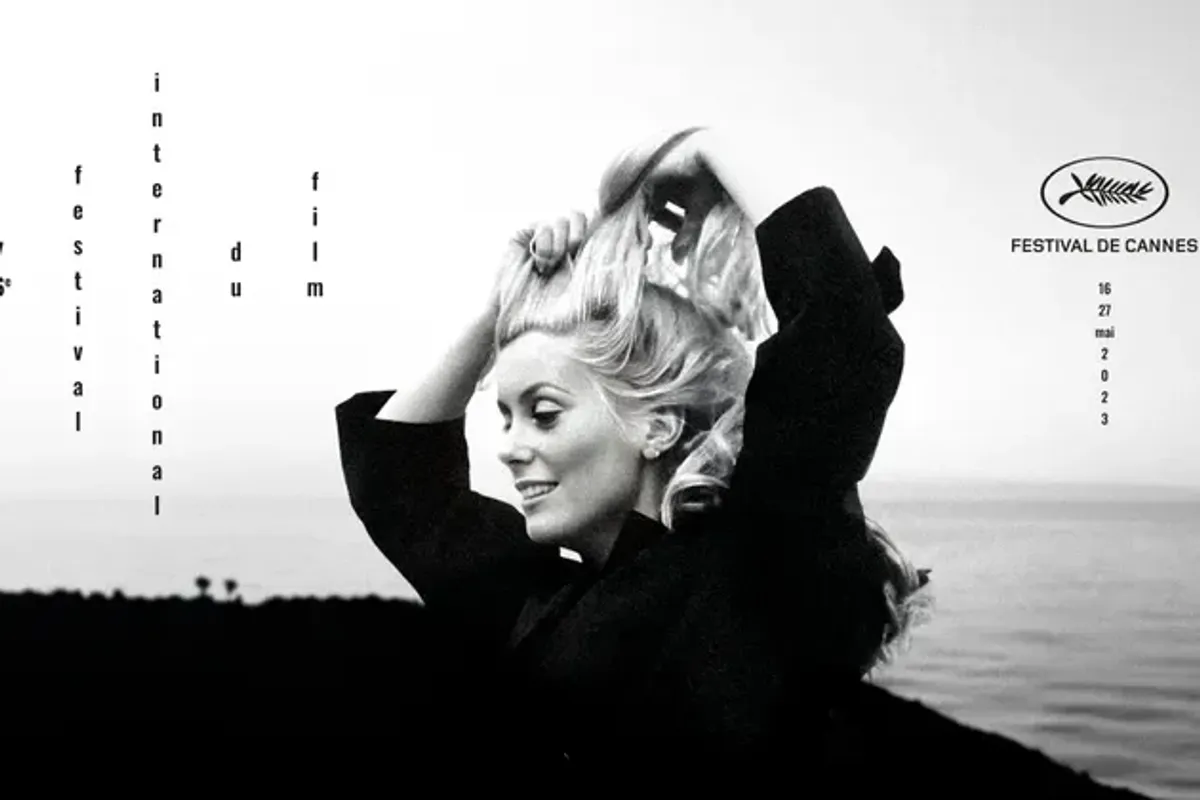 Official poster - 76th edition © Photo de Jack Garofalo/Paris Match/Scoop – Création graphique © Hartland Villa
In Amazon Prime's latest smash hit, Jury Duty, there's a scene that's become the subject of many social media screen grabs. In it, actor James Marsden, speaking as himself, is asked if he's ever served on a jury. "Yes," he replies, elaborating later, "Cannes."
Part of the hilarity of this line rests on how iconic Cannes Film Festival is. While irrelevant in a court of law, Cannes is integral to cinema lovers around the globe for its elevation of phenomenal films and the championing of exquisite art and artists.
---
While headlines focus on glamorous attendees and the buzzy red carpet, Cannes sets the tone for what movies will look like that year. Last year, the world was surprised to see Top Gun Maverick in the lineup. But, sure enough, that film was hailed as a savior of the cinematic experience itself and later nominated for Best Picture at the Oscars.
This year's President of the Jury of the 76th Festival de Cannes is Ruben Östlund – director of last year's break-out hit, Triangle of Sadness. "Nowhere in the film world is the anticipation as strong as when the curtain rises on the films in competition at the festival. It is a privilege to be part of it, together with the Cannes audience of connoisseurs," Östlund said of the honor.
He also added, "Cinema culture is in its most important period ever. The cinema has a unique aspect – There, we watch together, and it demands more on what is shown and increases the intensity of the experience. It makes us reflect in a different way than when we dopamine scroll in front of the individual screens."
Year after year, Cannes premiers films – from comedies to dramas and streamers to theatre releases – that give us a taste of the conversations we'll be having as a culture, As Östlund put it, it celebrates the community aspect of film. And it's always a weekend to remember.
Here are the films I'm most excited to see hit La Croisette at this year's Cannes Film Festival:
Maïwenn's 'Jeanne du Barry' will be the "Opening Film" at Cannes
This year's opening film will be Jeanne du Barry by Maïwenn, a French director, screenwriter, actress, and producer. A Cannes film vet, she won the 2011 Prix du Jury (Jury Prize) for her film Polisse.
Jeanne du Barry follows the social ascent of a smart, culture-hungry working-class woman who falls in love with King Louis XV and finds herself at Versailles.
Despite the acclaim of Maïwenn herself, the film is already embroiled in controversy due to its star actor – Johnny Depp as King Louis XV. This is the actor's first major role since his
messy, public trial
against
Amber Heard
. Jury's out as to whether his role will cast a shadow over the entire production (leading to a media circus a la
Don't Worry Darling
) or if critics and audiences will studiously ignore Depp's transgressions (a la
West Side Story
's Ansel Elgort).
Pixar's 'Elemental' will be the "Last Screening" at Cannes
Elemental is Pixar's fourth feature film (after Up, Inside Out, and Soul) to become an Official Selection. Pixar's Chief Creative Officer, Pete Docter, said: "As we all emerge from our pandemic cocoons and come together in story rooms, animation dailies, and impromptu brainstorming sessions, it's a joy and honor to have Pixar back on La Croisette."
The closing film of the lineup, Elemental is a whimsical tale about the four elements. If films like Soul are anything to go by Elemental is sure to be quietly heartwrenching and simultaneously heartwarming. "[Elemental] was created for audiences to experience on the big screen and I love that it'll make its world premiere at Cannes."
The highly anticipated Killers of the Flower Moon will mark Martin Scorsese's return as a Cannes' Official Selection for the first time since 1986
As we all know, Scorsese's current project is a Chanel Bleu commercial that's shooting in New York City right now. Starring Timothee Chalamet, clips from the set have been circulating the internet for the past week, including one of Timothee saying "period," to the master director.
@indiewire

Timothée Chalamet and Martin Scorsese on the set of their Chanel Bleu commercial shoot yesterday in Astoria, Queens. #fyp #indiewire #nyc #timotheechalamet #martinscorsese #commercialshoot #behindthescenes #timotheechalametedit #chanel
We're all super eager for that commercial to air. But until then, Scorsese's other highly anticipated project, Killers of the Flower Moon, will enjoy its world premiere at Cannes. The Apple Original feature film is based on David Grann's bestselling novel and stars Leonardo DiCaprio, Robert De Niro, Lily Gladstone, Jesse Plemons, Cara Jade Myers, JaNae Collins, Jillian Dion, Tantoo Cardinal, and more.
Although, Scorsese's a Cannes vet, he hasn't had a film in the festival for decades. He was awarded the Palme d'Or in 1976 for
Taxi Driver
, then won the Best Director Award for
After Hours
in 1986. We're thrilled to see Scorcese's big return to the Croisette.
Sam Levinson's The Idol will premiere at Cannes
Another buzzy project from a major studio is HBO's The Idol. Helmed by industry favorite Sam Levinson, creator of Euphoria, a man is never without controversy. The set of Euphoria is constantly embroiled in scandals and rumors of drama that seems to drive the show's energy. The Idol has already been subject to speculation about the on-set culture and rumored toxicity.
After all the gossip and internet chat, the series will finally debut at Cannes 2023. The Idol stars Lily Rose Depp and Abel Tesfaye (aka the Weekend) alongside other major stars like Jennie Kim, Troye Sivan, Moses Sumney, Jane Adams, Dan Levy, and others. Fans eagerly await news of how the ambitious project actually fares.
Wes Anderson's Asteroid City will premiere at Cannes
I've never met a Wes Anderson movie I didn't like. The formalist director is a mainstream favorite while retaining his signature experimental attitude and style that features visually stunning work with stat-studded casts. Debuting at this year's festival, his latest work – Asteroid City – is about a folksy town hit by an alien invasion.
And so many-many stars, it's dazzling: Jason Schwartzman, Scarlett Johansson, Tom Hanks, as well as Jeffrey Wright, Tilda Swinton, Bryan Cranston, Edward Norton, Adrien Brody, Liev Schreiber, Hope Davis, Stephen Park, Rupert Friend, Maya Hawke, Steve Carell, Matt Dillon. Try saying that in one breath.
There's a new Indiana Jones film making its debut
Indiana Jones and the Dial of Destiny – the fifth installment in the franchise – will take a bow at this year's Cannes Film Festival in the Official Selection. If Top Gun and Elvis's 2022 Cannes premiers have taught us anything, it's don't be shocked when mainstream films make it into the festival. I, for one, am curious about how this nostalgic franchise film caught the eye of the this year's jury.
Full List of films In Competition, which must be released in cinemas
JEANNE DU BARRY by MAÏWENN
CLUB ZERO by Jessica HAUSNER
THE ZONE OF INTEREST by Jonathan GLAZER
FALLEN LEAVES by Aki KAURISMAKI
LES FILLES D'OLFA by Kaouther BEN HANIA
(FOUR DAUGHTERS)
ASTEROID CITY by Wes ANDERSON
ANATOMIE D'UNE CHUTE by Justine TRIET
MONSTER by KORE-EDA Hirokazu
IL SOL DELL' AVVENIRE by Nanni MORETTI
L'ÉTÉ DERNIER by Catherine BREILLAT
KURU OTLAR USTUNE by Nuri Bilge CEYLAN
(ABOUT DRY GRASSES)
LA CHIMERA by Alice ROHRWACHER
LA PASSION DE DODIN BOUFFANT by TRAN ANH Hùng
RAPITO by Marco BELLOCCHIO
MAY DECEMBER by Todd HAYNES
JEUNESSE by WANG Bing
THE OLD OAK by Ken LOACH
BANEL E ADAMA by Ramata-Toulaye SY | 1st film
PERFECT DAYS by Wim WENDERS
FIREBRAND by Karim AÏNOUZ
BLACK FLIES by Jean-Stéphane SAUVAIRE
LE RETOUR by Catherine CORSINI
Full List of films Out of Competition, which are films released on streaming services
INDIANA JONES AND THE DIAL OF DESTINY by James MANGOLD
COBWEB by KIM Jee-woon
THE IDOL by Sam LEVINSON
KILLERS OF THE FLOWER MOON by Martin SCORSESE
L'ABBÉ PIERRE – UNE VIE DE COMBATS by Frédéric TELLIER