CULTURE
What's Going On With Lily-Rose Depp?
The it-girl actress cementing her icon status at Cannes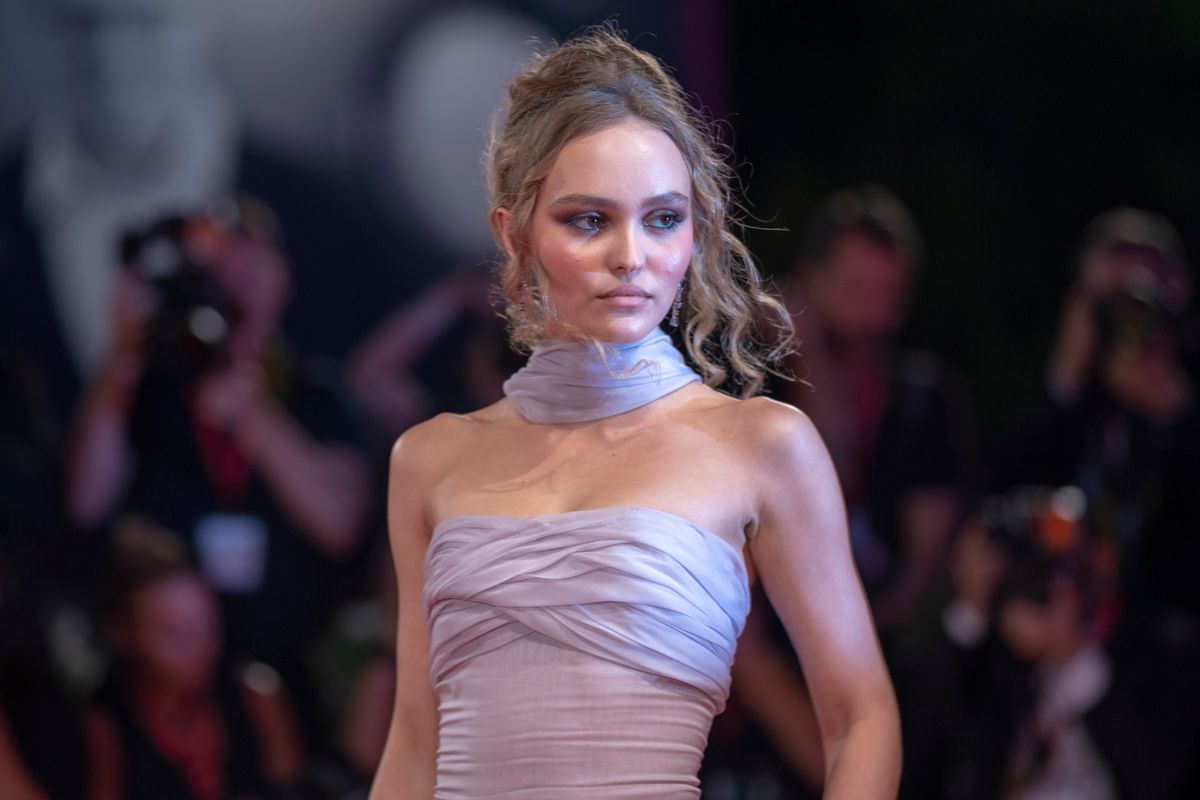 We've been talking a lot about It Girls this summer. There are Fashion It Girls like Bella Hadid and Zendaya. There are eternal empresses like Chloe Sevigny. And with the tornado-like trend-cycle permeating style and pop culture, cultural ephemera breeds icons like Sofia Richie for the quiet luxury crowd.

And this summer, you simply can not talk about It Girls without talking about Lily-Rose Depp.
---
Lily-Rose is a nepo baby (we'll get to that later), so she already has the makings of classic It Girls like Paris and Nicole. And, as a true Gen Z muse, her Y2K-inspired vibe mirrors the women of the early-2000s. Like Paris, she's never been shy about liking a party (what I wouldn't give for an invite). Like Kate Moss, she's a high fashion model by day with a "rockstar" edge.

Take her stint at Cannes. She's posing on the red carpet, then smoking a cig outside her hotel. Her French Girl coolness and Mama Vanessa Paradis' model-inherited looks have served her well. So it's no wonder she's all the internet is slavering over. Especially due to her breakout role in the upcoming HBO drama, The Idol.
What is going on with The Idol on HBO?
The Idol is the latest drama from Sam Levinson, the creator of Euphoria. Which is to say, who didn't expect a messy medley of sex, drugs, and the male gaze? Even before the first signs of trouble came out in a Rolling Stone expose months ago, Levinson was a controversial figure. Euphoria is often criticized for glamorizing drug use, as well as for flat character arcs for many of the cast and the semi-toxic environment on set. While other projects like Malcolm & Marie, which he wrote alongside Zendaya, wrought arguments about exploitation and representation.
This new project is a collaboration with The Weeknd, aka Abel Tesfaye. And Lily-Rose Depp is the star. It follows Depp's character, Jocelyn, a world-famous pop star recovering from her mother's death and trying to reclaim her status as the biggest name in Hollywood. Doesn't sound crazy yet? Well, it's self-proclaimed as "the sleaziest love story in Hollywood." And that's where Tesfaye's character comes in. When Jocelyn falls for him, she begins a downward spiral that, according to reviews from Cannes, is an exhausting tour of depravity for depravity's sake.
The Idol | Official Teaser 2 | HBOwww.youtube.com
It's a star-studded production, featuring many musicians-turned actors such as Jennie from Blackpink, Troye Sivan, Moses Sumney, and more.
It premiered at Cannes on Monday, May 22, and many reviews confirm the reports: although visually stunning, it's a mess. Depp, by all accounts, gives a riveting performance. And she deserves recognition for her acting chops. But I wish this praise was coming down for literally any other project. The Idol will perform as promised, shocking audiences and provoking reactions, but is that always a good thing?
And yet … despite the problematic creators, its shoddy premise, and the shitshow of the show itself, it still got a 5-minute standing ovation at Cannes.
But what does audience praise at Cannes truly mean anymore? That, of course, brings us to Depp's father … The Other Depp.
What has Lily-Rose said about Johnny Depp?
It was a father-daughter weekend on the Croisette, with both Lily-Rose and her father, the actor Johnny Depp, debuting projects at Cannes.
J. Depp has a starring role in the French period film Jeanne du Barry, in which he plays King Louis XV. The film was both the first film of the festival and Depp's first film role since his highly publicized defamation trial against his ex-wife, Amber Heard (not counting his cameo in Rihanna's Fenty show … yikes).
His appearance caused much controversy at Cannes. Although he won his lawsuit — and although TikTok memes and internet frenzy confirmed he'd emerge from the lawsuit even more beloved than ever — there's no denying or doubting the acts of abuse he committed against Heard.
As his daughter, Lily-Rose Depp has been fielding questions about her father since the trial — most of which she has declined to answer.
In her infamous 2022 ELLE cover interview, she tried to distance herself from her father's press by saying: "When it's something that's so private and so personal that all of a sudden becomes not so personal…I feel really entitled to my secret garden of thoughts. I also think that I'm not here to answer for anybody, and I feel like for a lot of my career, people have really wanted to define me by the men in my life, whether that's my family members or my boyfriends, whatever. And I'm really ready to be defined for the things that I put out there."
However, after her father received a 7-minute standing ovation on opening night, she gushed about it to ET. "I'm super happy for him. I'm super excited," she said. "And it's so awesome that we get to do projects that we're super proud of."
Speaking of her famous parents, remember what she said about nepo babies?
When both you and your father are standing on one of the most spectacular red carpets of the year, you're never beating the nepo baby allegations.
Though this is Depp's breakout role, she has been in the spotlight her whole life — and working in the industry since she was 16.
But she resents the term "nepo baby." She told ELLE, " The internet seems to care a lot about that kind of stuff. People are going to have preconceived ideas about you or how you got there, and I can definitely say that nothing is going to get you the part except for being right for the part," she says.
Though many people have since contested this assertion in the great nepo baby reckoning of 2022, it is what it is. Depp continued: "The internet cares a lot more about who your family is than the people who are casting you in things. Maybe you get your foot in the door, but you still just have your foot in the door. There's a lot of work that comes after that."
While I don't doubt that Depp has worked hard in her career … she's also a 5'2 runway model. Like, c'mon. Be a little more self-aware.
Who is Lily Rose-Depp Dating
Alongside her disdain for being judged based on her parentage, Depp is equally tired of how the media has linked her to her ex-partners.
We must assume she's referring to her most high-profile relationship with Timothee Chalamet. The French-American pair made quite the chic couple. Except for maybe those embarrassing pap pics of them making out on a yacht — oh to be young, rich, and in love.
In the past, Depp has remained pretty private about her relationships. The exception, however, is her current relationship with singer, 070 Shake.
This is Depp's first public relationship with a woman. Shake, who was most recently featured on the hit song "Escapism" by RAYE, was previously linked to Kehlani before debuting a now very-public, very hands-on relationship with Depp. The two are not shy about PDA. They publicly lavish each other with affection and post about their relationship on social media.
This fresh approach to her dating life might be part of a new era. Who knows? Perhaps her role as Jocelyn brought out a new persona — one that is more prone to sharing her life with the world.
Whatever the reason, Depp is cementing her icon status in Cannes. From her vintage Chanel outfits to her It Girl attitude, Lily-Rose is one to watch. Even if you don't tune in to watch her show, The Idol.