Frontpage Popular News
Getting To Know Caroline Jones
Her new album, Homesite, touring with Jimmy Buffett, and more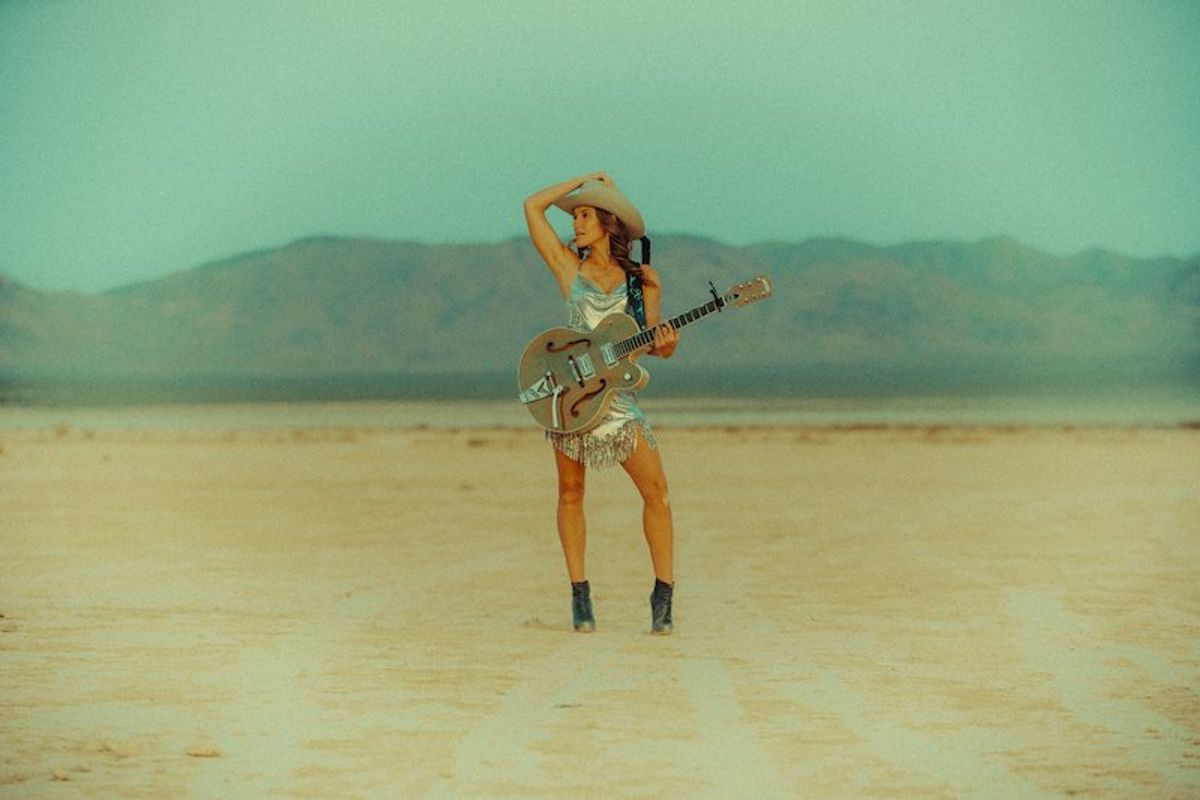 Tyler Lord
Caroline Jones has already had a career that any music-lover would be envious of- a mentee of music titans Zac Brown Band and the late, great Jimmy Buffett...she has toured with mega-names in the industry like The Rolling Stones, The Eagles, and Carrie Underwood, and now performs alongside Zac Brown Band as a member.
---
Her music spans genres, seamlessly blending one another together into a melting pot of downright good music. Her voice is sweet, hard-hitting, and fine-tuned, add that together with her songwriting ability that has only gotten better from working with the best in the business, and her prowess in playing multiple instruments. All together, Caroline Jones is the whole package- creating a pop-country fusion with notes of bluegrass at just the right time.
When I sat down to talk to Caroline who sat outside her home in Nashville, she was humble- constantly talking about seeking ways to better her music, showing gratitude to those who have helped her get here (especially manager, producer, business partner Ric Wake, and smiling when thinking of her newest album: Homesite. You can listen to the album here:
Nashville is a big part of Jones' story, the place where she felt the most connected to her newfound country music roots. It helped her grow, and gave her the support to pursue her career. On paper, it seems like Caroline Jones has accomplished just about everything...but there's so much more potential to unlock for Jones, and she will tell you that.
Homesite is a thrilling addition to Jones' already impressive repertoire, exhibiting her true vocal abilities to their finest. Check out our interview with Caroline below!

PD: Let's start at the very beginning...you were trained classically in opera, how did you want to switch to country?

CJ: I grew up listening to a variety of genres when I was a kid. My father loved classic rock and R&B, my mother loved the divas of the 90's- Whitney, Mariah, Barbara Streisand, Celine Dion...and like you said, I was trained classically in opera and jazz so it wasn't until I was around 17 and went to the Nashville for the first time and I had started writing songs and making demos of them. My manager at the time in my teen years said, "You know, your music has a bit of a country flare to it, you'd really love Nashville."

At his urging, I went down here and went to a show at Bluebird Cafe and I was hooked...like I'd found the missing piece to my artistry. I felt like I found my people and my community. There's such a writer and musician-centered community, which is very unique in a commercial genre of music in this day-and-age where there's so many other factors and distractions. That's still the core of Nashville. Delved all the way back starting with Hank Williams as the outset of what we think of as the outset of country music and went from there and found love.
PD: You were touring schools across New England before Jimmy Buffett recognized you. Can you talk about how that all started?

CJ: I've just had a DIY spirit since I was young, you know? This was the early 2010's when Ed Sheeran and Mumford & Sons and acoustic music was making a comeback over the very produced pop commerciality of the early 2000s. I just wanted to be part of that wave of singer-songwriters, that's what really inspired me...so I knew I wanted to build a fanbase organically and get good at playing shows live.
I started playing in the Northeast, where I grew up, and then a few years later I met my manager and business partner, Ric Wake, and we made our first record, Barefeet. I got a couple of amazing opportunities to open up, starting with Zac Brown and Jimmy Buffett. I really owe the career that I have to those two taking me under their wing and taking me on tour.
PD: Let's talk about your new album, Homesite, which you had complete creative control over. How did that change making an album for you?

CJ: I've been really lucky, I've been an independent artist for my whole career and owned all my masters...I've really been in the creative driver's seat and I owe that all to my manager and producer Ric Wake. He believed in me from the beginning and respected what I did, he honored my vision and brought it to life, and brought a team in who felt the same way. That is not most artist's experience, so I am very grateful to him...and moreso as time goes on because you see how rare it is.
This album is the next step in my creative evolution and, if anything, I opened up more on this album because we brought in a new creative producer, Brandon Hood. I co-wrote about 3-4 songs on the record, which is pretty rare for me...in my previous record I solo wrote most of the album with the exception of one song.
For me, that's creative maturity. Now that I have a few years of experience and more of a platform, I still have a long way to go but now I get to work with the musicians, singers, and songwriters I respect.
PD: Can you give me your favorite tracks from the album?

CJ: Yeah! At the moment, they're probably the title track, "Homesite",I love the song "Serendipity" because I love blending country and pop, and I love "Lawless." I'm a production nerd so those are probably my favorites...and I also love "By Way Of Sorrow", it's the only song I didn't write on the record and it's a cover and has Vince Gill on it, one of my all-time heroes. I think that song should be a bluegrass classic.
PD: Final question- what is the best piece of advice you've learned since touring with ZBB, Jimmy Buffett, The Rolling Stones, Faith Hill, Carrie Underwood, The Eagles, Tim McGraw, Kenny Chesney...I could go on?
CJ:
Oh my gosh, so hard to distill down to one because you learn so much by osmosis...by the repetition by being around folks who are the most excellent in the world at their craft.
If I could share one thing I've learned and seen over and over, it's important to remember when you're performing in stadiums or you see people's shining social feeds, or you go and perform to tens of thousands of people and see them living your dream...they still have their own mountains to climb.
The more I've been around really successful people, the more I see they still have this passion and drive and still have a need to create, and push themselves and evolve. That's not something that ever goes away just because you're rich and famous. It's not that you're at the top of the mountain and now you're just plateauing. You're still the same hungry artist with the same hungry soul with the drive that got you there.
I want people to know that, because I feel like they don't. You see rich and famous and successful musicians and you think they're rockstars who have it all figured out...but the truth is we're all artists, we're all seeking, we're all trying to creatively challenge ourselves. In that way, we're all on an equal playing field.