Culture News
The Cleveland Indians will no longer feature the racist logo and caricature of Native Americans on their uniforms, concluding a dark chapter in the sport's history.
After nearly 70 years, the most ridiculously racist logo in American sports is kaput.
Just before Thanksgiving, the Cleveland Indians unveiled their 2019 uniforms without Chief Wahoo, finally throwing the infamous Native American caricature into the dumpster fire of history. It was fitting irony that Chief Wahoo's last game on a Cleveland uniform was on Indigenous People's Day, as the Indians were swept out of the playoffs by the Houston Astros.
Chief Wahoo has been a black mark on America's pastime for many years now, similar to past baseball shames like the Color Line, the Black Sox scandal, or PED use. The logo debuted in 1947, and for 71 years it lingered on, drawing comparisons to the racist caricatures of black people from the 19th century.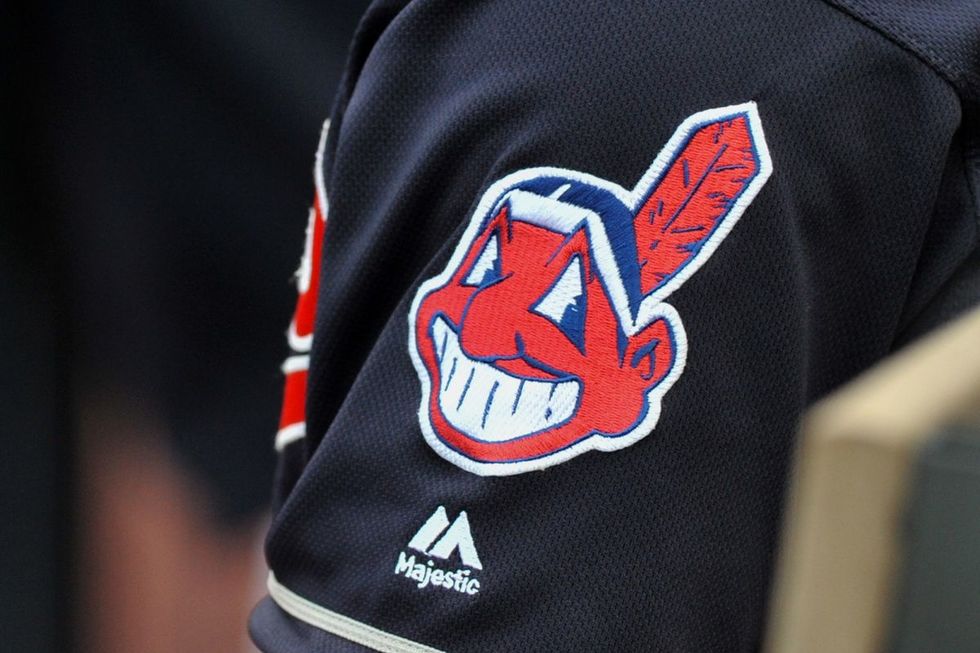 Let's Go Tribe
I'm not an Indians fan, nor do I have any connection to Cleveland, so I can't speak to the fanbase's reaction to the logo's demise. But I can tell you what the logo meant to me as a baseball fan. In seventh grade, I learned about the United States' treatment of its indigenous people and the debate over Native American mascots. I recall being viscerally upset about Chief Wahoo. By the time I was a teenager, I was well aware of the mascot's status as a demeaning depiction of Native Americans based on harmful stereotypes.

To this day, whenever I see Wahoo's grinning, Sambo-like smile, there's always a sharp twinge of embarrassment. What bothered me most, however, was how much its continued existence stood in contrast to the sport's professed values. Baseball fans are always told about the inspirational story of Jackie Robinson and how it represents baseball constantly striving toward inclusivity. That Wahoo remained as long as he did showed the emptiness of those values.
My own disgust towards the logo was most plainly evident during the 2016 World Series. As a Cubs fan since childhood, the Series meant a lot to me, personally. For seven games, I was an emotional wreck, sweating and nail biting on each pitch. It's unlikely anything in my life as a sports fan will surpass the unbridled joy I felt when the curse was broken. It was a moment made so much sweeter, remarking on the fact that the Cubs defeated the Indians and their logo.
Throughout the series, I always hated seeing non-Native Americans in the stands with their faces painted red and adorned with fake headdresses. A small but indelible memory I have during that World Series was in Game 6, when Cubs shortstop Addison Russell slugged a dramatic grand slam. As the ball sailed out to the center field bleachers, I saw a fan brandishing a protest sign reading "No DAPL" — a reference to the struggle against the Dakota Access Pipeline. It was impossible for me not to notice the dichotomy, a team proudly displaying a symbol of historical oppression while members of the Standing Rock Sioux Tribe were besieged by a water cannon just for standing up to protect their ancestral lands.
What I realized in that moment was what indigenous people themselves had known for decades regarding Chief Wahoo. In the 1970s, indigenous activists protested the logo outside Indians games, and there have been protests every opening day since. They were especially prominent in Cleveland's last two World Series appearances. In 2000, the Penobscot Indian Nation formally called on the team to ditch the logo. Almost two decades later, the public pressure finally worked.
Still, even with Wahoo retired, offensive representations of Native Americans in sports are still too prevalent. After all, Washington's NFL team is still called the "Redskins" and the Atlanta Braves still do the tomahawk chop.
As someone with no tribal ancestry, I feel it's important to take a stand over Native American logos and mascots but to do so without being offended on behalf of indigenous people. It's much more valuable to allow authentic voices to lead the debate.
Even if racist sports logos aren't a life or death issue, as long as names like "Redskins" persist, Native Americans will never have the respect and dignity they deserve in our society. Defenders of these inaccurate and bigoted characters say they honor Native people, but what a poor way to celebrate the original inhabitants of this country. Instead, why not honor indigenous people by learning about the diverse tribal customs and history, celebrating their many contributions, shedding light on the challenges those communities face, and protecting their lands from exploitation?
Baseball's history has been one of progress from racism and discrimination toward equality and inclusion — with many starts and stops along the way. The sport has often been ahead of the rest of the nation on both positive and negative social trends. The major leagues were segregated just as segregation was legally sanctioned, and baseball was integrated years before the passage of the Civil Rights Act. And now, the MLB is ahead of the NFL when it comes to getting rid of offensive caricatures of Native Americans. Baseball fans should relish that the shame of Cleveland's racist logo is a thing of the past.
Good riddance, Chief Wahoo!
---
Dan is a writer and occasional optimist in this strange, chaotic world. You can follow him on Twitter @danescalona77.
---
POP⚡DUST | Read More...
Kevin Hart Steps Down as Oscar Host
Jessica Simpson Calls Out Natalie Portman