Culture News
Colin Kaepernick's Crew Slams Travis Scott on Twitter
Contrary to reports, the blacklisted quarterback doesn't approve of Scott's Super Bowl gig.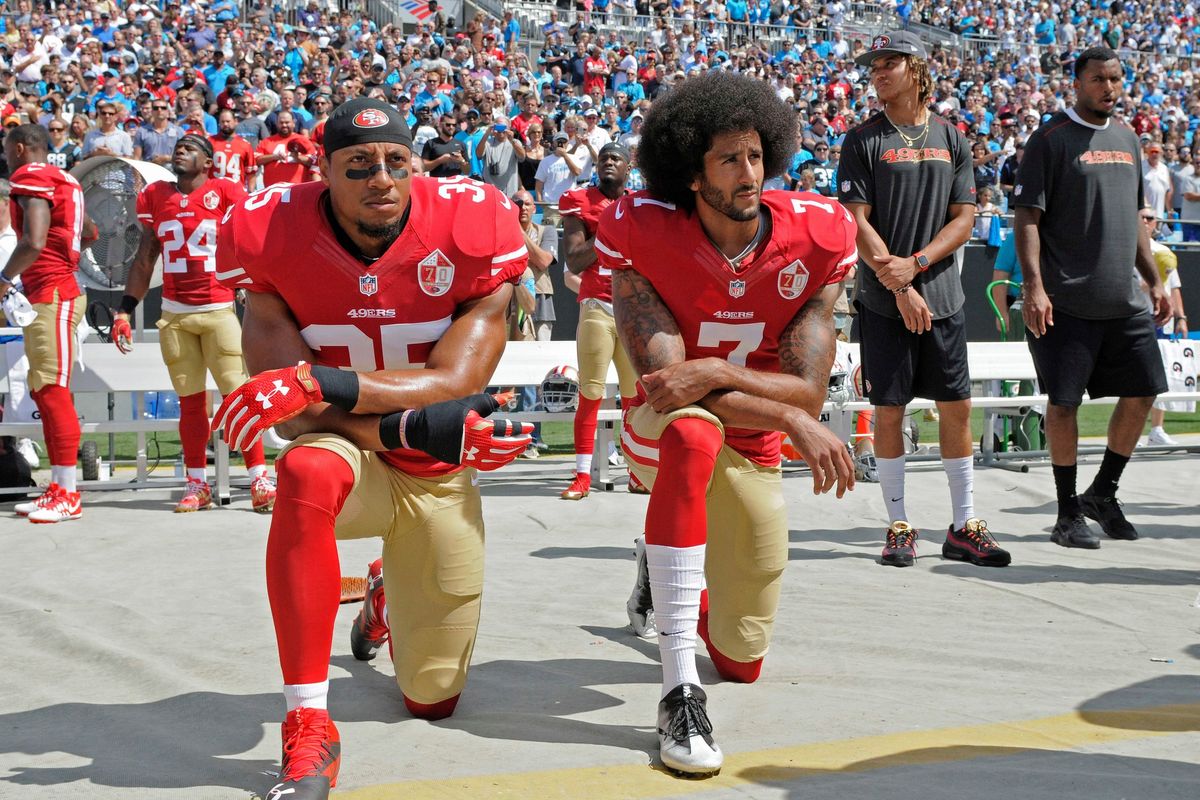 Photo by Mike Mccarn (Shutterstock)
According to Colin Kaepernick's girlfriend, "NO mutual respect" exists between Travis Scott and the blacklisted NFL quarterback.
---
After months of speculation, Scott was confirmed as a performer at Super Bowl LIII's halftime show earlier this week. The 26-year-old announced a joint $500,000 donation with the NFL to Dream Corps, a non-profit organization for social justice, in hopes to quell the backlash against him working with the league. On Wednesday, early reports alleged that Scott had spoken to Kaepernick before accepting the gig, with Variety claiming that they shared "at least one phone conversation," during which they expressed "mutual respect and understanding."
However, members of Kaepernick's inner circle, including his girlfriend, Nessa, and the radio personality Ebro Darden, immediately took to Twitter to deny that the two had any contact whatsoever—let alone that Kaepernick approved of Scott in any way. Ebro posted bluntly, "Kap did not approve this bullshit! Get the fuck outta here…" Nessa responded, "They need to stop lying."

Another Twitter user panned the notion of Kaepernick condoning Scott's actions by recapping the rapper's contentious comments about Ferguson police brutality victim, Mike Brown. He called Scott the "man that insinuated that Mike Brown was at fault in his death…"
It's true that Scott earned sharp criticism for his comments during a 2014 radio interview in which he expressed that Brown deserved to "pay for consequences he probably inflicted." Scott criticized the Ferguson protests in general, stating, "I'm kind of angry; so many Black people are acting like fake activists…I'm not saying [Mike Brown] deserved to get killed...And I know we're like 'fed up' quote/unquote, with whatever is going on in culture…but at the same time, you gotta just stop putting yourself in positions where you're continuously having this situation go down." The rapper added that "the problem with Black people" is there always has to be a "disruption" when situations like Ferguson occur.

Tellingly, Kaepernick retweeted all of the above posts from his personal account. His girlfriend also slammed Scott for "selling out" when his halftime show appearance was announced alongside confirmations of Maroon 5 and Big Boi. She simply posted the definition of a "sellout" and commented, "If you're with them, then you are definitely not with us."
In fact, a petition on Change.org began circulating shortly after the performances were confirmed that calls for Travis Scott, Maroon 5, and Big Boi to follow Kaepernick's example and "take a knee" during their set. As of Wednesday afternoon, it has 85,000 signatures.

POP⚡DUST | Read More...

7 Movies to Look Forward to in 2019 (That Aren't Comic Book Movies
Why "Baby Shark" Is an Evil Song—And Top 40 Hit