TV
This article contains spoilers for "Joker."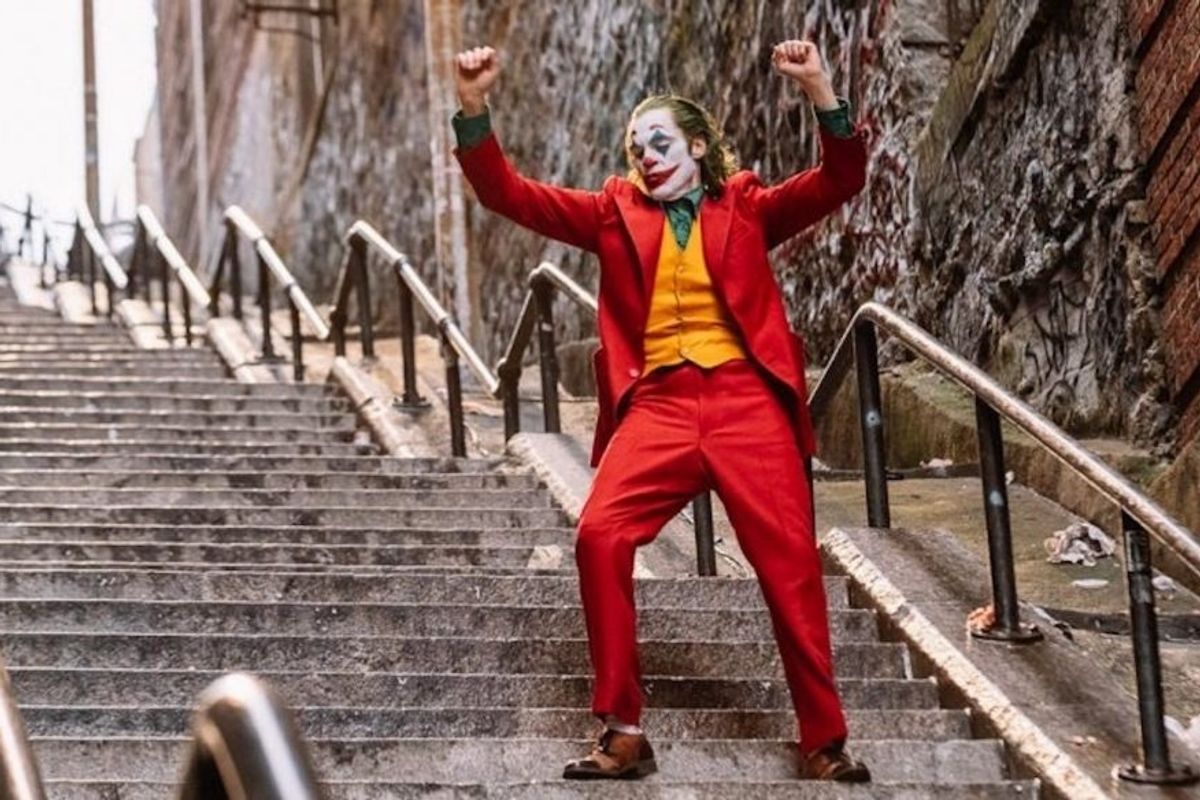 Warner Bros.
Good luck finding a movie in 2019 that's sparked more public discussion than Todd Phillips' Joker.
Set in 1981, Joker stars Joaquin Phoenix as Arthur Fleck, a mentally-ill, failed stand-up comedian who turns to a life of crime and chaos in Gotham City. Despite the film spawning debates on mental health, mass shootings, and the value of comic book movies, Joker is a box office smash, becoming the highest earning R-rated movie ever.
One thing isn't up for debate, and that's the dancing ability of Joker. Honestly, Phoenix's dancing is downright impressive. While The Joker displays dark, sadistic, and creepy intentions, Phoenix's moves are dazzling, sophisticated, and majestic. NY Times dance critic Gia Kourlas said Phoenix is a "great dancer" and "moves with uncultivated finesse — dreamily, animalistic, like a rock star."
In Joker, Phoenix has two memorable dance numbers: One takes place in the bathroom and the other on a set of now iconic stairs. The bathroom scene takes place after Arthur kills three men on the subway. While in his faded clown makeup, Arthur runs into a disgusting public bathroom, embraces his inner demons, and celebrates his new love for chaos with a spell-binding dance routine.
Watch Joaquin Phoenix Do a Creepy Dance in 'Joker' | Anatomy of a Scenewww.youtube.com
If you've been on the Internet in the past month, you've probably already seen the second dance number, which takes place on a set of now infamous Bronx stairs. Fresh off another kill, Arthur celebrates his new love of violence by chaotically dancing down the stairs on his way to guest star on his favorite late-night talk show.
Joker - Dance On Stairs Scene (HD)www.youtube.com
Both dances are expertly crafted, but where do they stand among cinema's most memorable dance scenes?

Napoleon Dynamite, Talent Show
5/5
This is a no-contest. It's even more impressive learning that a professional did not work with Jon Heder on the dance. Heder liked to dance, so he winged it three times, and they took the best pieces from each dance. Napoleon defeats Arthur in a landslide. As soon as "Canned Heat" hits, it's a wrap. Edge: Napoleon Dynamite