Sports
The New Orleans Saints quarterback ended Monday night with a career total of 72,103 passing yards.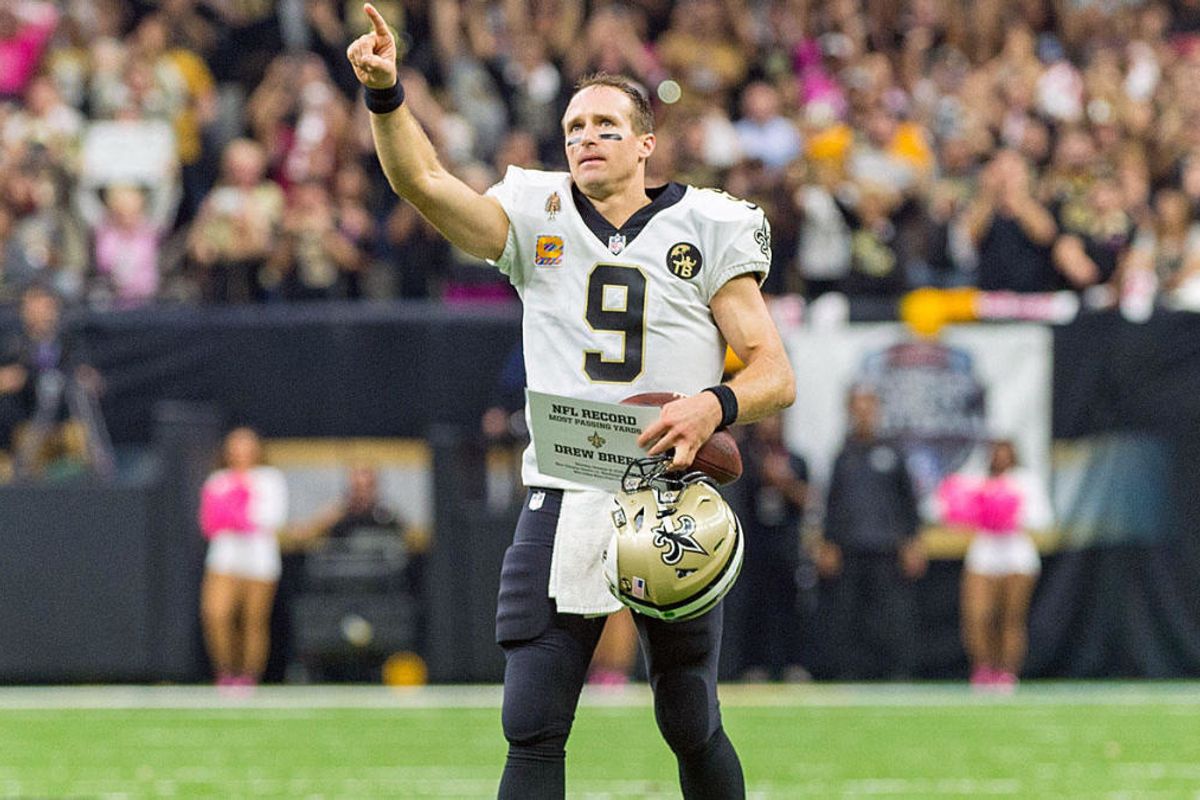 Scott Clause / CBS Sports
Drew Brees is solidifying his place as one of the NFL's best.
The New Orleans Saints quarterback broke the NFL's all-time passing record on Monday night with a 62-yard touchdown pass to Tre'Quan Smith, surpassing the previous records of Peyton Manning and Brett Favre and ending the night with a career total of 72,103 passing yards.
While the record-breaking pass was a beauty to watch, it was the quiet but frenetic celebration Brees shared with his family that became the night's best instant replay.
"You can accomplish anything in life you're willing to work for," a visibly emotional Brees told his three sons between embraces.

"That's honestly what I whisper in their ears every night before they go to bed," Brees explained on Today Wednesday morning. "I want them to approach life with a great sense of gratitude, humility, and respect for others."
His reaction in the moment was no surprise to fans that have followed his career, as Brees has come to be known for his philanthropic endeavors almost as much as his passing accuracy. In 2010, Sports Illustrated named Brees Sportsman of the Year, calling him "the heart of New Orleans" and praising him not just for leading the Saints to that year's Super Bowl win, but also for his dedication to rebuilding the city so devastated by Hurricane Katrina. On top of this, the Brees Dream Foundation, co-founded with his wife Brittany, has raised over $25,000,000 for cancer research and community-building initiatives since 2003.
Given his reputation as possibly the nicest player in the NFL, it's no surprise that athletes and celebrities took the celebration online to share their congratulations on Twitter.
Congratulations to Drew Brees on the all time passing record. Always a class act.

— Barack Obama (@Barack Obama) 1539056869.0
Salute @drewbrees!! Congrats on the achievement/milestone. Sheesh that's a lot of passing yards!! 🙏🏾🏈👑

— LeBron James (@LeBron James) 1539050011.0
A special night to be a part of history. Congrats @drewbrees on becoming the All-Time passing leader. #Saints… https://t.co/z3dcBe0rUn

— Vince Biegel (@Vince Biegel) 1539123499.0
Congrats to @drewbrees and the New Orleans @Saints for breaking Peyton Manning's record and becoming the @NFL's all… https://t.co/NfG9s4nAlx

— Katie Couric (@Katie Couric) 1539094631.0
Though the overall reaction was generally positive, some felt that the NFL's official recognition of the record left something to be desired.

Can't stop thinking about how the NFL actually had last night's referee give Drew Brees a laminated "NFL record" ce… https://t.co/1a8RBM9IEt

— Brett Michael (@Brett Michael) 1539110691.0
The #NFL is better than this. My man Drew Brees got a laminated certificate like you would for perfect attendance i… https://t.co/KtNuVH2fqj

— 𝐋𝐚𝐰𝐫𝐞𝐧𝐜𝐞 𝐓𝐲𝐧𝐞𝐬 (@𝐋𝐚𝐰𝐫𝐞𝐧𝐜𝐞 𝐓𝐲𝐧𝐞𝐬) 1539115592.0
Despite the milestone, Brees isn't slowing down. "There are still goals to be accomplished. There are still challenges to be met," he said in a post-game press conference. In fact, he's hardly slowing down to celebrate. He quickly regained focus after a brief delay in Monday's game, giving a hasty hug to Sean Payton before adding, "Let's go win this game, alright?"

As for future accomplishments, Brees won't have to wait much longer; with 499 career touchdown passes, Brees is only one touchdown shy from joining NFL legends Manning, Favre, and Tom Brady in the "500 Club."
---
Rebecca Linde is a writer and cultural critic in NYC. She tweets about pop culture and television @rklinde.
---
POP⚡DUST | Read More...
Nike Continues Contract with Ronaldo Despite Rape Allegation
A Twitter Tit-for-Tat Between Lana Del Rey and Azealia Banks
Philadelphia Flyers Welcome a New Orange Mascot