TV
"The Bachelor" Doesn't Deserve Mike Johnson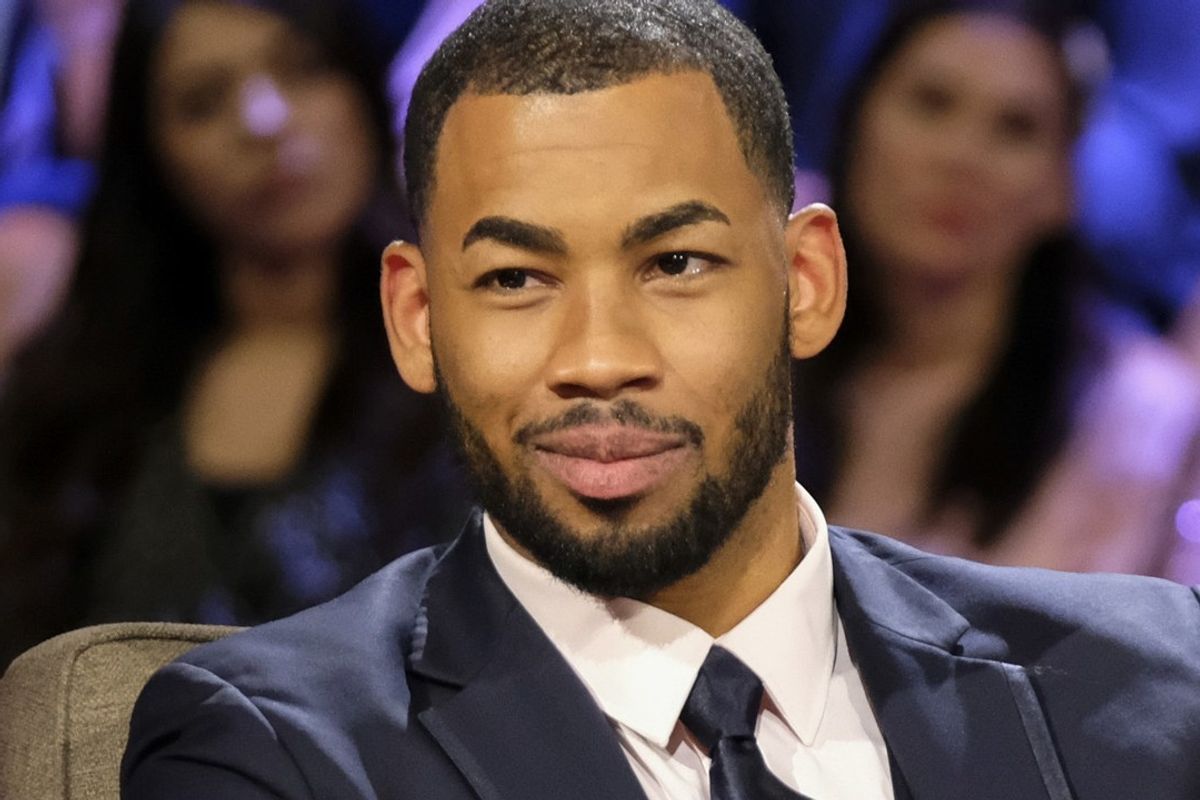 ABC
The fifteenth season of The Bachelorette is winding down, which means buzz about who will be the next Bachelor has already begun.
Hannah Brown's season offers one of the best batches of men Bachelor Nation has seen in awhile. Although, from the get-go, it was apparent who the Bachelorette had her eyes set on (Luke P.), which came with the expectation that those remaining would head down to Bachelor in Paradise. The only viable candidates left for the Bachelor role are Pilot Pete, Tyler C., Jed Wyatt, and Mike Johnson.
Of those final four, two are embroiled in a scandal. People Magazine reported that Jed Wyatt had a girlfriend before leaving for the show. Soon after, news broke that Pilot Pete broke up with his girlfriend when he was cast on the show too. That leaves Tyler C. and Mike Johnson as the only solid options. Both are respectful of women and incredibly easy on the eyes. However, when it comes down to a white candidate versus a black candidate, the Bachelor franchise has selected white candidates 95% of the time.
Three years ago, the show finally cast Rachel Lindsay, the franchise's first black Bachelorette. She was only the second person of color to be cast as the lead in 14 years of the show. Her predecessor, the Venezuelan-born Juan Pablo Galavis, was the first POC to lead the show. He has since been deemed the worst Bachelor, because, well, he's a misogynist. So when it came to Lindsay's season, she faced a lot of pressure to be the first person of color to properly and positively represent her community.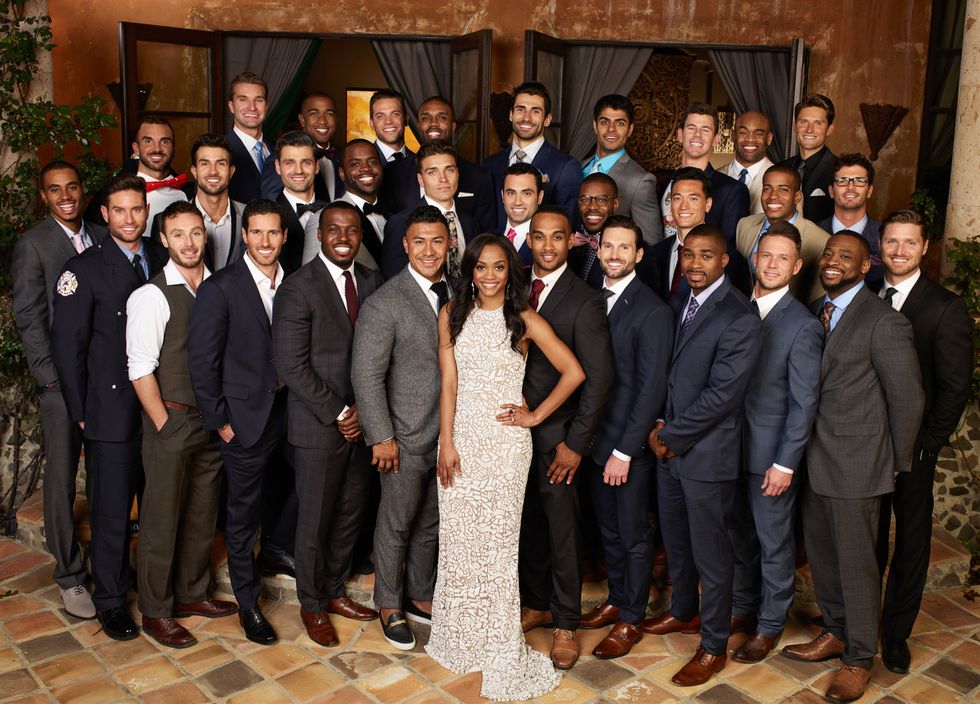 ABC
In reality, the first black Bachelorette's season illuminated the show's toxic racial and gender biases. The franchise's creator (and an alleged domestic-abuser), Mike Fleiss, commented on why Lindsay's season had lower ratings than previous ones, "I found it incredibly disturbing in a Trumpish kind of way. How else are you going to explain the fact that she's down in the ratings, when—black or white—she was an unbelievable bachelorette. It revealed something about our fans."

But the poor reception could be attributed to how, after 37 seasons of The Bachelor and The Bachelorette combined, there have still only been two people of color cast as leads in the franchise, comprising 5% of the casting choices. One reason Lindsay's season of The Bachelorette had low ratings may be because the show never appealed to an inclusive and diverse fan base. For how progressive the producers claim to be, the shows are clearly lacking in representation of non-white Americans. Maybe it's time for the Bachelor franchise to catch up to the rest of Hollywood by casting Mike Johnson as their first black Bachelor.
However, Air Force veteran Mike Johnson may be wary of furthering his involvement with the franchise because of its history. During an interview with Glamour, Johnson chose to identify himself as the "first veteran Bachelor." He may have said this because he's aware of the position he'd be put in as the first black Bachelor, and he doesn't want his race to be his whole identity.
In 2012, ABC was slapped with a class-action lawsuit by two-would-be contestants who claimed the show under-represented minorities. According to a 2016 Washington Post article titled, "'The Bachelor' Is Embarrassingly White": "The suit alleged ABC features minority contestants in their non-romance reality shows, such as Dancing with the Stars, but that it did not cast people of color in The Bachelor because it was afraid interracial romance would create controversy among its audience." A judge dismissed the case because the show can cast whomever they like under the First Amendment. Regardless, the franchise took note of the criticism. In 2013 and 2014, the show made substantial strides to diversify their cast, yet the number of people of color cast still went down again in the next two years.
Other POC contestants have clearly felt uncomfortable and unprotected by the franchise. Rachel Lindsay's season was a pivotal moment in the show's history, because the production team proved it was incapable of handling the subject of race. The franchise's past clearly shows that their format works to benefit white contestants and favor white leads.
Why does this show even deserve the opportunity to represent a person of color?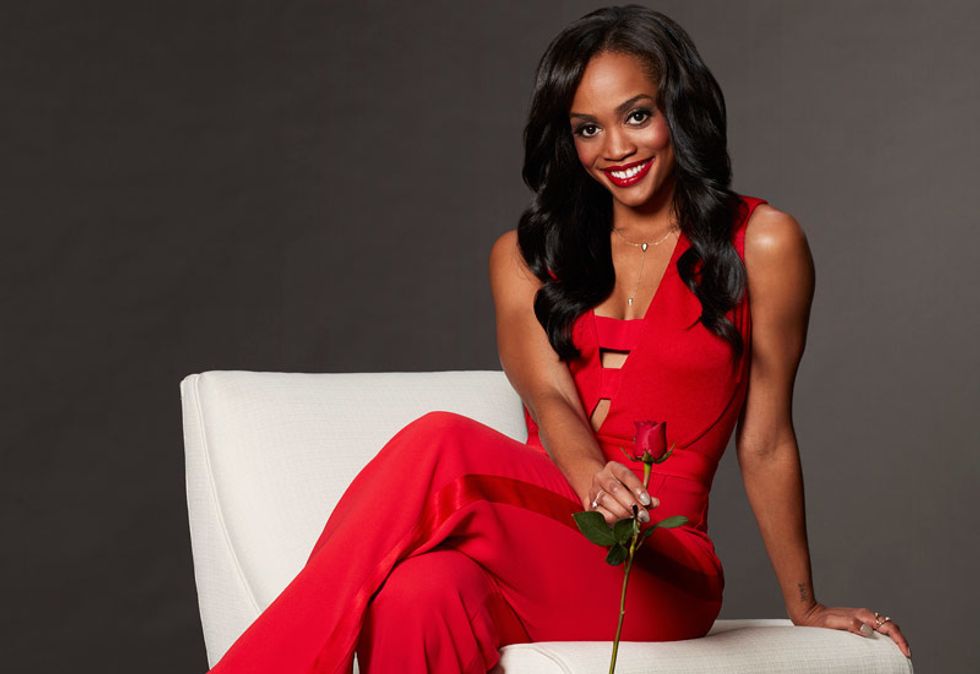 ABC
In 2016, Splinter's analysis found that 59% of black contestants from both The Bachelor and The Bachelorette left the shows within two weeks, leaving 41% to be sent home by week five. That remained the case until The Bachelor's 21st season, when Rachel Lindsey made it all the way to Fantasy Suites week, becoming the season's second runner-up and the next Bachelorette— the franchise's first black lead.

When her season of The Bachelorette debuted, the show congratulated itself on being "historic" for casting a black woman as the lead of a network television show, but tense racial issues soon became apparent on the show. From night one, Lindsay laughed off a contestant's (Dean Unglert) salacious pick-up line, "I'm ready to go black and never go back." In a later episode, another white contestant (Peter Kraus) rapped that Linsday was a "girl from the hood." To be clear, this Bachelorette is a lawyer whose father is a federal judge, and she was raised in an upper-middle class area of Dallas, Texas.

Problems escalated when one contestant's racist tweets surfaced. Lee Garrett had once equated Black Lives Matter to "terrorism," and yet he was permitted to remain on the show for weeks in order to play the villain. Lee went on to specifically goad black contestants. For instance, he continuously attempted to instigate altercations with single father Kenny King, to fuel the stereotype that all black men are aggressive and prone to violence. Another black contestant, Will Gaskins, informed Lee, "There is a long-standing history in this country of regarding black men in America as aggressive to justify a lot of other things." Ultimately, Lindsay sent Lee home after believing that sweetheart Kenny would never get physical or threaten Lee. Regardless, that didn't stop the show from editing the one-on-one footage for the episode's promos to make the viewer wonder if Kenny King did, indeed, become violent.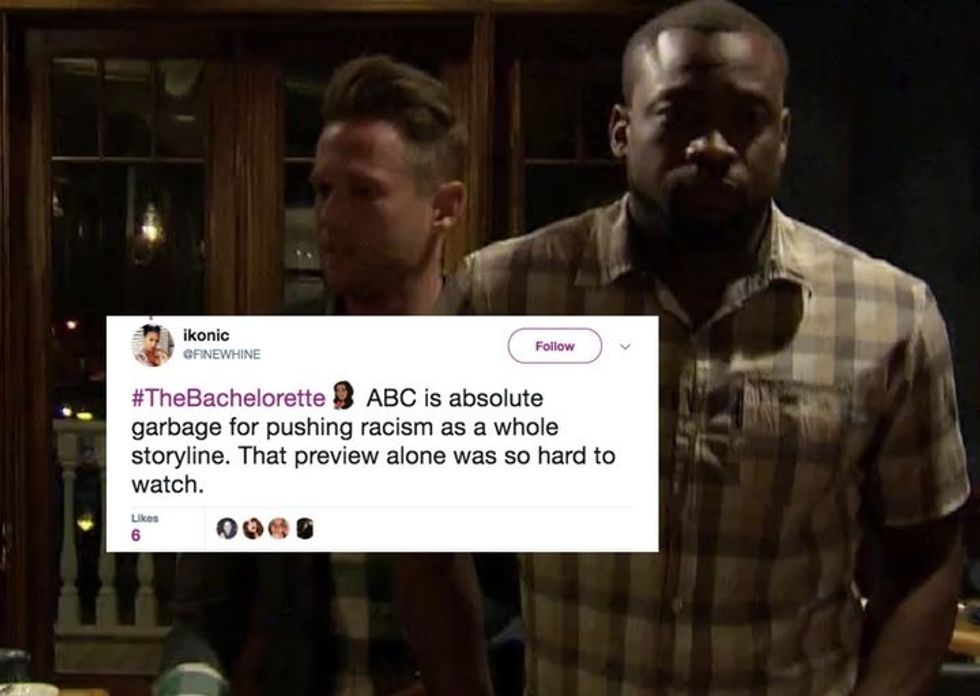 ABC
Lee's blatant harassment of black contestants highlighted many irresponsible practices within The Bachelor franchise. First, the show's background checks were clearly not thorough enough to catch this man's tweets. Secondly, producers allowed the Bachelorette to experience harassment herself: She was forced to deal with a racist contestant disguised as a well-meaning man vying for her affections. Thirdly, the production did not intervene when Lee created dangerous situations for black contestants.

Rachel Lindsay later spoke out about the show's mishandling of her season and mistreatment of her as a black woman. In an interview with US Weekly, she called out the Bachelor franchise for leaving out the loving moments between her and her winner, Bryan Abasolo. Instead, they focused the majority of the finale on her breakup with Peter, prompting Lindsay to assert, "You know more about the journey of my breakup than the journey to my proposal acceptance." Lindsay went on to explain:
"Let's just be honest, Becca did not have the finale that I had. There was no controversy and she was not put in a position to face any. She was protected and I was placed on display for three hours and labeled an angry black female. And there will always be that stigma attached to my finale because it has been said that when truth is blurred by misinformation, perception becomes reality and all is lost."
Linsday is referring to the former Bachelorette, Becca Kufrin, and her fiancé, Garrett Yrigoyen. Yrigoyen came under fire for liking very offensive social-media posts—ones that mocked trans people, immigrant children, and other minorities, including a post insinuating that the Parkland shooting survivor David Hogg was a "crisis actor." It's concerning but unsurprising that one of the Bachelorette's white, male winners (who was openly guilty of offensive actions) received more protection and support than was given to the show's first WOC lead.

Additionally, Lindsay was criticized for who she fell in love with: Abaloso, a Colombian man from Miami. At the beginning of Lindsay's season, The Root's Maiysha Kai wrote an article titled "Don't Bet on Black: The Bachelorette May Disappoint You." Kai discussed how Lindsay could be a disappointing Bachelorette to some because she didn't give her first impression rose to "a brother." The writer acknowledged, "Being the first—at anything—means the weight of 'the culture's' expectations rest firmly upon your shoulders." The article clearly implied that if the first black Bachelorette did not end up with a black man, she'd be letting down the culture by not representing "black love."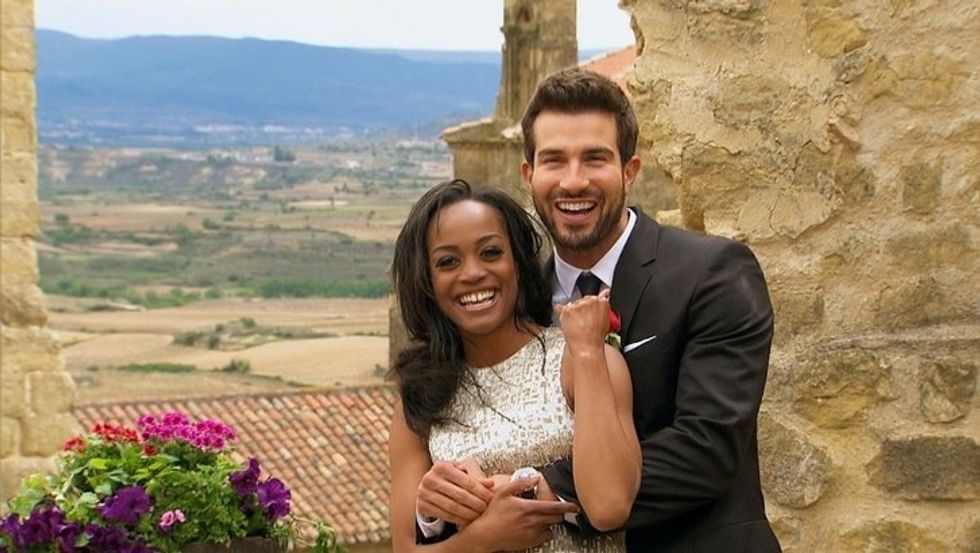 ABC
After Lindsay's season aired, The Bachelorette Season 13 contestant, Demario Jackson, hopped on "The E&G Podcast." During the interview, Jackson claimed Lindsay was attracted only to white men, noting, "I was only there for two weeks in the house. From the beginning you knew that she was attracted to white men. You knew that. No disrespect, you just knew. She had that vibe." Lindsay clapped back the next day, calling out Jackson for his hypocrisy, "Says the guy that dated Lexi," referring to the white girlfriend he had before coming on the show. She concluded, "Demario never knew me and still doesn't."

No matter what she did, Lindsay received the utmost scrutiny. Which leads us to the question: "Is America ready for a black Bachelor?"
In 2017, journalist Katie Barnes wrote an article for ESPNW, titled, "Why 'The Bachelor' franchise isn't ready for another black lead." Barnes noted how the show had not proven its ability to "deftly handle implications of a black man's sexual prowess or the historical context of a black man courting white women." She pointed out that American viewers still have a preference for same-race relationships, based on the Bachelor's lower ratings when they cast a black lead.
America has already had a black president, which should mean America is ready for a black Bachelor, right? Really, the question is whether or not The Bachelor production should be trusted to properly represent a black man on the network. The answer is, most likely, no.

Based on the franchise's history, it clearly cannot provide protection and respect to white and black contestants equally. The show has continuously put even white contestants, specifically the Bachelorettes, in harm's way by allowing emotionally and physically abusive men to remain on the show past their due. After the first black Bachelorette was treated unfairly based on race, how can any black man expect the show to represent him as a respectful, loving, funny, and kind man?
Why would a contestant as fantastic as Mike Johnson want to be the Bachelor when the show put the only previous black lead in danger by casting a racist contestant and manipulated edits to depict her as an ungrateful, angry black woman?
On the other hand, the veteran could have the opportunity to represent black men on a national scale. Of course being the first black Bachelor would come with unreasonable expectations and great weight, but he could depict a real black man's love and respect for women and love for his family, particularly his great love for his grandmother, mother, and sister. The decision to become the first of anything, like Maiysha Kai explained, is to be prepared for scrutiny all around. But it also means weighing the pros and the cons— is it better to contribute to the culture via representation or refrain due to the concerns of being misrepresented? By branding himself as the "first veteran Bachelor," Mike seems to be laying the groundwork to move the perception of his identity away from his blackness and towards his other qualities.
Truthfully, Mike Johnson has all the qualities to be the next and best Bachelor yet—and he happens to be black. Bachelor Nation has seen more genuine personality and heard more engaging soundbites from Mike Johnson than any other man this season. Mike is at a reasonable age to be "looking for love," he respects women, has life experience, he's a family guy, he's funny, he has a real career as a portfolio manager, and he's good-looking. Fun tidbit: He's the one who called out Luke P. from the beginning!
After boring, immature duds like Colton Underwood and Arie Luyendyk Jr., Mike could be the man the show needs to revitalize The Bachelor with a complex lead. And maybe this is exactly what Bachelor Nation needs to snap them out of their racial biases and tendencies— if Mike Johnson deems the franchise worthy.