MUSIC
New music from Jay Som, Whitney, GoldLink, (Sandy) Alex G, and more!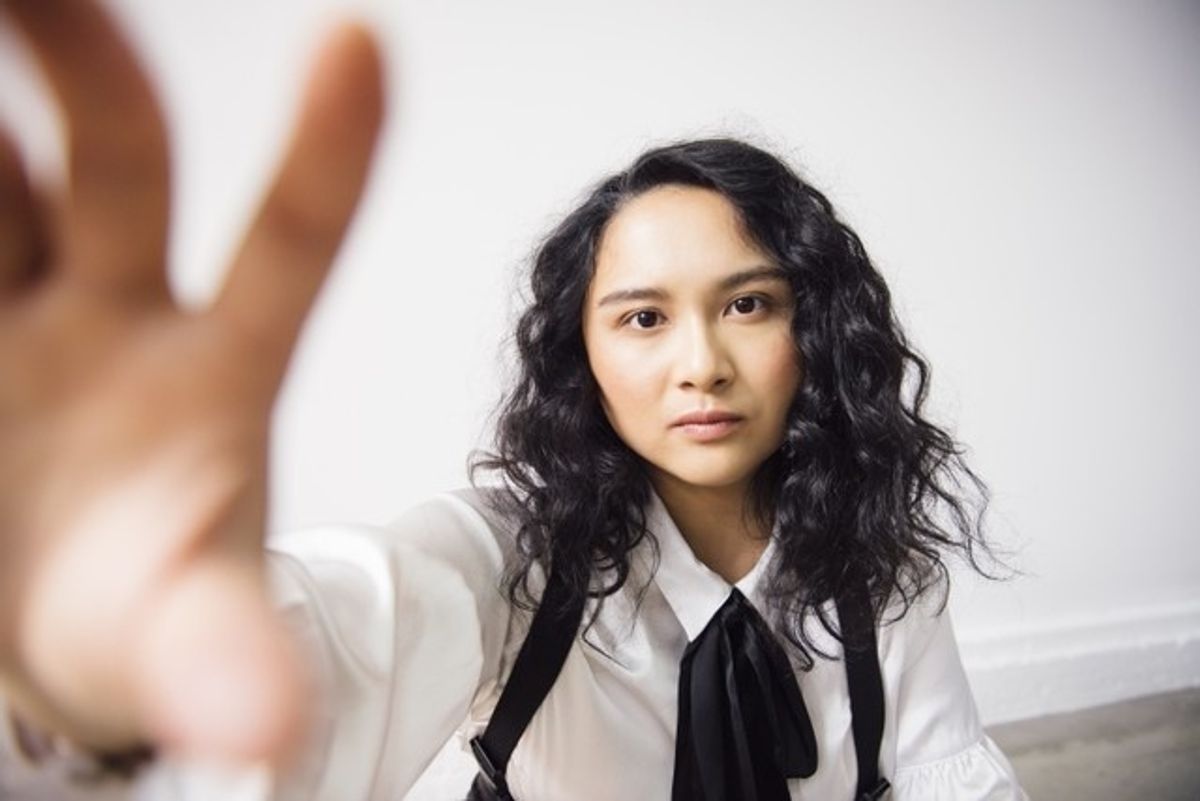 Lindsey Byrnes
Fresh Music Friday is here to give you a breakdown of new singles, EPs, and albums to check out as you make your way into the weekend.
Get ready to jam out with some of our favorite up-and-coming artists, plus celebrate new releases from those you already know and love.
Singles
1. Jay Som - "Superbike"
Jay Som (a.k.a Melina Duterte) announced her sophomore album, Anak Ko, by sharing a new single. On "Superbike," Jay Som channels '80s dream-pop into a shoegazey tune swirled together with fuzzy guitar work and a bittersweet chorus. Plus, the accompanying visuals feature nostalgic shots of the open road to match the song's nostalgic atmosphere. About "Superbike," Duterte explained that she hoped to harness the sounds of "Cocteau Twins and Alanis Morisette," and it's safe to say she succeeded. Anak Ko is out August 23rd via Polyvinyl.
2. Whitney - "Giving Up"
Chicago's indie-folk-rock outfit, Whitney, are gearing up to put out a new record, Forever Turned Around, the follow up to 2016's acclaimed Light Upon A Lake. This week, they shared a new, cozy single called "Giving Up." On the new song, Whitney rounds out their warm, folksy sound with a bright horn section, soulful vocals, and a big, jammy breakdown. Despite its wistful lyrics, "Giving Up" feels like a deep exhale, the perfect musical accompaniment to a sunny morning or a summer storm. Forever Turned Around is out August 30th via Secretly Canadian.
3. GoldLink - "U Say" (featuring Tyler, The Creator and Jay Prince)
GoldLink announced his forthcoming album Diaspora, and this week he teamed up with Tyler, The Creator and Jay Prince in a new track called "U Say." Diaspora is out June 12th via Squaaash Club/RCA Records.
4. Tei Shi - "A Kiss Goodbye"
Tei Shi (real name: Valerie Teicher) returns with a new song called "A Kiss Goodbye," the first single from her forthcoming LP. She melds together Latin influences and modern trap beats, breathing life into a gently-shuffling, Brazilian-inspired rhythm. This is her first music since appearing on Blood Orange's "Hope" and marks her first solo project since 2017's Crawl Space.
5. (Sandy) Alex G - "Gretel"
Alex G introduced his newest album, House of Sugar, with a new song and video for "Gretel." He layers sped-up vocals, gnarled guitars and off-kilter strings over one another to create a track that is––in typical Alex G fashion––equal parts eerie and charming. House of Sugar is out September 13th via Domino.
6. Arthur Moon - "Homonormo"
"Homonormo" is the latest offering from the experimental electro-pop group, Arthur Moon. On their new song, the Brooklyn group (fronted by Lora-Faye Åshuvud alongside collaborators Cale Hawkins and Martin D. Fowler) strikes the perfect balance between eccentricity and infectious avant-pop. Foll owing the deconstructed pop sound of "I Feel Better," "Homonorno" is gorgeous and expansive, leaving plenty of room for Åshuvud's loping vocals to color in the song's spaced-out melody. The new single comes ahead of their debut self-titled, out in July via Vinyl Me, Please.
7. Yung Bae - "Must Be Love"
Portland-based producer Yung Bae has a new album in the works, and today he shares his new luminous single "Must Be Love." With nods to disco and funk, "Must Be Love" swirls together a palette of colorful synths and 70's vocal samples. The song builds up to a vibrant peak and then transforms into a euphoric drop, making it the perfect summertime jam.
8. Wild Mercury - "Orange County"

This week, Montreal-based rockers Wild Mercury shared a new track called "Orange County." Though initially starting as a folk group, Wild Mercury adopt a grittier edge in their new song, combining euphoric pop energy with a full-bodied blues-rock sound.
EPs
9. The Bliss - Heaven If You Want It
Vocalist Chelsea Davenport and producer Felix Snow came together in a new venture called The Bliss, and together they created hook-driven electro-pop that pushes sonic boundaries. Their songs are ultra-catchy and feel radio-ready thanks to Snow's crisp production skills and Davenport's captivating vocals. Vibrant singles, like " Shiny Days," dazzle and complement one another when heard in succession on their debut EP, Heaven If You Want It.
Video
10. Stef Chura - "Scream"
Detroit's Stef Chura is sure to be the angsty cheerleader of your dreams in her new video for "Scream." The visuals find the Detroit indie-rocker shredding in a high school gymnasium decked out in a Bring-It-On-approved outfit, as she channels the sound of early Liz Phair in her riff-heavy rocker "Scream." Chura's new record, Midnight, is out now via Saddle Creek.