CULTURE
K-Pop Star's Suicide Shows Online Misogyny in Korea's Sexual Assault Cases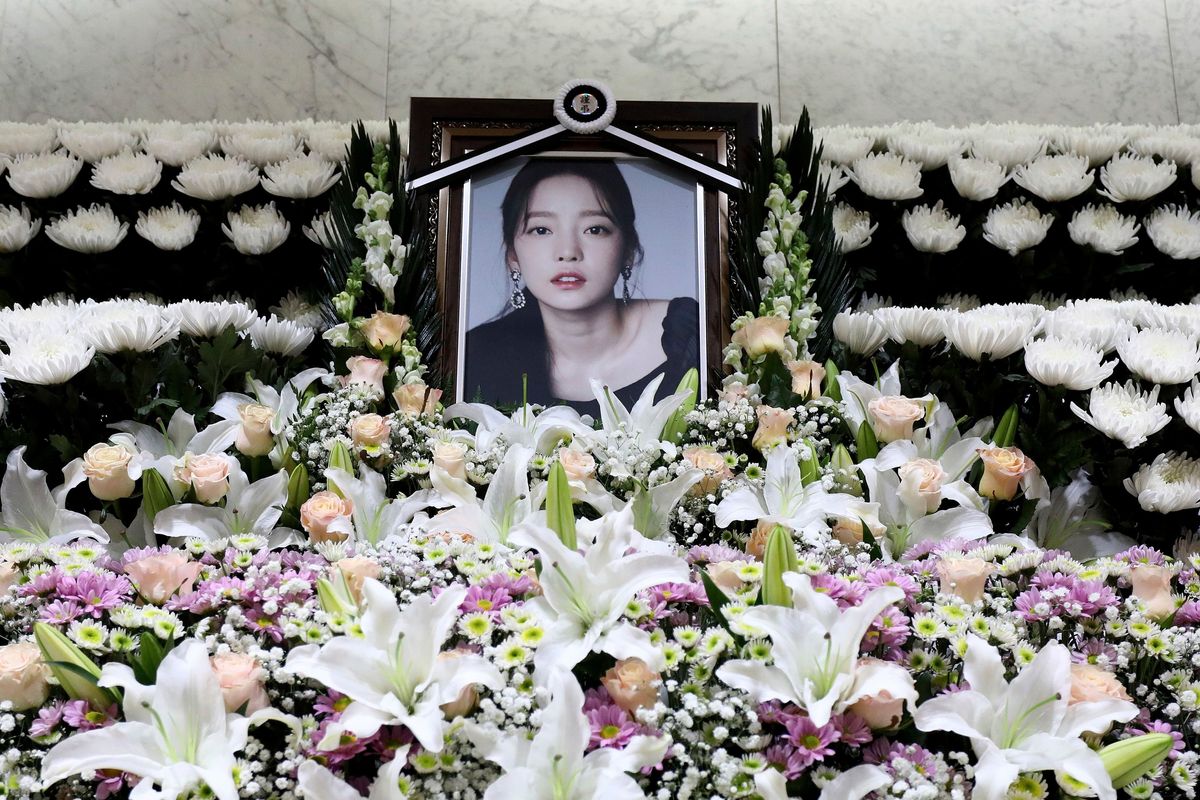 Photo by Chung Sung-Jun (AP-Shutterstock)
South Korea has long held one of the highest suicide rates in the world (10th, according to the World Health Organization), a fact that's painfully resonated this year with the suicides of two popular K-Pop stars: first 25-year-old Sulli and now 28-year-old Goo Hara.
---
After Sulli was found dead in her home last month, public outpouring of grief included fellow K-Pop idols and the singer's famous friends, such as Goo, a former member of the girl group Kara. She described their friendship as being "like sisters"; in a live stream, she vowed, "I will live twice more diligently now that you are gone," adding, "Dear fans, I will be fine. Don't worry about me." But six weeks later, Goo was found dead in her own Seoul home, with police calling it a suicide and reporting that they'd found a handwritten note expressing her overwhelming depression.
While the world of K-Pop has been rife with scandal, from its factory-like production of girl groups and boy bands to its disregard for young idols' mental health, Goo's tortured last years also highlighted the pervasive effects of rape culture within K-Pop. As writer and activist Chanda Prescod-Weinstein pointed out on Twitter, "Rape culture kills," pointing out the negligence and egregious mishandling of Goo's highly publicized dispute with her abusive ex-boyfriend, Choi Jong-bum. Choi not only attempted to blackmail the singer but physically and (allegedly) sexually assaulted her. "It is known that she attempted to commit suicide in March this year after an ex-boyfriend attempted to blackmail her with threats of assault and the release a sex video," NBC News reports. "Amid the dispute, Goo's agency terminated her contract."
Details of the assault include Choi drunkenly attacking Goo while she was sleeping, prompting the singer to physically fight back against Choi's screaming assault. He was reportedly displeased with the resulting marks to his face and threatened to release footage of the two of them having sex in order to "make it impossible for her to pursue an entertainment career." Over the course of multiple trials, Choi was found guilty of "filming body parts without consent, assault causing bodily harm, intimidation (blackmail), coercion, and destruction and damage of property." He was not found guilty of sexual assault. Disturbing excerpts from the court documents include: "During the breakup process with his lover, Mr. Choi caused injuries to the victim as well as receiving injuries on his own face. He was angry about this and threatened to contact a media outlet to end the victim's career. By making her kneel and other such behavior, he caused serious suffering to the female celebrity victim."

Instead of the prosecutors' requested 3-year prison sentence, the Seoul Central District Court granted Choi a suspended sentence of three years of probation. If he violates said probation, then he'll receive his full sentence of one year and six months in prison. The prosecution was quick to condemn the court's leniency. On September 5, they appealed to demand a harsher sentence, stating, "Society needs tougher punishments in order to eradicate the kind of criminal behavior that Choi Jong Bum committed. We hope that during the appeals trial, the defendant will be appropriately sentenced according to the weight of his crime."
But it's worse than just leniency for a blackmailer; it's a testament to the misogyny that Korean women, even K-Pop idols, face in the public eye. Throughout the trial, Goo faced significant backlash in the press and online hate. In June, she took to Instagram (in a since-deleted post) to say, "I won't be lenient on these vicious commentaries anymore." She wrote about her struggles with "mental health" and "depression" and plainly asked people to stop leaving hateful comments. "Is there no one out there with a beautiful mind who can embrace people who suffer?" she posted. "Public entertainers like myself don't have it easy — we have our private lives more scrutinized than anyone else and we suffer the kind of pain we cannot even discuss with our family and friends. Can you please ask yourself what kind of person you are before you post a vicious comment online?" In her final Instagram post, she captioned a selfie of herself lying in bed with "sleep tight."
As Bloomberg reporter Jihye Lee critiqued, "Korean women find it more and more difficult to report crimes as victims because they see female artists facing even greater backlashes & trauma because of how the public, police and the justice system response to sexual assault, and that sends a clear message to all women in Korea."
Now, Goo's death has fans petitioning for greater awareness and more responsible action in response to sexual assault, as well as mental health concerns. On Twitter, fans are channeling their grief into calls to bring Choi to justice and face a stricter sentence. Trending topics in South Korea are filled with remembrances of Goo Hara and even Sulli, while an online petition addressed to President Moon Jae-in has gained over 220,000 signatures, all demanding that sexual harassment receives a harsher punishment in Korean law.
While Goo's death has inspired a long-overdue conversation about the oppressive misogyny that keeps too many Korean women from reporting assault, a small memorial sits at St. Mary's Hospital in Seoul where Goo's body rests.