Film Reviews
Need More Excitement In Your Life? Time For A Guy Ritchie Marathon
Guy Ritchie Films: Ranked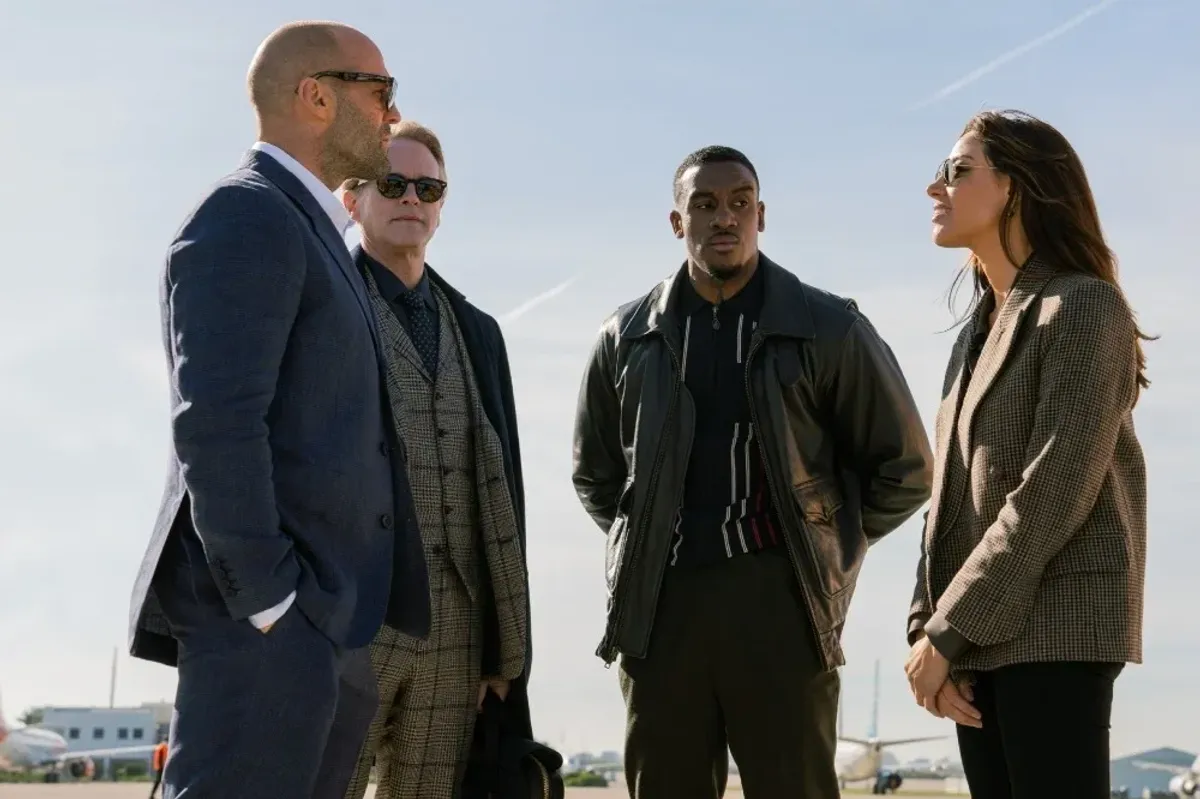 via Lionsgate
Movie distribution is a complete mess. With studios holding out for theatrical releases while streaming services poach viewers from cinema seats, industry giants seem to be at war. And We, The People — who only want to watch exceptional movies — are the victims.
---
Top Gun: Maverick and Elvis were hailed as the saviors of cinema screens, while Netflix's Glass Onion gladly passed on box boffo office numbers in order to usher their hit film to their site. Who can say who will win this war. But when it messes with release dates for my most-anticipated films, that's when I say, please! When will the madness end!?!
The last movie I saw in an actual theatre — this was pre-Covid-2020 — was Guy Ritchie's The Gentleman. Everything looked so beautiful up there, on the big screen: the slick production values, the dramatic action sequences, Charlie Hunnam.
So, it seems poetic that the first blockbuster film I've seen in the movie house this year is Guy Ritchie's Operation Fortune: Ruse de Guerre. Don't get me wrong, I've been to the cinema since. But as a lover of indies and small theatres, I hadn't watched anything of this scale on anything but my laptop in years.
And I was not disappointed. The silver screen did the film justice. Explosions! Car chases! Panoramic views of exotic locations! And no Charlie Hunam, but so-so much Aubrey Plaza — who could complain?
Critics, apparently. While I concede that OperationFortune is a cookie-cutter Hollywood action-adventure film, I still had a fantastic time watching it. And that's more than I can say for Best Picture Nominee, Top Gun: Maverick. Yet, the critics have disparaged my dear Guy Ritchie, advising viewers to pass on the film.
The film only scored a 51% on Rotten Tomatoes. Plus, after being delayed for months, its release was even further stalled due to political controversy. The film's main antagonist is flanked by Ukranian gangsters … which studios decided was maybe not the right message to send while that country is at war.
Given the unfortunate casting and the krappy reviews, this is not Ritchie's big cinema success. But it's the kind of low-stakes, movie-fun, feel-good that makes going to the movies such a light-hearted affair.
You win some, you lose some. And in Guy Ritchie's case, he hasn't lost me yet.
If you're new to his chaotic cinematic universe, here is my definitive list of the most notable Guy Ritchie's films, ranked from worst to best.
All products featured are independently selected by our editors. Things you buy through our links may earn us a commission.
Swept Away (2002)
Did you know: Ritchie used to be married to pop icon Madonna? For close to 8 years! This film is one of the most lasting artifacts from their marriage — unfortunately for them both. The film is a remake of the 1974 Italian classic. If it sounds like a departure from his usual work, it was. And it didn't turn out well.
Aladdin (2019)
Another flop … sorry to that, man. Although this Disney live-action feature was a highly anticipated, big-budget film, its critical reception was a bust. I mean, it's a Disney movie, so I wasn't expecting art. But Guillermo del Toro pulled it off with Pinocchio so … just saying. In any case, Ritchie and Aladdin were not a match made in heaven.
Revolver (2005)
Revolver seemed like a quintessential Ritchie movie: a con man, a city full of criminals, Jason Statham. But somehow, the film fell flat. It's a Vegas casino thriller, so fans were expecting a Ritchie take on the Oceans films. Its all-star cast also includes Ray Liotta, Vincent Pastore, Mark Strong, and André 3000. It's often overlooked in Ritchie's canon due to a tepid critical reception, but there's one thing fans will never forget: Jason Statham's wig.
Sherlock Holmes: A Game of Shadows (2011)
Ritchie's rendering of the Sherlock Holmes films is actually quite iconic. He takes the tired old, oft-told stories of Holmes and Watson and adds his signature style: dark and seedy London, camera-twisting violence, cheeky humor, and a charismatic cast. Ritchie and Rob Downey Jr. prove to be a dynamic duo. Unfortunately, the sequel was less thrilling than Ritchie's first Sherlock take, so Game of Shadows was the final installment in the series.
King Arthur: The Legend of the Sword You (2017)
This film in the Ritchie canon is also overlooked. And it's partly because it's another one that doesn't feel like Ritchie. It feels like a studio's cookie-cutter attempt at something edgy. Essentially, Ritchie was tasked with creating a Universe — literally. King Arthur was supposed to be the first in a franchise that would expand into an entire world like Marvel or DC, with films focusing on different characters. The first installment, however, was not compelling enough to pave the way for any further films. But one silver lining: it added Charlie Hunnam to Ritchie's list of frequent collaborators. More on him later.
Wrath of Man (2021)
Released during Covid, this quiet film is a sleeper in Ritchie's canon. In terms of both subject matter and reputation. Instead of the loud, brash style that Ritchie is known for, it simmers with a mysterious intensity. Statham returns as the protagonist, but instead of the witty, funny side of him that Ritchie usually unlocks, he's a silent, brooding hero with hidden motives. Overall, it's a fine movie. Just notably different from Ritchie's style. But after atrocities like Aladdin, a welcome return to his core themes.
Sherlock Holmes (2009)
Ritchie's inaugural Sherlock Holmes film was critically acclaimed. RDJ and Ritchie forged a cult-classic take on the Holmes character — a Holmes as troubled and chaotic as he is brilliant and charismatic. Jude Law's Watson plays the perfect foil to RDJ, and with Ritchie at the helm of this mayhem, we've got a pair of instantly iconic characters.
Operation Fortune: Ruse de Guerre (2023)
Controversial as it may be, I would put Operation Fortune right here at number 8. Despite its slick, Hollywood veneer and admittedly convoluted plot, the Guy we know and love is out in full force. He pulls actors from his usual Rolodex — Statham, Hugh Grant, Bugzy Malone — but it's the addition of lovable Aubrey Plaza that brings fresh energy to this film, combining her brand of comedy with Ritchie's distinctive — and distinctly British — humor.
The Man From U.N.C.L.E. (2015)
Another slick, spy film from Ritchie, but this time set in the 40s. Although the movie performed well and received great reviews, for some reason it remains an underrated film. Perhaps the shadow of Armie Hammer as one of the leads is to blame. This film remake of the famed 1960s television series concludes with a cliff hanger, but we probably shouldn't expect a sequel.
RocknRolla (2008)
Now we're getting to the meat of it: the films that exemplify Guy Ritchie at his best. A quintessential Ritchie film, it's sex, drugs, and Rock and Roll in this punchy, putrid comedy of errors. Don't take your eye off any of the characters for one single second because in this film, every twist and turn is as unpredictable as the last.
Lock, Stock and Two Smoking Barrels (1998)
His first feature film, this put Ritchie on the map — and millions still claim it's his best. Lock, Stock . . . tracks a gang of criminals against criminals, all stacked on top of each other in quintessential Ritchie style, bumbling around London, all with their eyes on the prize. The film was his first foray with Statham, a partnership that continues to this day. And like many artist-muse relationships, it's obvious from the very start as to why.
The Gentlemen (2019)
The Gentlemen has all the charm of Ritchie's hottest films and all the glossy production values of pure Americana. This is the perfect marriage between sleek studios and Guy's gritty vision. Down to the cast and the plot. The Gentlemen drops the American protagonist into Ritchie's usual London setting and features Matthew McConaughey and Jeremy Strong alongside Colin Farrell, Henry Golding, and Ritchie frequenters Charlie Hunnam, Hugh Grant, and Bugzy Malone.
Snatch (2000)
Number one just has to be Snatch. This tale of boxers, Roma travelers, gangsters, thieves, and good old-fashioned bookies funs all of Ritchie's familiar tropes. It's impossible to describe and a wonder to watch — just like Brad Pitt's outrageously indecipherable accent.