MUSIC
Remembering a singular talent.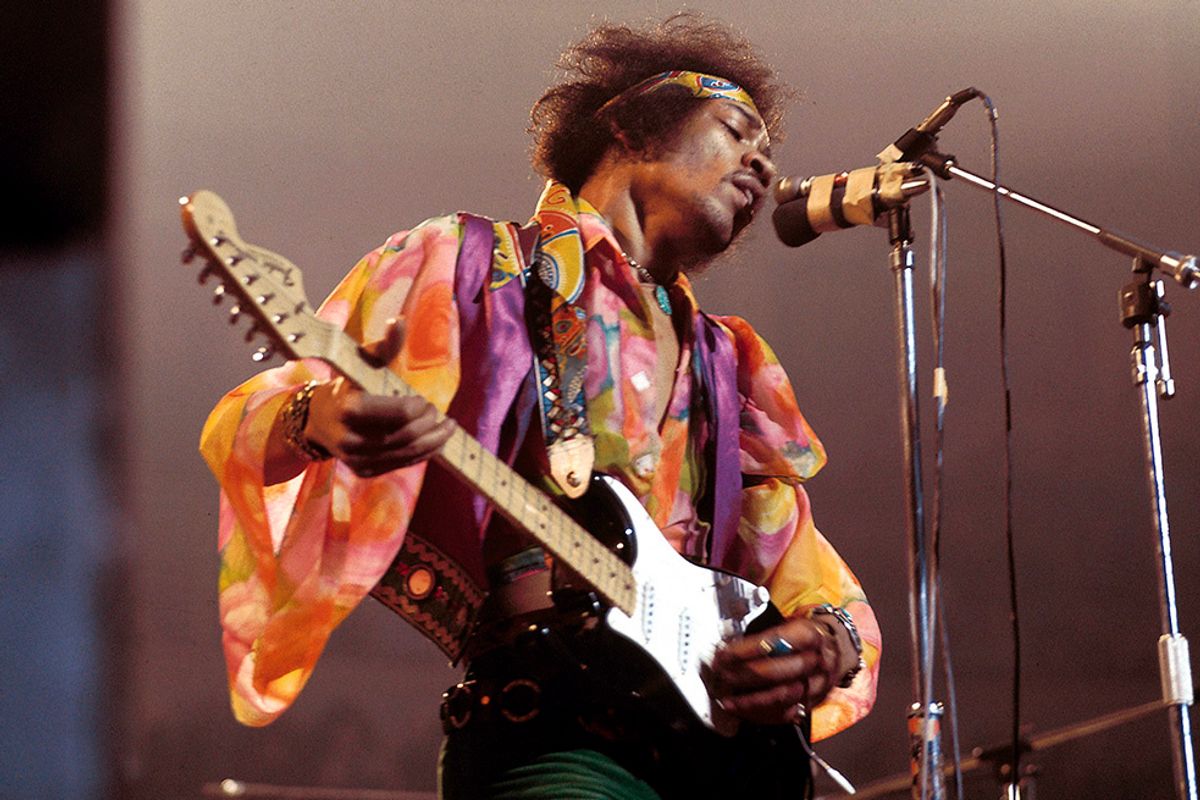 Jimi Hendrix would've turned 77 years old today.
During his short 27 years on earth, he changed the fabric of music forever, leaving behind a body of work that would leave an indelible impression on millions.
Hendrix was born in Seattle, Washington, and began playing the guitar at 15. At 16, he received his first acoustic guitar from his father—an acoustic Supro Ozark—and from there, the young prodigy started performing with his first band, called the Rocking Kings.
He kept playing throughout his time in the army, and after being discharged, he started playing as a session musician. Initially gaining traction in Greenwich Village, he eventually formed the Jimi Hendrix Experience with drummer Mitch Mitchell and bass player Noel Redding.
The group's first single, "Hey Joe," came out in 1967, and soon after, the infamous "Purple Haze" was released. Hendrix established himself as a legend with "Wild Thing," and then Electric Ladyland. In 1968 he started his own studio in New York City, Electric Lady Studios. In 1969, he split skulls with his blistering Woodstock rendition of "The Star Spangled Banner," a version that embodied a deep-rooted rage at America and its violent heart.
The Life and Career of Jimi Hendrixwww.youtube.com
Jimi Hendrix The Star Spangled Banner American Anthem Live at Woodstock 1969www.youtube.com
Hendrix died in 1970, but his legacy is eternal. Described by the Rock and Roll Hall of Fame as "the greatest instrumentalist in the history of rock music" and widely renowned as the world's greatest guitar player ever, he's notorious for his innovative fusion of blues, funk, and psychedelia, blending tradition with visionary use of pedals and various technologies.

What exactly made Hendrix's music so exceptional? In terms of technique, he was endlessly inventive and relied on an ever-expanding wheelhouse of signature skills. For music theory buffs, Hendrix used a chord called the Dominant 7#9 chord. Often called the Hendrix chord, it's notorious for its expressive tension. Hendrix also typically tuned his guitar a semitone below concert pitch, enabling him to perform intense bends (a technique that involves bending a string to change the note, which creates Hendrix's signature wailing guitar tone).
What Makes Jimi Hendrix Such a Good Guitaristwww.youtube.com
But Hendrix's extraordinary technical and musical skills were made transcendent by some unnameable factor, something that had less to do with technique and more with an ability to tap into the energy at the core of music and life.
Regarding Hendrix's cover of his song "All Along the Watchtower," Bob Dylan said, "It overwhelmed me, really. He had such talent, he could find things inside a song and vigorously develop them."

The Jimi Hendrix Experience - All Along The Watchtower (Audio)www.youtube.com
Guitarist John Frusciante perhaps touched on what made Hendrix so truly great when he said, "He's bending sound, taking care of music in every dimension. Where most people think of it in two dimensions, he's thinking of it in four."
Jimi Hendrix - Solo Little Wingwww.youtube.com
The Jimi Hendrix Experience - Hey Joe (Audio)www.youtube.com