Frontpage Popular News
Goodbye Trucker Hats - Harley-Davidson Is Entering High Fashion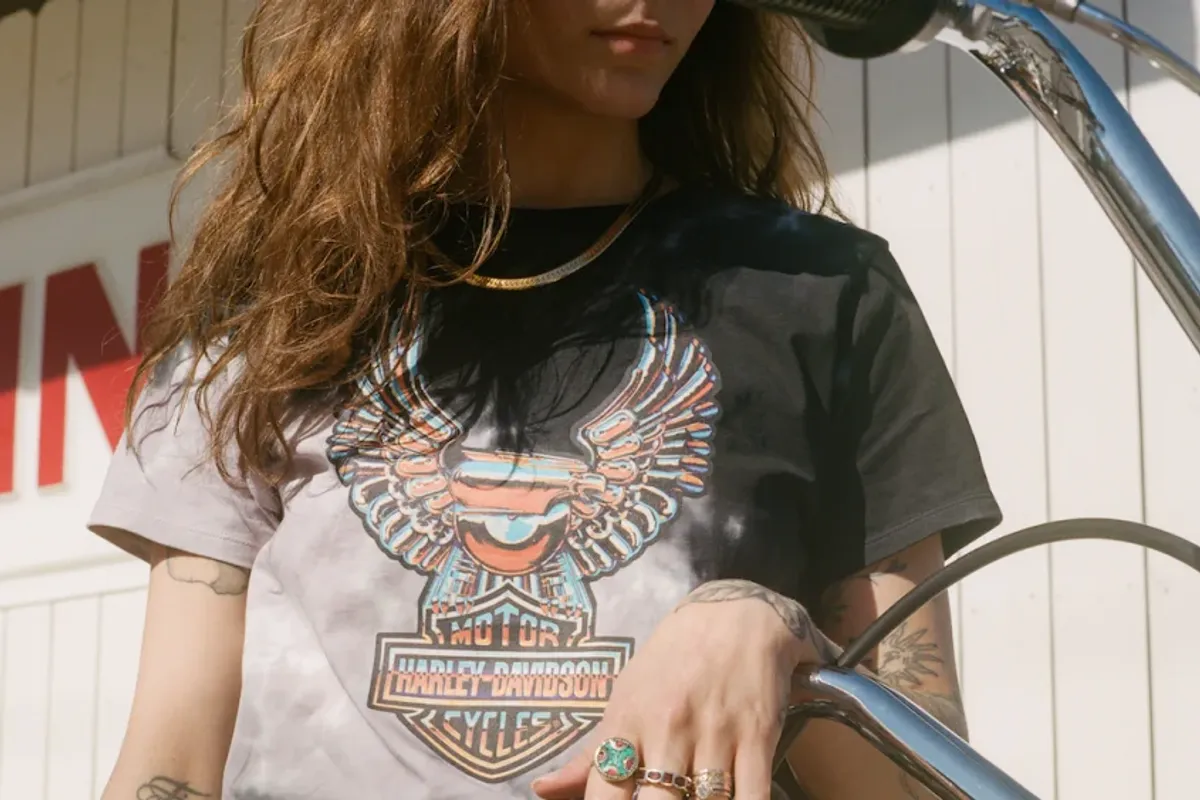 Harley Davidson
The luxury retail market is no stranger to brands stepping out of their comfort zones and into the world of fashion. Think: Hermes switching from saddles to purses, Louis Vuitton pivoting from luggage to fashion, and, more recently, Tiffany & Co. collaborating with Nike. And, yes, sometimes it works perfectly (LV)...but sometimes, it fails (Tiffany).
---
It's the age-old question: should we branch out as a brand and sell our souls to the runway…or should we stick to what we know? For most brands, the answer is it's worth a shot. And for Harley-Davidson, fashion isn't as much of a stretch as you'd think.
You know the Harley logo, and you've seen the massive storefronts that apparently don't just sell two-wheelers. You see, those ubiquitous trucker hats and baby tees embossed with that recognizable orange logo already make the motorcycle company a ton of cash. They did $270 million in clothing sales alone in 2022.
So it's no surprise that they're scaling up from logo trucker hats to make a real play at entering the fashion world. They even tapped former Yeezy co-creator Louise Goldin as Harley's first-ever creative director to lead the way. Goldin's genius aided the infamous Kanye "Ye" West in creating his signature monochromatic streetwear that has been endlessly iterated by brands everywhere.
And now, Goldin will try her hand at appealing to a younger, trendier market with Harley-Davidson's fashion moment. That's right…they aren't looking to reel in more 40-50-year-old predominantly male customers. It's about a real shot at the fashion world, on runways and at Fashion Weeks everywhere.
The new wave of Harley-Davidson, titled "H-D Collections," features elevated takes on the classic Harley look. Graphic tees, sleeker designs, and subtle logos are wrapped into a blend of chic streetwear and functional workwear. With Goldin's expertise, the brand isn't straying too far from homebase, while still leaping away from the gimmicky t-shirts with eagles on the front.

H-D Collections
Harley Davidson
Of course, there's leather. It wouldn't be a biker's dream line if there weren't a splash of black leather jackets and moto pants. The collection includes H-D Originals, which delves more into the graphic tee-side of Harley's iconic look. It'll also feature an authorized vintage program for the nostalgic Harley fan.
Another collection under the new Harley Davidson is Bar & Shield, which is Goldin's most expensive line for the brand. Prices range from $95 t-shirts all the way up to $1,500 for those iconic leather jackets.
Goldin is known for using unique fabrics that aren't mass-produced by other brands quite yet. This makes her visions perfect for the new world of Harley-Davidson, especially because she was drawn to the engineering behind it all. Their values are similar, if for different reasons: Goldin sees the beauty in engineering fabrics…Harley sees the beauty in engineering bikes.
With an already solid foothold in the clothing world, it's easy to see how Harley could go in the wrong direction. Too many scorned traditionalist HD fans feel isolated from the younger crowd that Harley is trying to draw in. The "if it ain't broke, don't fix it" mentality.
However, this could be the start of a new dynasty under Goldin's reign. Goldin, a fashion nepo-baby in her own right who has worked with big names like Donatella Versace herself, whose collections have been worn by Rihanna and Katy Perry…pairing with the traditional motorbike giant Harley-Davidson can only mean big things for the brand.
Whereas the Nike x Tiffany collaboration failed to memorialize the brand's roots, Harley-Davidson's fashion-world debut remains classic, yet progressive.