The last thing most teenage girls want to do their last summer before college is to start a band with their dad.
However, this plot line is at the heart of Hearts Beat Loud, a film that might be questioned regarding whether or not it is "edgy" enough to hold a place in the usual boundary-pushing arena of Sundance. The oddness of the partnership alone, combined with the various other topics the film manages to cover without hitting you over the head with their relevance to the plot over the course of its hour and a half run, should confirm for critics that this is premier Sundance material.
Written and directed by Brett Haley (previous work includes I'll See You in My Dreams and The Hero), the film follows Frank (Nick Offerman), a single dad with a failing record shop in Red Hook, Brooklyn, who struggles with letting go of his teenage daughter, Sam (Kiersey Clemons) the summer before she is to attend UCLA. Where Sam is a dedicated student with dreams of becoming a doctor, Frank is focused on her musical talents, and urges her to pursue them further than their weekly jam sessions. Sam's opposed, but when Frank uploads their first single to Spotify, their not-band, aptly named "We're Not a Band," could show some potential, even if it's just for a little emotional relief.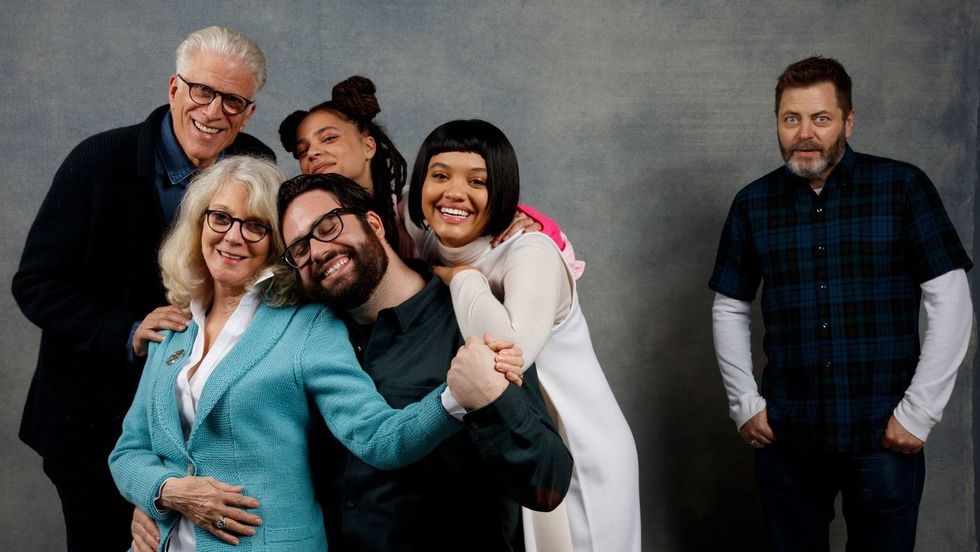 Jay L. Clendenin / Los Angeles Times
Haley's previous films have brought him to the festival before, so he is no stranger to the kind of material usually showcased over the ten days. On the surface, Hearts Beat Loud is an light-hearted, emotionally touching story about a parent and child relationship that is in transition. In the same way that Lady Bird curated a coming-of-age for mother and daughter, Hearts Beat Loud does so with a father tackling letting go, putting a more prominent focus on the parent overall. We see Offerman's character falling back into his cigarette habit, reading through his old musical composition notes, and trying desperately to discover what his life will be when he is no longer spending it predominantly as a single parent. Similarly, Clemons's character struggles with being caught between two wonderful worlds, not knowing where to go or stay. Interestingly enough, the knee-jerk reaction of both characters in ultimately to rely on one another.

This story is not necessarily revolutionary, but its handling of outside elements is what allow it to shine, incorporating details within without marking them in red in some sort of unnatural way. Sam's relationship with girlfriend Rose (Sasha Lane, also known for 2016's Cannes hit American Honey and fellow Sundance flick The Miseducation of Cameron Post) is not exotic, or at least no more so than any teenager who is interested in someone new and disinterested in discussing it with a prying parent. Similarly, the effects of early onset Alzheimer's in Frank's mother (Blythe Danner) are rawly portrayed as an obstacle to his moving on in his life. These are exactly the ways in which these elements appear in our lives: not as abnormal, but as average as passing a local coffee shop or seeing a cloud cover up the sun. Haley's skill shines in adding this normality into a slightly offbeat premise.
Where the film will struggle is in audiences' polarizing views of the genre. Musicals are not for everyone, and certainly not the kind that border on heartwarming. It could very well pigeon hole this film into being reserved for the HBO Family channel down the line. Audiences leaving the film also spoke about how it's hard to separate Offerman from his Parks & Recreation days and take him in another role. Hopefully, people will get over both of these issues and appreciate this film for the story it is trying to tell, one of a changing family we will all inevitably experience.

Find out more about Hearts Beat Loud here.
---
Rachel A.G. Gilman is a writer, a radio producer, and probably the girl wearing the Kinks shirt. Visit her website for more.
---
POP⚡ DUST | Read More About Film...

BOX OFFICE BREAKDOWN | What's coming to theaters this weekend?
REVIEW | 'Paddington 2' will warm even the coldest winter hearts
REVIEW | Greta Gerwig directorial debut soars with "Lady Bird" at the New York Film Festival
---