CULTURE
High Fashion Meets Fast Fashion: H&M's Collab With Mugler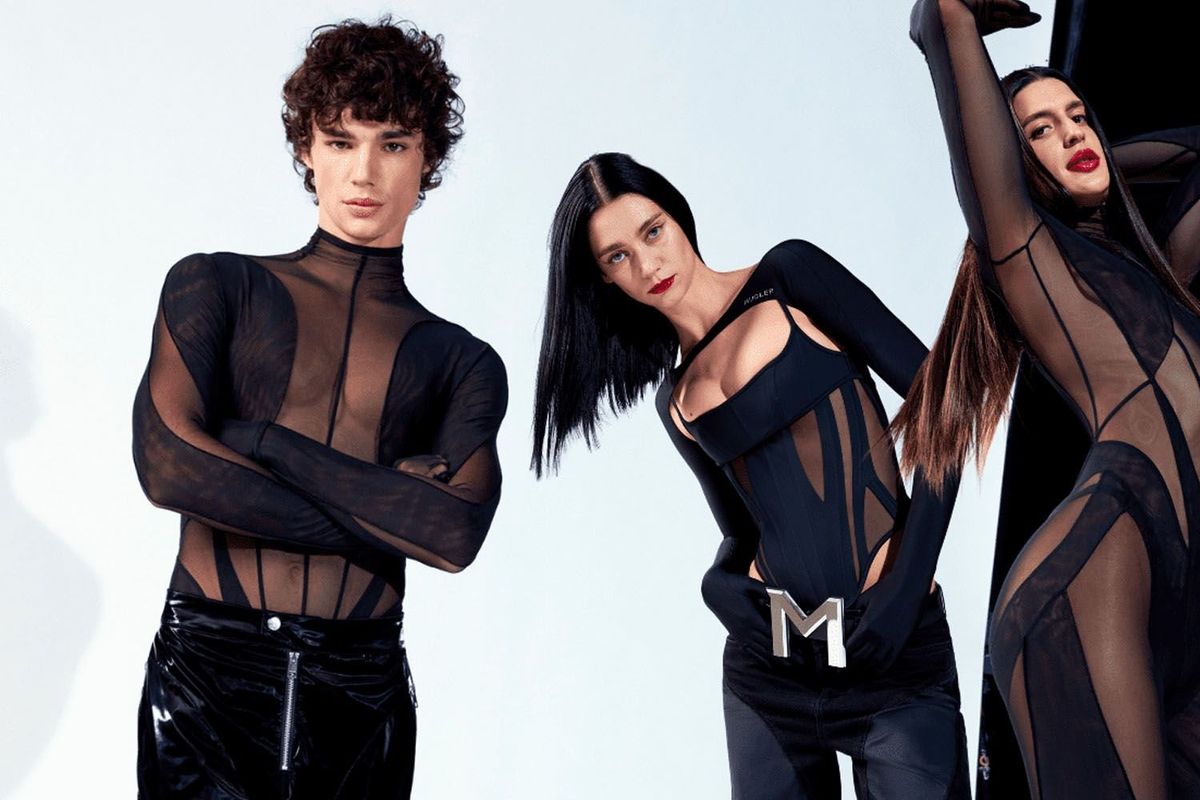 H&M x Mugler
One of the most elusive parts about luxury fashion brands like Louis Vuitton, Mugler, or Dior is that they don't instantly produce their clothing with cheaper fabrics just to fit trends. They dictate the trends, while fast fashion brands like Shein, Forever 21, and H&M rush to copy them. Fast fashion is always more affordable but is equally guaranteed to fall apart within three washes.
---
Mugler is known for their architectural style. Think corsets, broad shoulders, and cinched waists – it's about illusions and futuristic looks, and Thierry Mugler's visions have been worn by celebrities like Cardi B and Bella Hadid on red carpets and runways across the world. And now, they've decided to collaborate with fast fashion's finest: H&M.
It's a bit of a peculiar mashup that doesn't quite make sense. While I love the preview of the H&Mugler collection, which drops May 11, I can't help but wonder why it's happening. First of all, fast fashion is controversial on its own. Bad for the environment, bad conditions for their workers, bad materials, bad everything.
But to attach Mugler's precious luxury name to fast fashion is eyebrow-raising. H&M has some of the lowest-priced clothing available in your local mall, while Mugler is often sold in standalone stores surrounded by Gucci and St. Laurent buildings. However, for this collection, they're said to be meeting in the middle, price-wise.
Mugler's creative director Casey Cadwallader has designed the collection to stay true to Mugler while bringing it into the homes of those who can't normally afford the brand's steep pricing.
"I was determined for this collection to be true Mugler. The details and quality of every piece had to be exactly as we do them, and I wanted to showcase the energy of Mugler, which has always been about clothes that allow for personal liberation. You can be so many different versions of yourself in Mugler."
This collaboration isn't that surprising for H&M, who has had several successful luxury collaborations in the past with brands like Karl Lagerfeld, Versace, and Kenzo. For this Mugler collab, H&M was looking to hone in on the silhouette-hugging, confidence-inducing Mugler classic look.
"We are proud to celebrate the legacy of Manfred Thierry Mugler with this collection," says Ann-Sofie Johansson, creative advisor at H&M. "We were all honored to get to know Manfred, and it feels very special that he was involved at the initial stages together with Casey and the house of Mugler. Casey has done such an incredible job at paying homage to history, and to the archive while making the collection totally contemporary. Under him, Mugler has become one of the most innovative and exciting houses on today's fashion landscape."
Thierry Mugler was a favorite among all celebrities. In 2019, he returned from a 20-year hiatus to create Kim Kardashian's wet Met Gala look. After passing away last January, this collab will serve as a memorial that will honor Mugler's iconic looks and spectacular designs.