Culture News
We All Knew Jennifer Lopez Wasn't a Motown Singer, Right?
Sure, but can it still be racist if it's just so, so badly done?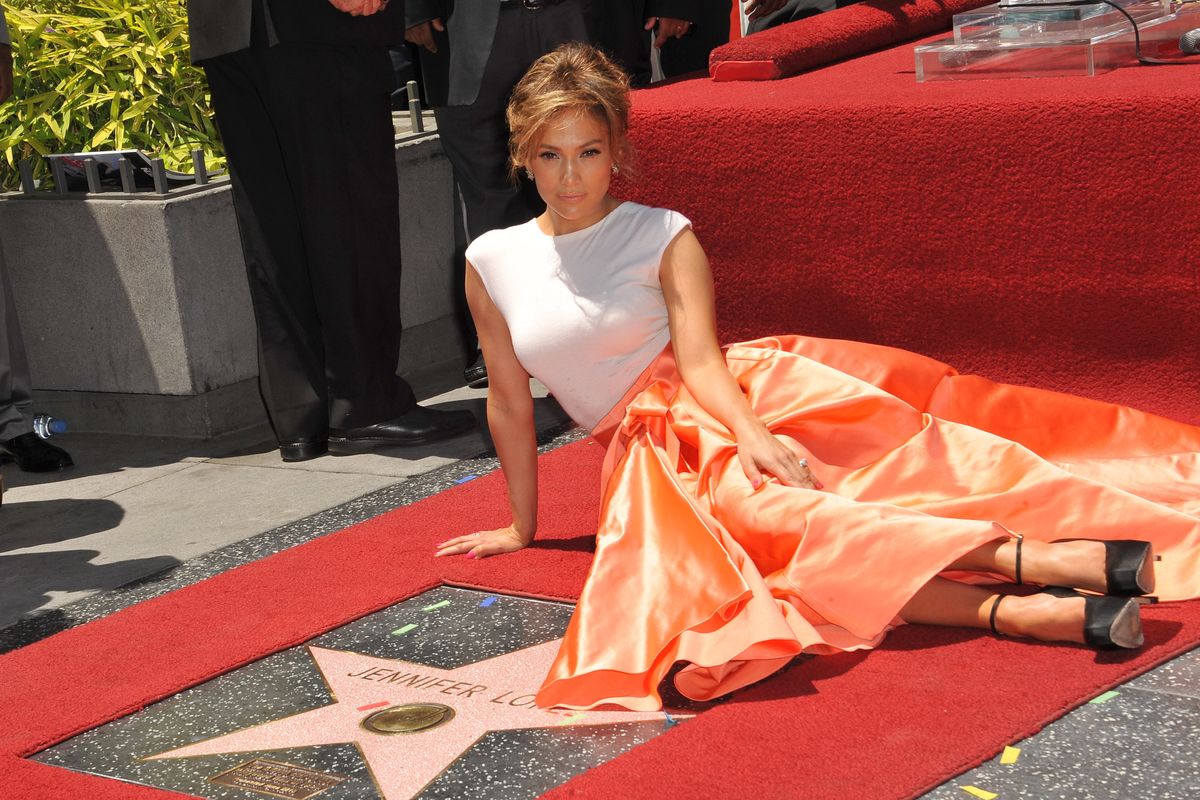 Photo by Featureflash Photo Agency (Shutterstock)
On January 12, 1959, Berry Gordy redefined music when he founded Motown Records at 2648 West Grand Boulevard, Detroit.
---
On Sunday at the Staples Center in Los Angeles, Jennifer Lopez almost tore it all down with a "tribute" to Motown at the 61st Grammy Awards. Lopez dared to share the stage with one of its legends, Smokey Robinson, after performing a medley of Motown classics, starting with "Dancing in the Street" and moving on to "Please Mr. Postman." She slid into Gordy's own "Money (That's What I Want") and finished with the Contours' "Do You Love Me," even throwing in a tease of Jackson 5's "ABC."
Prior to the show, Smokey Robinson publicly lauded Lopez's appointment for the tribute, telling Variety, "Motown was music for everybody. Everybody...Who's stupid enough to protest Jennifer Lopez doing anything for Motown?" But as venerable as the 78-year-old legend is, Lopez's tribute was confusing — you know, on account of her not sounding remotely like a Motown singer, since she isn't one.

But that's fine, Lopez said post-performance, "It was for my mom." She clapped back at criticism during an interview with Entertainment Tonight, asserting, "Any type of music can inspire any type of artist. You can't tell people what to love. You can't tell people what they can and can't do — what they should sing or not sing. You gotta do what's in your heart."
So sure, since Lopez's mother was a big fan of Motown, it must be incredibly appropriate for her, a pop singer outside of the genre, to pay tribute to the genre's history alongside one of its greatest legends.

But here's the thing: the purpose of the tribute was to celebrate the 60th anniversary of Berry Gordy's label, with the man himself, now 89 years old, in attendance (and yes, he gave Lopez thundering applause with the rest of the theater). But the cultural magnitude of Motown is inextricably tied to the racial barriers it broke in the 1950s.
As the first African-American-owned record label to achieve nationwide success, "Motown broke down racial prejudice by becoming the most successful independent record company in history and the most successful African-American-owned business in America," as recalled on the Motown Museum's website. Thanks to Berry Gordy, "Motown became a model of black capitalism, pride, and self-expression and a repository for some of the greatest talent ever assembled at one company… Motown's stable of singers, songwriters, producers, and musicians took the concept of simple, catchy pop songs to a whole new level of sophistication and, thanks to the music's roots in gospel and blues, visceral intensity… After Motown, Black popular music would never again be dismissed as a minority taste…"
By the way, it's Black History Month. Even before Lopez performed, many were critical of a non-black performer being given the opportunity to pay tribute to Motown. Huffington Post editor Phillip Lewis posted, "I'll never understand why they didn't choose someone Black for a MOTOWN tribute." As The Root pointed out, "Kelly Price was busy? Y'all couldn't phone in Ashanti? Amerie didn't want to make a cameo? We know Beyoncé would've been impossible to get, but did anyone try? No one sent her a text?"
As to the actual performance, Lopez delivered exactly what's made her an icon in her own right: a Las Vegas-style bonanza of pop vocals, very fit backup dancers, and some incredible twerking for any performer, let alone a 49-year-old. It's too bad none of that says Motown.
The highlight of the tribute was Robinson joining Lopez onstage to perform the Temptations' "My Girl," despite an incredibly awkward ad-lib of "My Jen." Following that, Grammys host Alicia Keys joined in for a sample of "Papa Was a Rolling Stone," Edwin Starr's "War," and then Teena Marie's "Square Biz." When Ne-Yo came out to contribute a rendition of Stevie Wonder's "Another Star," the spirit of multiple black artists singing Motown hits almost felt like a tribute —except with Lopez perched atop the white grand piano Ne-Yo was playing and diva-worthy fireworks exploding for the finale. J. Lo struck a dramatic pose, more fashion model than "a model of black capitalism, pride, and self-expression."
POP⚡DUST | Read More...
Please Help, I Liked Ariana Grande's New Album Way Too Much
The Best 2019 Grammys Moments... JK Here's the Worst