CULTURE
In a Cheeky New Jimmy Kimmel Skit, the Princes Have Hands
Two actors — each playing the Artist Formerly Known As Prince — reenact the fight between Prince Harry and Prince William as depicted by the Duke of Sussex in his forthcoming memoir, "Spare"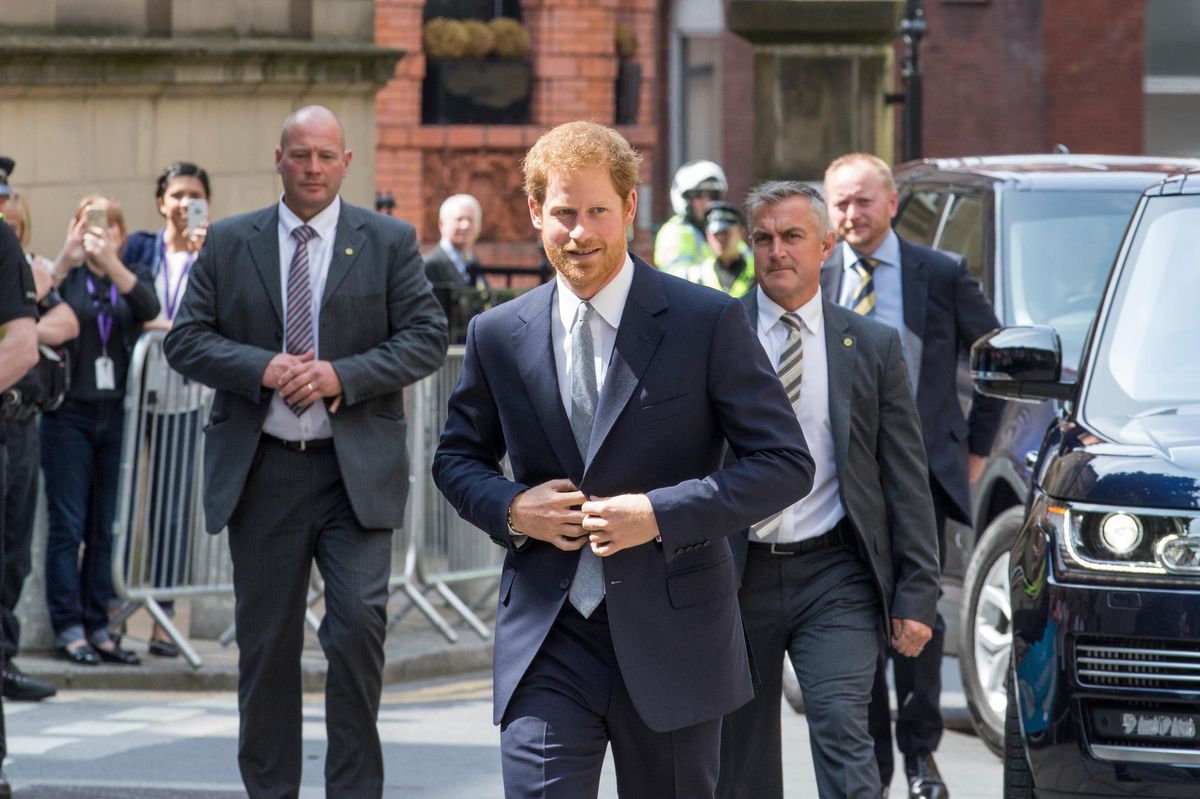 By James Copeland via Shutterstock
Prince Harry's forthcoming memoir, Spare, was accidentally leaked a week early in Spain. The highly-anticipated, secret-spilling, 416-page tome promised to be a revealing portrait of the Duke of Sussex's life. And according to the Spanish translations which have dominated the current global news cycle, it delivers.

---
The memoir, officially set to be released on January 10th, spills all the tea:
His wild experimentation with drugs from his teenage years to adulthood
His unrequited crush on former Friends star Courtney Cox
His strained relationship with his daddy, King Charles
How it was his brother who encouraged him to wear that Halloween costume
His shocking time in the army (including the number of people he killed)
And, most compellingly, his gradual falling out with said brother, the royal golden-boy, Prince William
The most talked about and memed passage in the book (so far) details a scuffle between the Dukes of Sussex and Cambridge over Harry's relationship with Meghan Markle, the now-Dutchess of Sussex. William had been vociferously against their marriage, and they actually had a knock-down-drag-out fracas in Nottingham Cottage that ended with broken crockery and Harry's bum in a dog bowl. Such outrage is detailed in his memoir.
Obviously, the internet had a field day with this alleged altercation. The best take on the fight was a reenactment on Thursday, January 5th's episode of Jimmy Kimmel Live! In this hilarious skit, two actors dressed as the rock legend Prince go at it in a spoof of the Harry and William brawl.
Watch the Jimmy Kimmel Live! Prince Harry and Prince William fight skit here:
\u201cA reenactment of Prince William & Prince Harry\u2019s fistfight! \ud83d\udc51\ud83e\udd4a\u201d

— Jimmy Kimmel Live (@Jimmy Kimmel Live) 1672981228
The brilliant premise has the two princes played by a pair of actors each dressed as Prince to reenact the fight without getting into too much trouble.
Meanwhile, a voiceover reads from the memoir as the actors perform a word-for-word version of the events. To signify Nottingham Cottage, a sign reads "Nott Cott." The wordplay is subtle, yet uproarious.
The most riotous moment happens when Harry describes the dog bowl breaking beneath him — which is far funnier when played by the two actors in flamboyant wigs and Prince's superstar get-up.
The skit is already viral and is sure to rack up sales in anticipation to the memoir's actual release date. All I can say is, this fight better be the inspiration for Ryan Murphy's next season of Feud. And godspeed to the writers of the coming seasons of The Crown.
\u201cthe crown writers running to put all of Prince Harry\u2019s accusations in the future seasons\n\u201d

— BIG HEAD (@BIG HEAD) 1672937302
For now, you should order the book to read even more drama and sordid details about the royal Prince.
Preorder Spare to get the rest of the juicy gossip firsthand.