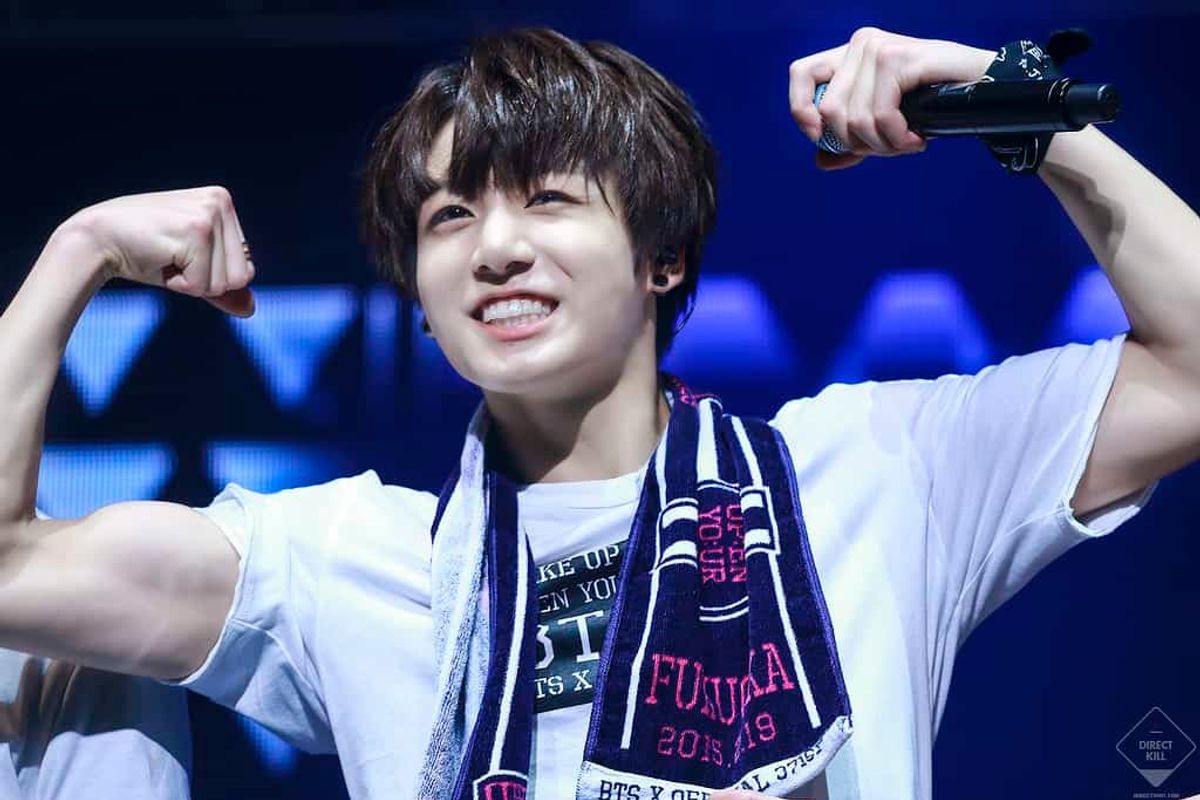 BTS
The world is up against a seemingly insurmountable threat, but luckily, we've got a crack team of heroes on the case.
Sure, there's already the girl with super strength, the guy who can fly, and the anthropomorphic, trash-talking animal tailor-made for merchandise. But this is a threat of intergalactic proportions, and we're going to need all the help we can get if we want to survive.
---
Enter the biggest, baddest mofo around. She's beefy af, with fire breath and laser eyes and spikes and sh!t. The other heroes are all, "Hey, how's it going?" and this hunk of muscle responds by flicking a tank into the sun and cocking her eyebrow like, "You want some?" This is who we were waiting for, our ringer, our ace-in-the-hole. Quietly, under his breath, the flying dude utters: "I'm glad she's on our side."
In the context of fighting against racist-ass white people on the Internet, this all-powerful being is, of course: K-pop stans.
Regardless of whether or not you actually listen to K-pop music (I'll take any chance I can get to plug BTS's Black Swan), if you go anywhere near Twitter, you've seen the power of K-pop stans in action. On literally any given day, at least two or three K-pop-related topics will be in the top 10 global trends. BTS's fanbase isn't called "Army" for nothing, and when you factor in every other group of K-Pop stans, we're talking about at an online force of unparalleled size and dedication. K-pop stans are passionate masters of their online domains, capable of giving any topic they choose massive visibility through coordinated efforts that would put any military organization to shame.
K-pop stans also tend to be pretty woke. Whenever a celebrity gets canceled for saying or doing something racist, you can count on K-pop stans to be Tweeting the hell out of their "X Is Over Party" hashtag, complete with K-pop-related dance clips and reaction gifs. But canceling dirtbag celebrities is a far more linear task than combating the vast swathes of online racists. How can K-pop stans help in the fight against, say, a racist hashtag?
MAYDAY! MAYDAY! KPOP STANS ARE NEEDED TO FILTER THE RACISM! MAYDAY!!! #AllLivesMattter https://t.co/trX6Ht8BMO

— STREAM POSITIONS ❁ (@STREAM POSITIONS ❁) 1598540517.0
This week, when #AllLivesMattter [sic] became a top trending topic, K-pop fans and Black Lives Matter activists flooded the hashtag with their own posts to drown out racist rhetoric. Replacement content included BTS' Jimin and choreography in tightly fitted school girl uniforms...while shaming white supremacy.

Here's Jimin being pretty because screw white supremacy and this dumb hashtag #AllLivesMattter https://t.co/zra8lPEkA8

— Flower ⁷ (@Flower ⁷) 1598538256.0
#AllLivesMattter yall can't even spell matter right tf https://t.co/6pQGgsOL1t

— ᴮᴱ𝙛𝙖𝙮𝙚⁷ (@ᴮᴱ𝙛𝙖𝙮𝙚⁷) 1598540470.0
This isn't the first time the K-pop fandom has expressed their political views. Back on June 3rd, in the midst of the first Black Lives Matter protests sweeping America after the murder of George Floyd, racist sh!theads decided to get #WhiteLivesMatter trending on Twitter. But losers coming to #WhiteLivesMatter for their daily dose of hate-mongering–and reassurance from fellow racists that they're definitely not wastes of life–had a surprise in store: endless cute K-pop boy fancams.

#WhiteLivesMattter Stanning bts makes you happy. Racism makes you stupid and ignorant. Take your pick 😌 https://t.co/3vNUtgC6U3

— parkhighh on ig (@parkhighh on ig) 1591212947.0
Racists also tried to get #whiteouttuesday and #blueouttuesday trending on Instagram, too, in opposition to #BlackOutTuesday in support of Black Lives Matter (for the record, #BlackOutTuesday posts should never include #BlackLivesMatter because it can drown out valuable resources attached to the latter hashtag). K-pop stans were on that sh!t like bees on honey.
Indeed, K-pop stans have developed a surprisingly effective strategy for killing racist hashtags. All they have to do is drown them out with K-pop posts. It's a simple, eloquent solution in the face of unfettered racism, and it works wonders. The hashtags became unusable for the racists and promptly died, proving that treating racists like the clowns they are is a wonderfully effective means of crushing their ability to spread garbage ideas.

Certainly this won't be the last time K-pop stans stand tall against the Internet's most racist scum, but it's hard to say whether even the stans realize the incredible amount of power they currently hold online. (It seems they have an idea, considering that in the immediate aftermath of George Floyd's murder the community spread word to stop posting their favorite K-pop stars in order to allow Black Lives Matter hashtags to dominate trends). If they can keep up these tactics, K-pop stans have the ability to kill literally any racist, right-wing, and Trump-loving hashtag that pops up anywhere online. K-pop stans could even raid certain subreddits or forums with K-pop content. Imagine if K-pop stans took to 4chan's white supremacist-dominated /pol/ forum. The possibilities are endless.
Bravo to the K-pop stans. Keep up the great work. #BlackLivesMatter (and also Jungkook forever).