MUSIC
The rapper's magnum opus turned 10 years old over the weekend.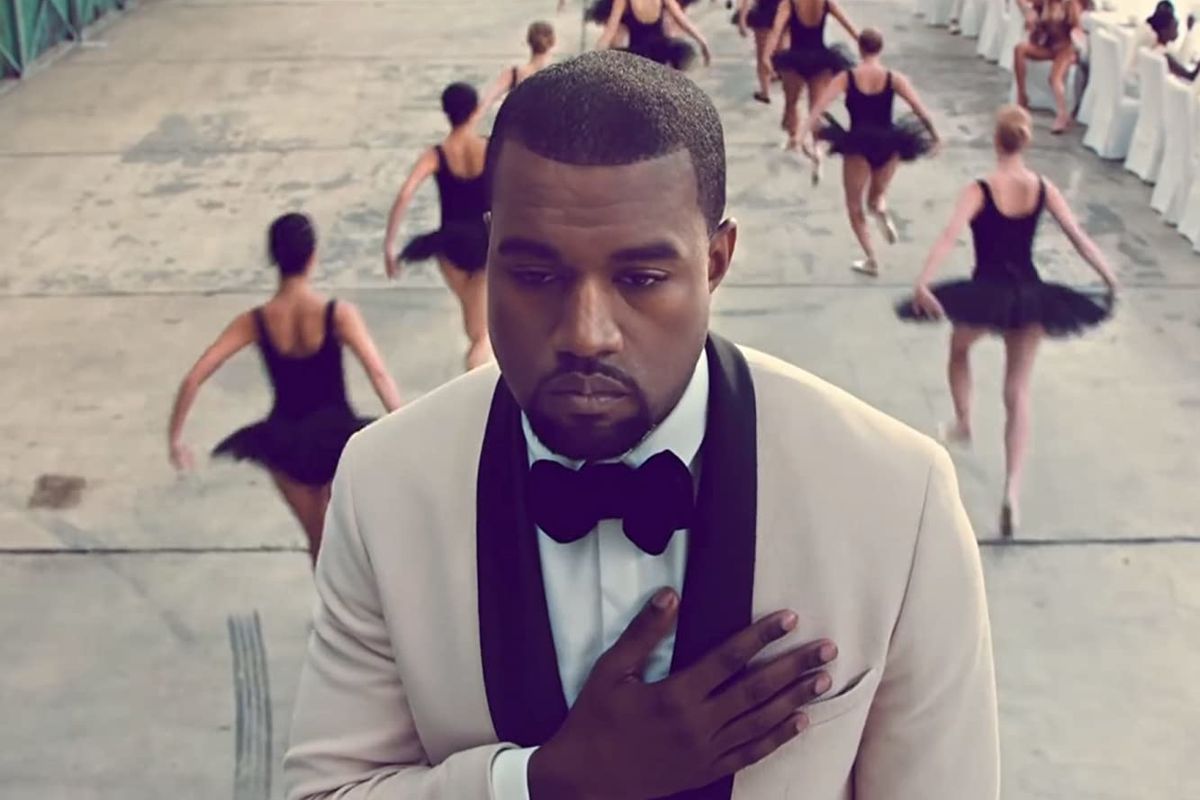 It's almost eerie how accurately Kanye West predicted his own fate when he uttered the words "I miss the old Kanye" on 2016's The Life of Pablo.
In my head, and likely in the memories of many others, there are two Kanyes: a then and a now. Both are cocky, self-important, certifiable jerks, but then, he at least still felt a marginal need to continue proving himself.
Now, he's so immeasurably detached from reality that it's a little hard to take anything he does or creates seriously—at this point, I find it difficult to even care. I don't want to explicitly cite a certain presidential election and its aftermath as the dividing line between the Kanye of then and now in my conscience, but...yeah, Kanye rubbing elbows with Trump was pretty much the last straw for me.
---
There was a time, though, when I earnestly admired Kanye. Before he became the egomaniacal, elitist tycoon we resent today, he was a rapper and producer whose music was so good that his massive ego was, for the most part, excusable. This was the era of My Beautiful Dark Twisted Fantasy, the sample-heavy masterpiece that turned 10 years old this year.
I'm pretty sure the album was introduced to me by a Kanye-obsessed friend of mine who was plenty aware that, at the time, I was very much a rockist whose favorite artists included Radiohead and Beach House. My exposure to rap was embarrassingly narrow, and I'd unintentionally shut myself off to nearly all of it.
But MBDTF transcended the typical restraints of hip-hop in a way that felt entirely authentic yet revolutionary. It was gargantuan, maximalist, and as melodical as it was a constant stream of bangers. It was my introduction to hip-hop, the project that would catalyze my openness to a whole genre I'd unfairly overlooked.
With features by everyone from Rihanna and Fergie to Elton John, it seemed with MBDTF Kanye had a mission to appeal to the masses, though with a nuanced sharpness that ensured he didn't lose sight of his artistry. "Welcome to the Kanye West universe," the album seemed to say, before leading you through Kanye's intricate, dazzling storyline of love's dark side and the process of coming to terms with one's own douchebaggery.
With the hindsight of Ye's frequent controversies, it's harrowing to think back on those moments of limited self-awareness — "Runaway" served as his apology post-Taylor Swift VMAs scandal—but at the same time, ragging on himself was a little bit more genius than he was originally given credit for. He immunized himself to anyone calling him an assh*le henceforth, because he'd already beaten all his haters to the punch.
But of course, MBDTF was a massive group effort. He helped bridge the gap between indie and mainstream by inviting Bon Iver's Justin Vernon to perform on two tracks. He gave Nicki Minaj the pedestal and rightfully let her eclipse all other voices for her breakout verse in "Monster"—perhaps the only thing keeping the album from feeling truly timeless is Minaj saying she gets "50k for a verse, no album out" (she now has four albums out). He sampled Aphex Twin for "Blame Game" and interpolated Black Sabbath for "Hell of a Life." Kanye helmed such a massive project that, for a moment, it truly felt like the music world belonged to him.
Ten years later, MBDTF remains one of the most critically acclaimed albums of its decade, earning the No. 1 spot on Billboard's best albums of the 2010s.
Is part of the reason it holds up so well that we, collectively, really do miss the old Kanye? Possibly. But there's a reason we keep Old Kanye and New Kanye separate—maybe to protect the sanctity of what would be the most inimitable project of his career.