Culture Feature
Kim Kardashian urges compassion as her husband's struggle with bipolar disorder becomes increasingly public.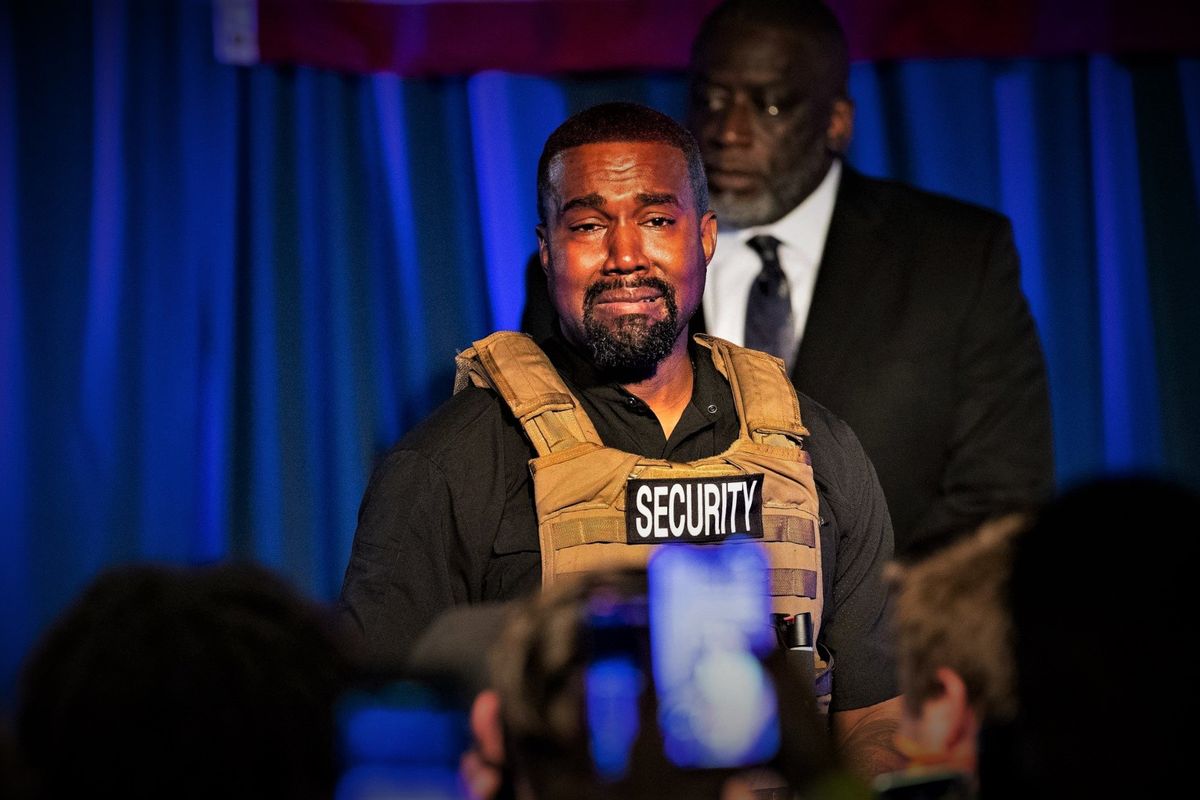 Kanye West is having a hard time right now.
His recent string of worrying behavior seemingly reached new heights in the early hours of Wednesday morning in a series of tweets that have since been deleted. In the tweets, Kanye accused his wife, Kim Kardashian, along with mother-in-law, Kris Jenner (whom Kanye nicknamed "Kris Jong-Un" after North Korea's infamous dictator), of attempting to have him committed: "They tried to fly in with 2 doctors to 51/50 me."
5150 refers to a California law regulating involuntary commitment to a psychiatric facility. In another deleted tweet on Monday, Kanye had compared his situation to the movie Get Out, saying, "Kim was trying to fly to Wyoming with a doctor to lock me up like on the movie Get Out because I cried about saving my daughters [sic] life."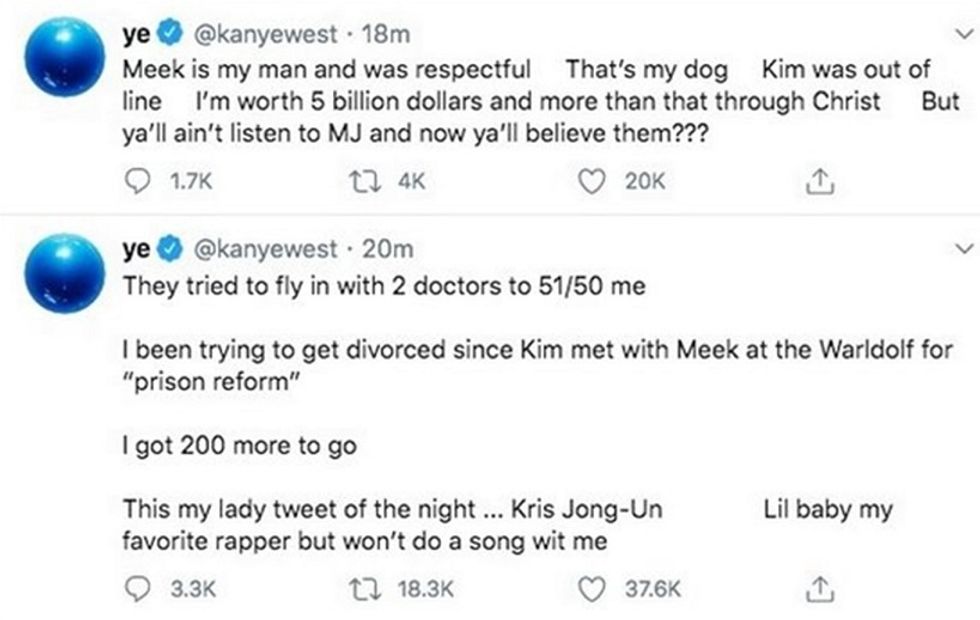 ---
Kanye, who has been diagnosed with bipolar disorder—which he has referred to as a "superpower"—may be relating what really happened. But other possibilities seem more likely given the paranoia and disordered thinking that seems evident from the rest of Wednesday morning's tweet—in which Kanye said that he has "been trying to get divorced since Kim met with Meek at the Warldolf [sic] for "prison reform."

Kanye was seemingly accusing his wife of using her well publicized push for prison reform as cover to pursue an affair with rapper and fellow prison reform advocate Meek Mill. There had previously been some vague and unsubstantiated rumors to that effect, but the evidence had seemed to lie entirely in strangers' preconceptions.
The "Going Bad" rapper is, of course, no stranger to controversy around his love life, and he's openly expressed his attraction for at least one of the Kardashian sisters. But Kanye seemed to absolve Meek Mill of any wrongdoing in a follow-up tweet, writing, "Meek is my man and was respectful … Kim was out of line."
Kim has since posted a statement on Kanye's mental health to her Instagram, confirming that Kanye's erratic behavior of late is connected to his struggle with bipolar disorder. She expressed a sense of helplessness, noting that, in these cases, "The individual [has] to engage in the process of getting help no matter how hard family and friends try," and requesting "that the media and public give us the compassion and empathy that is needed so that we can get through this."
She did not comment on Kanye's allusion to divorce other than perhaps an oblique reference in her statement that "his words sometimes do not align with his intentions," but this is not the first time Kanye has invoked the prospect of divorce in recent days.
In South Carolina on Sunday, at the first rally for his ill-advised 2020 presidential campaign, Kanye suggested that his wife could decide to leave him over his choice to air their dirty laundry to the public.

In a bulletproof vest with "2020" shaved into his hair, Kanye addressed a crowd of supporters and people hoping to witness some drama. Whether his supporters were pleased with his comments on abortion, cannabis, and Harriet Tubman remains unclear, but those who were there for the drama got more than they had bargained for.
'I almost killed my daughter:' Kanye West tells emotional story of nearly aborting first child www.youtube.com
After diminishing the achievements of Harriet Tubman—unquestionably one of the greatest heroes in American history—Kanye tearfully related his personal relationship with the issue of abortion. According to Kanye, when his then-girlfriend Kim Kardashian was pregnant with their first child, North West, the couple discussed the possibility of an abortion. "For one month and two months and three months, we talked about her not having this child. She had the pills in her hand."

Then, in a moment that Kanye describes as a revelation from God, the laptop where he was working on various upcoming projects malfunctioned: "The screen went black and white and God said, 'If you **** with my vision I'm gonna **** with yours.' And I called my wife and she said, 'We're gonna have this baby,' and I said 'We're gonna have this child.' … Even if my wife were to divorce me after this speech, she brought North into the world even when I didn't want to. She stood up and she protected that child."
Previously that divorce comment had seemed flippant—just part of the rambling tone of that rally. But now it seems that maybe Kanye has truly been contemplating the end of their marriage.

Maybe he truly suspects his wife of cheating on him and trying to lock him up. Or maybe the concerns of his loved ones are beginning to interfere with his grandiose ambitions.
Did Kim Kardashian and Kris Jenner really try to have Kanye committed? That's not clear, but Kim has definitely expressed disagreement with recent comments referring to Planned Parenthood as doing "the Devil's work" and calling a potential COVID-19 vaccine "the mark of the beast."
Following the South Carolina rally, Kim was reportedly "furious" that Kanye had shared details of their personal lives and private history that their seven-year-old daughter "North" will no doubt find out about one day. Now some sources are saying that Kanye has sealed himself up in a "secure bunker" at his ranch in Wyoming.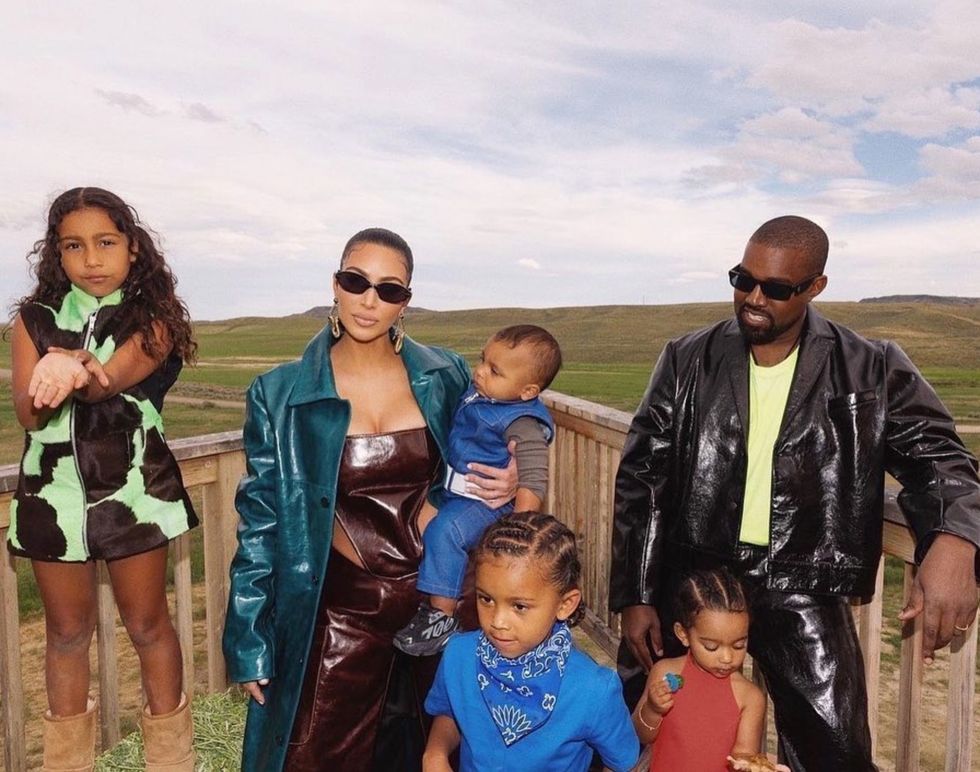 When Kim opened up about Kanye's struggle with bipolar last year, she said, "We can definitely feel episodes coming, and we know how to handle them," and insisted that "medication is not really an option," but it seems like that approach is starting to break down. If Kanye can isolate himself from those who care about him—and avoid dealing with the painful repercussions of his erratic behavior—what incentive does he have to engage in the process of working on his mental health?

With Kanye's 2020 campaign polling at 2% nationally (huge for a candidate who declared less than three weeks ago), the world's eyes are on him just as his behavior seems to be accelerating. Hopefully he will find the perspective to open himself up to loved ones and let go of the paranoia that's gripping him. And hopefully his loved ones will be able to forgive him for exposing personal matters in such an upsettingly public fashion.
Kanye West remains a talented musician, producer, and designer. Whatever fun any of us have had at his expense when he has said and done outlandish things in the past, he is clearly having a hard time right now. Anyone who has struggled with mental health themselves—or been there when a loved one was struggling—should understand the need for compassion and understanding.
If you or someone you know is struggling right now, there is help available. The NAMI helpline is a great place to start.