FILM & TV
He talks about the show, his emmy noms, and his favorite episodes!

It's not every day that a show dedicated to the lives of queer people gets nominated for a major TV award - especially one that paints queer people in a real, honest light. Often times, queer characters are either sanitized for the screens or they're reduced to side characters in a straight person's story. This is why I am so delighted to tell you guys about EastSiders, and it's creator/star/director Kit Williamson.
EastSiders has been nominated for six Daytime Emmy Awards, and it's creator, Kit Williamson and I sat down to chat about the show's success.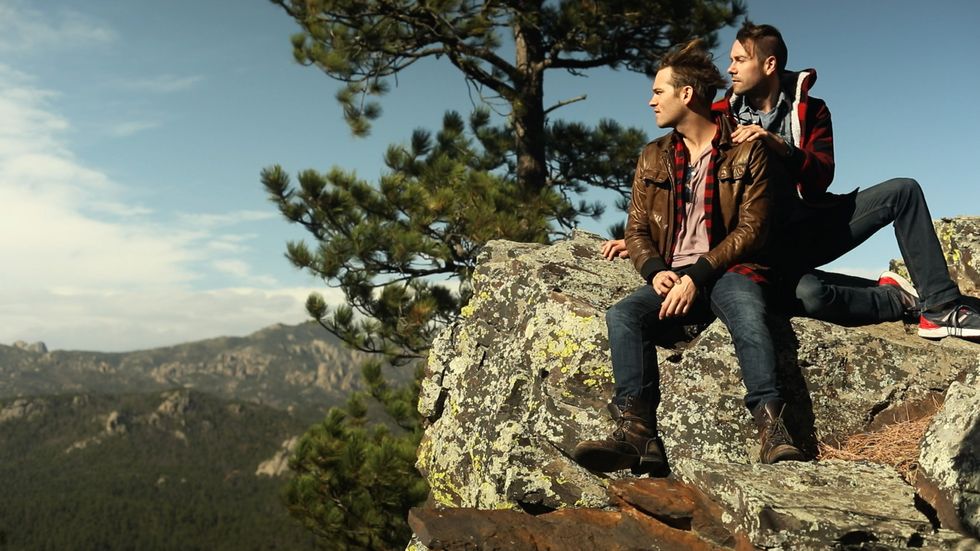 Kit (right) with his costar Van (left) from Season 3 of EastSidersJohn Halbach
First of all, congrats on the Emmy noms! That's a huge deal. How does it feel?

Thank you! It feels amazing to have the show recognized by the National Academy of Television Arts, and I'm very grateful to be nominated for both writing and acting.

Can you give us a quick rundown of Eastsiders - what's it about?

EastSiders is a dark comedy about a gay couple and their friends living in Silver Lake, California, and the sad and funny messes they make out of their lives. The third season primarily follows Cal and Thom on a cross-country road trip from New York to Los Angeles that causes them to question the direction their relationship is going.

Where did you get the inspiration for it?

I wanted to tell a story about a gay couple in a long-term relationship that wasn't overly romanticized or idealized. I wanted to portray complex queer characters with flaws that don't always make the right decisions. We all mess up—that's what makes us human.

EastSiders started as a web-show on YouTube, and has managed to grow and eventually found a home in streaming. Do you think that has served you more than being put on a network?

I think it has allowed the show to grow and evolve organically, rather than facing the sink or swim verdict of a network. Season 1, our episodes are 10-20 minutes and seasons 2 and 3 our episodes all broadcast a half-hour. The show also gets a lot funnier as it goes, hopefully without losing the dramatic core.

You write and direct every episode, on top of also starring in it - what's the most challenging part of that process?

Honestly, exhaustion! It takes me a about year to write the season, six months to produce the season and six months in post-production. That's a lot of time and energy!

What's been your favorite episode to write? Direct? Act in?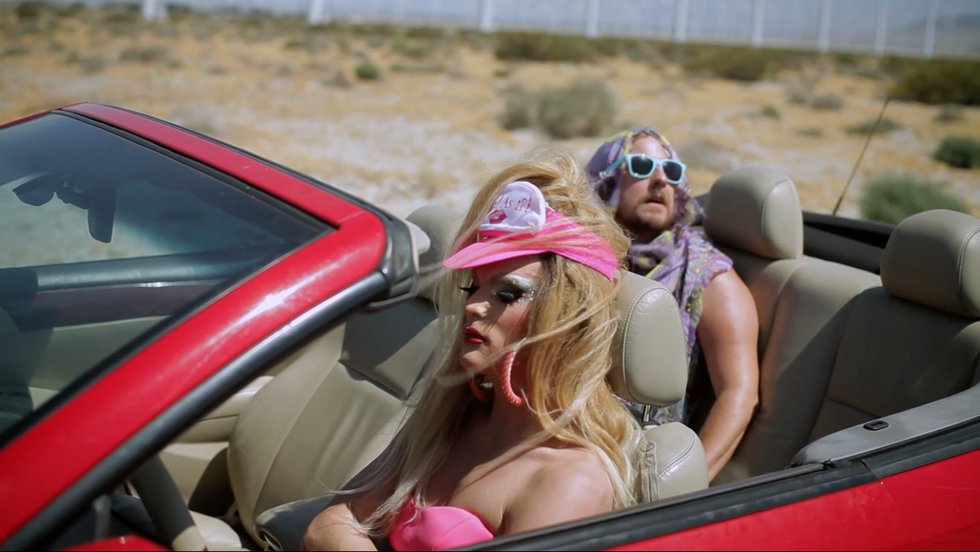 Willam (front) along with Stephen Guarino (back)John Halbach
Favorite episode to write and direct is definitely "Priscilla" (season 3, episode 1) which follows Quincy (Stephen Guarino) and Douglas (Willam) when their convertible breaks down on the way to a drag gig in the desert. It was really tricky tonally since we've mostly seen these characters in comedic scenes, but I wanted to flip the script and follow them as romantic leads. They really knocked it out of the park and I was grateful to be able to focus all my attention on their work.
My favorite episode to act in, and also a real pleasure to write, was "Our Own Private Idaho" (season 3, episode 5) which is the only episode of the series that solely follows Cal and Thom. It's my attempt at recreating that moment that seems to happen in long road trips where two people run out of frivolous shit to say to one another and really have a breakthrough in their relationship and understanding of one another—which is no small feat after six years together.

I have to say, your show is refreshing because its characters feel pretty real, which is something that we still don't always get with queer characters - especially on TV. Why do you think it's important for people to see more characters like yours?

Thank you! It's definitely a slightly heightened reality—I want the series to be entertaining and exciting—but I really do try to keep things grounded, especially when it comes to the characters' emotional life. I think it's important that we see queer, "non-traditional" characters and couples in these kinds of stories because we're used to being a sideshow.

What does the future have in store for EastSiders?

Who can say!? I would definitely be interested in making more, but right now we're still focusing our attention on making sure we get season 3 out there in the right way!
And what about you? Are there any other amazing projects on the horizon that you're willing to share?

I am developing a couple of film and TV projects! I just had a project in the Sundance New Voices Lab and I have a few things percolating that I can't talk about just yet, but hopefully I'll be able to soon.

I'm a big fan and a screenwriter myself, do you have any advice for any young, gay, or queer writers who want to do what you have done?

I would just say not to wait for anybody's permission to do what you love. Write something that you don't need any money to produce and go make it. Write for available resources and for actors whose work you know. Make friends with good actors—it's really the most important thing. People will forgive a show for anything production-wise if the actors are on point.

Thank you so much for taking time the time converse! And once again, congrats on the Emmy noms!
Thank you! <3
If you guys haven't watched EastSiders yet, then you BETTER go and check it out on Netflix! It's an amazing show, and I know you'll love it.
---
Shann Smith is a freelance writer, screenwriter, playwright, gamer, music lover, and film/TV lover. When he's not working on his columns for Popdust, he's doing his best to create and consume as much media as he can!

---
POP⚡DUST | Read More…
SATURDAY FILM SCHOOL | 'Isle of Dogs' Is Visually Stunning, But...
Is 'Unsane' the Worst Movie of the Decade?
WTWD? | Questions on Season Eight of The Walking Dead: Episode 14
VIDEO GAY-MER | The first queer character in video game history

---