It has been five years since Kodaline released its platinum album In a Perfect World.
Since then, the group has evolved, diverging from their folk roots and embracing electronic music. Lately, they've been recording Post Malone covers and working with various DJs to hone their new sound. This past weekend, they performed on the main stage at the Isle of Wright Festival in England. Before they went on, I got the chance to talk to Vinny May (the band's drummer) about Kodaline's new artistic direction.
---
Are you excited for the Isle of Wright?

Yeah, I'm looking forward to it. Going to be a great crowd. It's our third time playing it.
Do you feel any pressure? Miles Davis has played there. So has Jimi Hendrix and Bob Dylan. Is that nerve-wracking at all?
We've played the Glastonbury festival three or four times as well and Isle of Wright has a similar vibe. It's one of these prestigious festivals that's been running for so long and has had some amazing people play it. There's just a bit of prestige about it. You think about it a bit more than you would another festival, and you just wanna make sure you put on a good show. I suppose we treat it like a normal show though. If you think about it too much you get in your own head.
Have you ever been in a situation where that happens? I'm sure it doesn't happen anymore, but have your nerves ever gotten the better of you?
I think when we first started and we were playing some festivals around Europe, we'd get caught up in who else was playing. We'd still put on a good show, but we'd kind of be freaking ourselves out a little bit. Now, that doesn't really happen.
Do you prefer Europe or the States?
It's kind of a bit all over the place. We're coming back to tour the States in November and into December and it's the first time in about two years. We've toured America before, supporting The Airbourne Toxic Event. We've also done two or three runs around the States ourselves, but we haven't been back in awhile. Plus, we have our new album coming out in August. So, the European tour ends like a week before we head to the United States. They both have their good points.
So your earlier stuff is folkier. It seems like with the new stuff, particularly your new single, you've gone a more electronic route. Why?

I guess it's a natural progression for us. We worked with DJ Kygo last year and we had a track with him called "Raging ." We had a ton of fun with him and he's just a crazy talented guy. For this album, we worked with a whole bunch of people who had worked with Pink and Beyonce and all of these different producer guys. They all threw in their own two cents and helped create the sound for this album. We weren't really trying to replicate anything with this album. We treated each song as it's own. Some of the songs are definitely a new sound though. Our new single "Shed a Tear" sounds a little different, but I think it could also fit on the first album as well. It's very emotive. I think what makes it Kodaline, at the end of the day, is us.
What made you want to cover Post Malone?
We're big fans of Post Malone. I'm personally into a lot of rap and hip-hop. We've all listened to Post Malone and J. Cole and Frank Ocean and stuff like that and we were just a big fan of what Post Malone was doing. We always try to take something people wouldn't expect us to do. "I Fall Apart" was just a good song to do.
What is your comfort food music, those ostensibly terrible tunes that you play on a loop regardless of how bad they are?
I used to listen to a lot of Incubus and Blink 182.
They're not shitty enough though. I want something that's absolute garbage.
A lot of these bands I listen to, I don't think they're shitty. I listen to Taking Back Sunday a lot. Avenged Sevenfold maybe? They're probably not very good, but I still like them.
Okay, are you ready for rapid fire?

Yes.
They're going to get weird. But you have to be honest.
Okay.
Favorite drummer of all time?
Buddy Rich
Best drum solo of all time?
A Tommy Lee drum solo because he goes upside down.
Hottest female celebrity over 40?
Jennifer Aniston.
Favorite whiskey?
Jameson.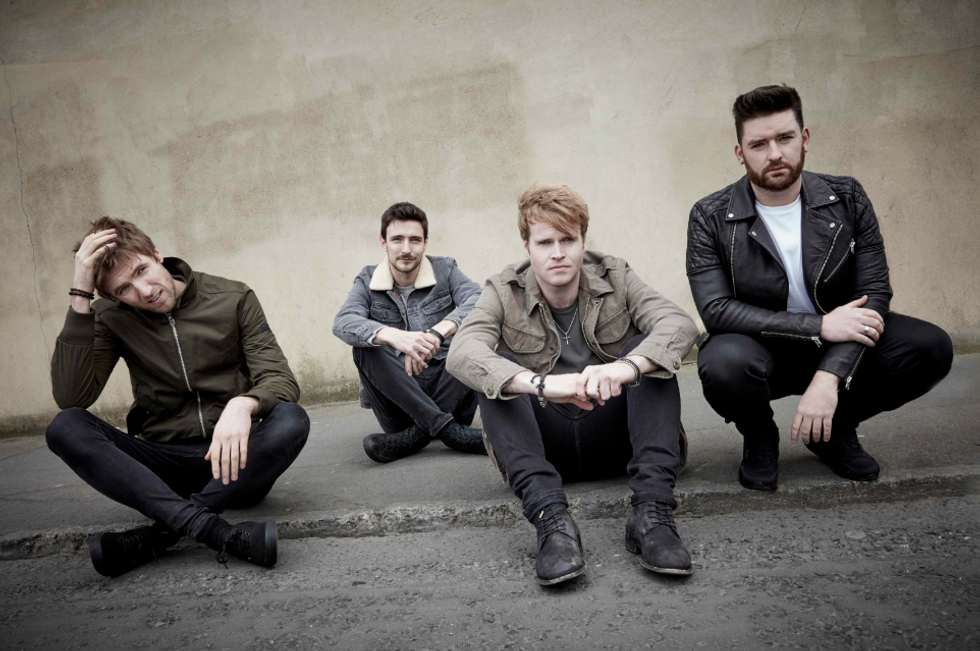 Kodaline
How many M&Ms can you fit in your mouth at once?

Easily a packet, maybe more.
What's your dad's name?
Vincent as well.
Can I have his phone number?
Uh...Sure.
If you were a doctor, what part of the body would you specialize in?
The brain because I'd love to see what one of them look like?
Favorite quote?
"Success is when opportunity and preparation meet."
Cool. Is Theresa May Trump's pale, sweaty female counterpart?
Yeah, let's go with that.
Do you have a dog?
I've got two.
What are their names?
Brian and Barry.
Can I pet both of them?
Yes, of course you can. They're both very friendly dogs.
Is American St. Patrick's Day vaguely offensive?
(Laughs) No, it's flattering.
---
Matt Clibanoff is a writer and editor based in New York City who covers music, politics, sports and pop culture. His editorial work can be found on Popdust, The Liberty Project, and All Things Go. His fiction has been published in Forth Magazine. Website: https://matthewdclibanoff.journoportfolio.com/ Twitter: @mattclibanoff
---
POP⚡DUST | Read More…