Music Features
The singer announced a release date for her next album–and conveniently reduced women of color in the process.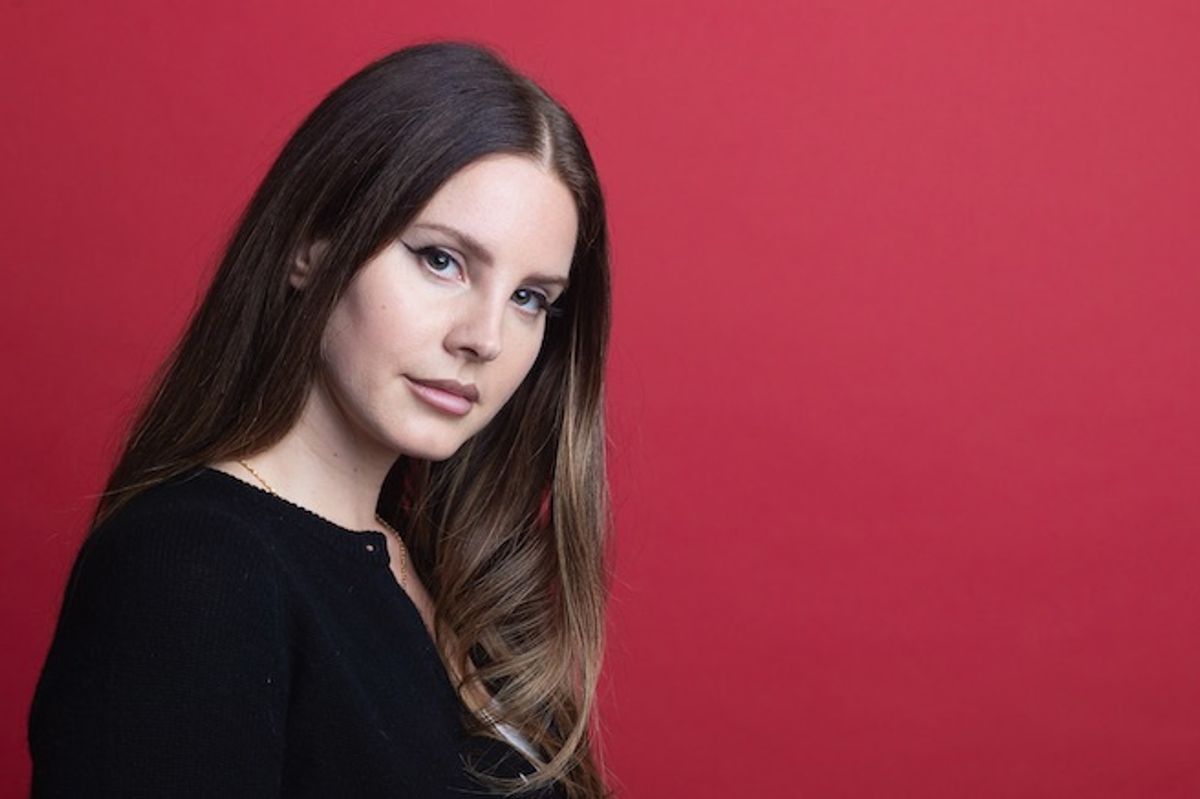 In the eight years since her major label debut, Born to Die, Lana Del Rey has become one of the most divisive figures in contemporary pop music.
Having built a cult following off her cinematic approach to melancholic songwriting, the music of Del Rey has become inextricable from her aesthetic: a femme fatale doused in vintage Hollywood glamour. With a recognizable deep voice and a fashion sense seemingly optimized for the Tumblr era, Del Rey can feel a bit like a caricature of herself at times—one that's understandably polarizing and often complicated.
---
But with the release of her most recent album, last summer's Norman F--king Rockwell!, Del Rey earned perhaps her most unanimously favorable response to date, earning an 87 out of 100 from review aggregator Metacritic. NFR! saw Del Rey defiantly shed the Americana attitude that drove early hits like "Blue Jeans" and "National Anthem," trading in her trip-hop and sadcore roots for a more grandiose, polished baroque-pop. As much as NFR! felt like Del Rey's long-awaited magnum opus, it still contained the sense of lovelorn desperation she's always been associated with: "If he's a serial killer / Then what's the worst that can happen to a girl that's already hurt?" she coos over the piano ballad "Happiness Is a Butterfly." Joy arrives at her fingertips, the song's title seems to say, on the premise that it will escape her just as suddenly.
Del Rey's lyrics exercise a common pattern of finding her self-worth almost entirely in the approval of partners. Critics, as well as some of her fellow artists, have called her out for this behavior. She's come under fire for previously saying she was "not really that interested" in feminism, and although she's claimed to have since altered her stance on the subject, this unchecked privilege can make listening to Del Rey a convoluted experience for women. Nevertheless, she's been considered one of America's greatest living songwriters.
But Del Rey has become a topic of discussion again after sharing an aggravated social media post defending her "sometimes submissive" lyrics. She wrote: "Now that Doja Cat, Ariana, Camila, Cardi B, Kehlani and Nicki Minaj and Beyonce have all had number ones with songs about being sexy, wearing no clothes, f--king, cheating etc.—can I please go back to singing about being embodied, feeling beautiful by being in love even if the relationship is not perfect, or dancing for money—or whatever I want—without being crucified or saying that I'm glamorizing abuse?????? I'm fed up with female writers and alt singers saying that I glamorize abuse when in reality I'm just a glamorous person singing about the realities of what we are all now seeing are very prevalent emotionally abusive relationships all over the world."
She continued: "I think it's pathetic that my minor lyrical expression detailing my sometimes submissive or passive roles in my relationships has often made people say I've set women back hundreds of years. Let this be clear, I'm not not a feminist—but there has to be a place in feminism for women who look and act like me—the kind of woman who says no but men hear yes—the kind of women who are slated mercilessly for being their authentic, delicate selves, the kind of women who get their own stories and voices taken away from them by stronger women or by men who hate women." She signed off the message by saying that her next album will be out September 5.
Del Rey's post is, to be extremely frank, incomprehensibly clueless. First, out of the fellow female artists she mentioned (many of whom are experiencing some type of notable success at the current moment), almost all of them are black. Although this could be a simple coincidence, it's a bad look and implies that Del Rey believes she was the first to popularize these topics in mainstream music; has she forgotten about chart-topping black women like Janet Jackson who sang about sex years and years before her?
In Del Rey's defense, the years following Born to Die warranted some particularly harsh criticism. But the implied idea that she has been disparaged more throughout her career than Cardi B, Nicki Minaj, and Beyonce is simply untrue, and to demand a space for you in contemporary feminism when you are exactly the type of woman feminism benefits most—white, wealthy, presumably straight, and widely considered attractive—is ignorant and tone-deaf. To do all of this while refusing to call yourself a feminist is just embarrassing. Even the spiciest takes on Del Rey's early records didn't hinder her from becoming one of the most successful and influential pop recording artists of the 2010s, a fact that her rant conveniently overlooks.
Whether or not the Lana Del Rey universe glamorizes abuse is still up for debate, and this article isn't intended to suss out the answer. But throughout her career, she has a poor track record for handling criticism, having recently put writer Ann Powers on blast in a series of now-deleted tweets for her appropriate (and generally positive) analysis of NFR!. But with her statement, Del Rey seems to have misconstrued her own privilege. Her immense success does not correlate to innovation or to exemption from critique. If Del Rey wishes for freedom to write about whatever she wants, submission and all, then she must accept the backlash—it would behoove her, however, to take a closer look at her weaknesses instead of arguing that feminism excludes her while trying to bring black women down.