Film Reviews
'Maggie Moore(s)' Review: Jon Hamm, Tina Fey, and Not Much Else
An easy to watch dark crime comedy? Or an offbeat rom-com for Hamm and Fey?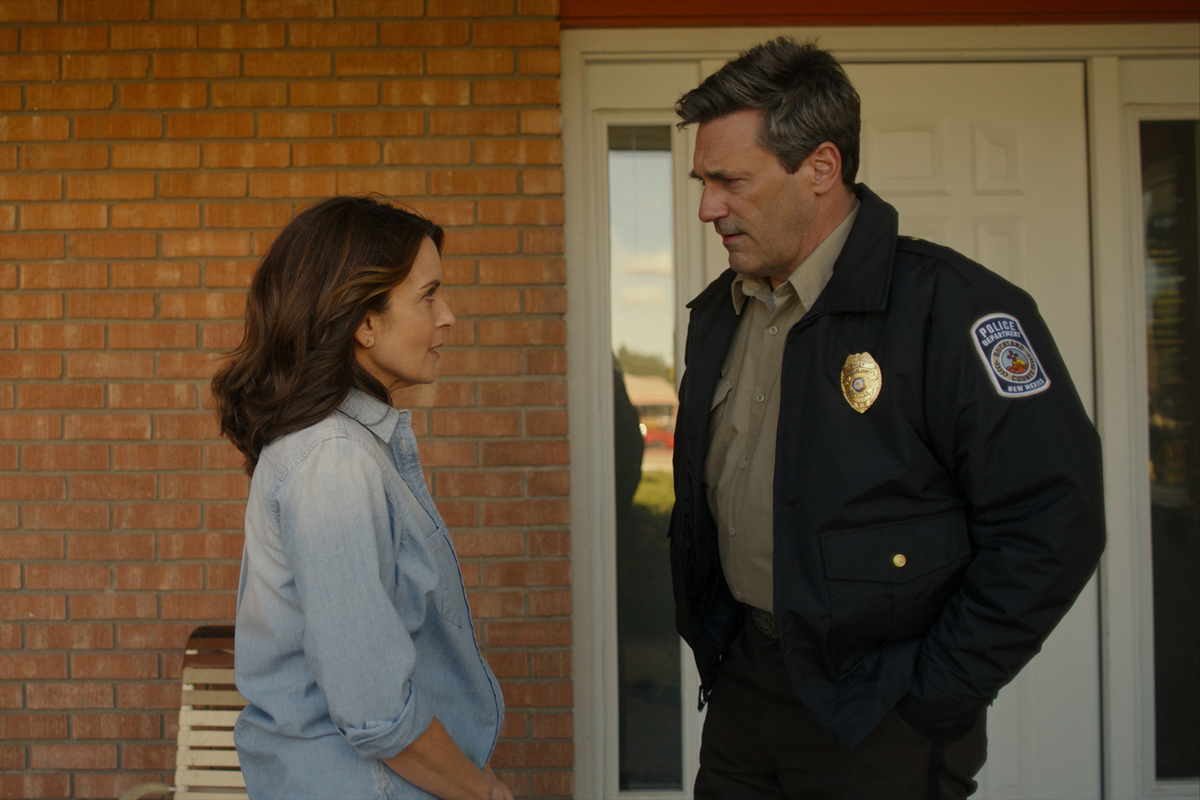 via Tribeca Film Festival
Everybody loves a juicy murder mystery. The True Crime boom proves it. So does the spectacular success of shows like Dahmer, Only Murders in the Building, and Peacock's latest… Based on a True Story.
SPOILER ALERT: This review contains spoilers for Maggie Moore(s)
---
In every media form, fictional or fact, creators aim to capture society's curiosity for the twisted and morbid. Biopics like the American Crime Story series or Zac Efron's performance as Ted Bundy in Incredibly Wicked and Vile are all the rage, capitalizing on this fervor despite some concerns about the ethics of this obsession. For many psychological thrillers, slapstick comedies and dramedies murder is the business.
No exception to the rule, Tribeca Film Festival saw the premiere of Maggie Moore(s), a dark comedy about the murder of two women both named Maggie Moore. Despite its title, the film is really about Jon Hamm's character, Jordan Sanders, the police chief in a small New Mexico town.
Hamm's character is mourning his wife's death, but tentatively taking steps to venture back into the dating world. Naturally, he looks for advice from his jocular deputy (Nick Mohammed). Between failed dates and days dealing with petty crimes, Hamm's life is much like the desert town: uneventful.
That is until the first Maggie Moore gets murdered. And then the second. Suddenly, Hamm's embroiled in a mess of a police chase while viewers get behind-the-scenes access to the wacky cast of characters cooking up the scam.
The eclectic cast makes Maggie Moore(s) an enjoyable watch. That and John Slattery's keen directorial eye. The actual murder plot takes a back seat to the distinctive, at-times-cartoonish, characters who run around wreaking havoc.
Of course, Tina Fey is a stand out here. Fey plays Rita - a nosy neighbor of one of the Maggie Moores. A recent divorcee, she's hankering for company — first from Moore, then from Sanders. Fey is redemption for the nosy neighbor trope, as she finds herself helping with the case and starting a relationship with Hamm.
The scenes between Hamm and Fey — and any scene with Mohammed — make the most compelling case for
Maggie Moore(s).
In an enjoyable yet unsurprising journey to catch the man who murdered the lamentable Maggie Moores, the rest is ambient noise.