MUSIC
This isn't about either of them.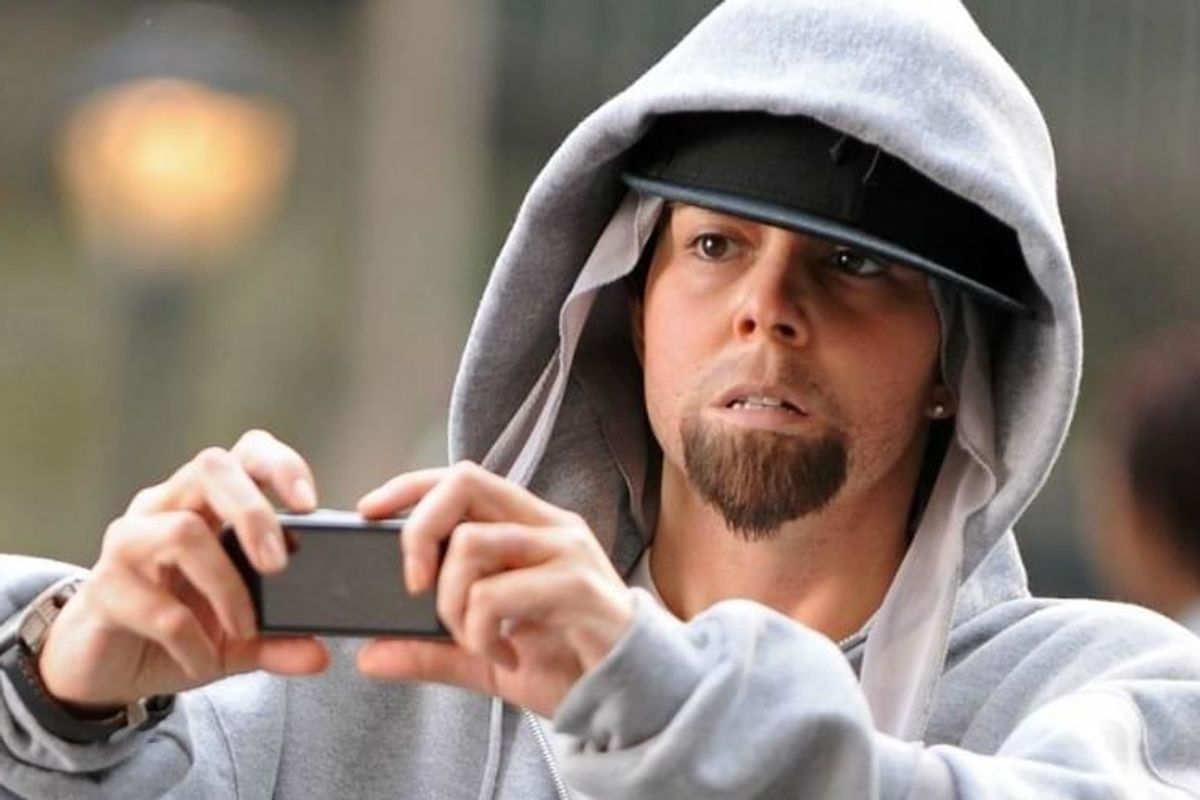 Eminem's spats with other stars are a big part of Hip-Hop lore, but Nick Cannon is sick of his sh*t.
Since 1999, Marshall Mathers has had 14 extensive feuds with rappers and entertainers and insulted countless other figures in pop culture. A battle rapper at heart, he's an emcee who thrives amid conflict. He once rapped about how conflict "gets his dick harder than arithmetic." His surprise Kamikaze album was, in this sense, a return to form. Released in 2018, Kamikaze revitalized Eminem's waning career after the lukewarm reception of 2017's Revival, 2010's Recovery, and 2009's Relapse. Fans had long demanded he return to his sh*t-talking ways. So on Kamikaze, his battle rapping roots were on full display as he attacked a multitude of other emcees, the Mumble Rap subgenre, radio host Charlamagne Tha God, and Donald Trump. Since Kamikaze's release, Eminem's beef has begun to stack up in an almost gimmicky way. Still, his latest feud with Nick Cannon feels particularly disquieting, mainly due to Eminem's fervent obsession with Cannon's ex-wife, Mariah Carey.
Fat Joe, Dre - Lord Above (Audio) ft. Eminem & Mary J. Blige www.youtube.com
During a guest feature on Fat Joe's 2019 single, "Lord Above," Eminem took yet another shot at Nick Cannon and rekindled his claim that he and Mariah Carey had dated. While the two pop culture figures hash it out in what is the most tepid rap feud of the decade, it's worth noting that almost 20 years later, Eminem still wants Carey to be discredited and overall has not changed his chauvinist attitude towards women.

Throughout his entire career, Eminem has always stood by an alleged fling he had with Mariah Carey. His initial mention was a feat of braggadocio, referring to Carey as his "lover" and "wife" in 2002's "Superman." Carey was quick to deny the affair, saying that the pair had merely shared a few phone calls. Since her denial and subsequent diss track, Eminem has made discrediting Mariah Carey a side project, devaluing her at random instances in his music career and reaffirming his side of the narrative, calling Carey a "f*cking liar," among other things. Nick Cannon's marriage to the starlet in 2008 only ramped up Eminem's harassment. "Nick Cannon better back the f*ck up," he raps on "Bagpipes from Baghdad," "I'm not playing, I want her back, you punk." He divulges an everlasting lust for Carey, calling her both a "wh*re" and a "c*nt," while explaining how badly he still wants her. Carey responded with a song called "Obsessed," featuring the line, "Why you so obsessed with me? Boy, I wanna know."
Mariah Carey - Obsessed (Official Video) www.youtube.com
The hit song prompted an even more aggressive response from Eminem, whose track "The Warning" graphically describes sex with Carey. He continues to hurl insults at her for denying their romance, while subsequently threatening to release nude photos and intimate voice mails from the singer to prove his point (the latter of which, he actually did, although Carey denies the voicemails are hers.)

But Eminem's misogyny goes back years before he met Mariah Carey. Christina Aguilera first noted Eminem's violent views towards women in 1999, when Eminem married his longtime girlfriend Kim Mathers. The marriage was done in secret and came after years of Eminem "slinging violent lyrics about her in his earlier work," said Billboard. Aguilera put the rapper on blast, exposing Eminem's secret while warning women about domestic abusers. Eminem has since continued to bite back at Aguilera, most recently in 2018, when during a 10-minute freestyle called "Kick Off," he rapped: "F*ck Christina with a plastic spoon, while I bump some G-funk and blast some Snoop, cause her double-g cups are massive, huge! It's fun for me to just grab a boob, plus my penis got an attitude, my f*ckin Weiner is in a combative mood."
During a 2003 feud with Benzino, the former The Source Editor-and-Chief released "Foolish Pride," an unreleased Eminem song wherein the young emcee can be heard disparaging black women. "Black girls only want your money cause they're dumb chicks," Eminem raps. "Black girls are dumb, and white girls are good chicks." He proceeds to call black girls "wh*res" and "bitches." The blowback was immediate and diffused the beef almost immediately. Eminem apologized and said he made the track about an ex-girlfriend when he was young, "stupid," and angry.

Regardless of the apologies he's continued to shell out, Eminem has dedicated a countless amount of bars to disparaging women. A few years after the "Foolish Pride" blowback, Eminem was caught in a feud with rapper Canibus, and in his subsequent diss track he wrote, "So I stabbed him twice. Kept jabbin', Christ! He won't die! This guy's like a battered wife!"
Eminem - Foolish Pride (Racist song) (READ DESCRIPTION) www.youtube.com
After his initial spat with Mariah Carey and Nick Cannon, Eminem was embroiled in yet another feud with rapper Limp Bizkit, and released a diss track called "Girls," wherein he compared the rapper to a "p*ssy" girl. In November of 2019, an unreleased Eminem feature surfaced, wherein the rapper can be heard siding with Chris Brown over Rihanna following Brown's infamous assault of the pop star. "Let me give my two cents, of course, I support Chris Brown. I'd beat a b*tch down too if she gave my dick an itch now." A representative from Eminem issued a statement saying that he rewrote the lyric in question and that "obviously" he and Rihanna have a great relationship.

Eminem's entire discography is interwoven with lyrics of this nature, and his insensitivity has continuously landed him in hot water over the course of his entire career (the LGBTQ+ community also hates him. He most recently sparked outrage when called Tyler, The Creator a "f*ggot in 2018). So as the temper-tantrum between Nick Cannon and Eminem drags on, it's important to remember that nobody wins, especially not the fans.