MUSIC
Plus -- Fly By Midnight, Anton x Folly Rae, Cub Sport, Dirty Heads, Oh Geronimo, S. Carey, and Keke Palmer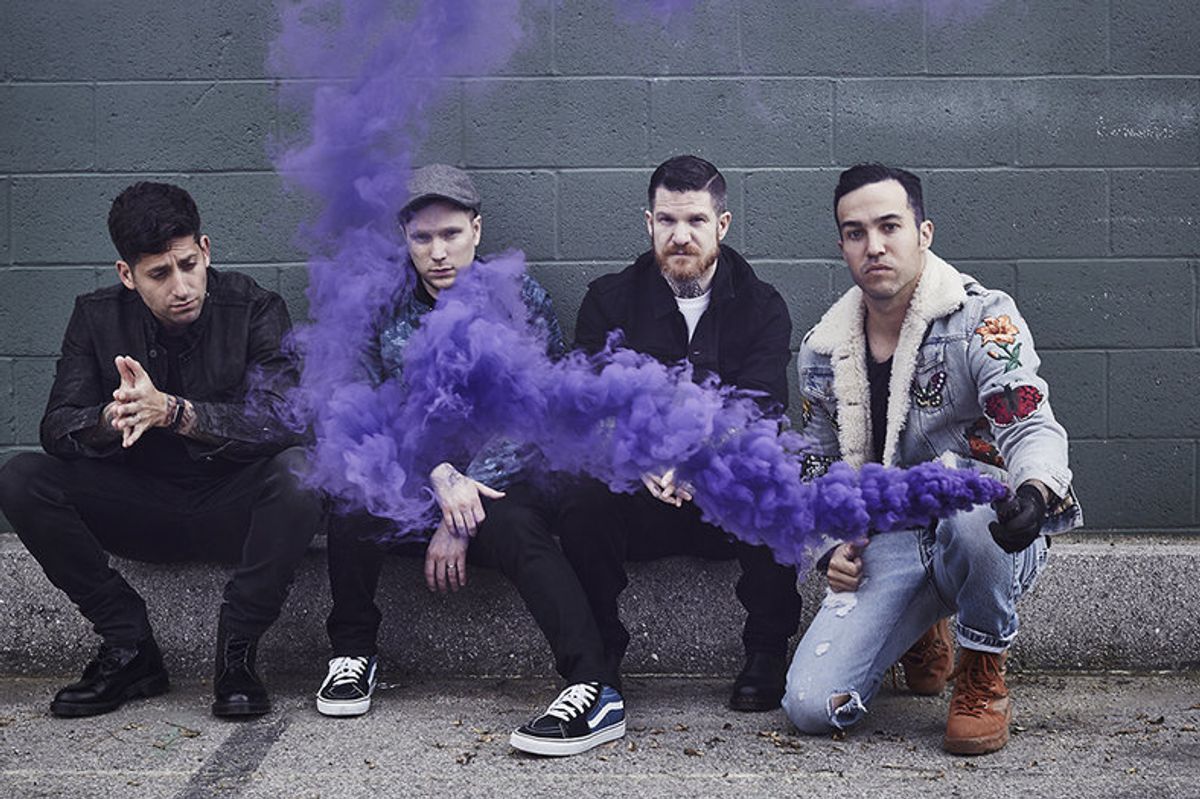 Fall Out Boy
Am I more than you bargained for yet?
Is the question Fall Out Boy might be asking us, but honestly? We can't get enough. I have fond memories of jamming to Fall Out Boy in middle school and high school at the height of emo music's popularity, "Sugar We're Going Down," of course being one of my favorite tunes. It seems to be that like other popular bands of the time it's been a battle for FOB to stay relevant, but my honest opinion: they've passed with flying colors. I feel like there was a weird expectation for that genre of music to fade away and the great bands of the time to do the same, but Fall Out Boy has done just the opposite. Their new album is 100% still their sound, but meets modern pop halfway. You'll definitely be dancing around in your room to this one just like you did to their OG songs. Along with Fall Out Boy, Fly By Midnight, Anton x Folly Rae, Cub Sport, Dirty Heads, Oh Geronimo, S. Carey, and Keke Palmer has released new music this week.
Fall Out Boy | "Wilson (Expensive Mistakes)"
The leading single from the album is "Wilson (Expensive Mistakes). This song title alone makes giggle alone. I can already relate to "expensive mistakes." Not that Fall Out Boy never created visceral music, but this song is visceral in a different way. It has a definite heart beat and it'll leave you bopping to it.
Best for: Hanging out with the gang.
Perfect if you like: FOB duh
Fly By Midnight | "Complicated" (Avril Lavigne Cover)
While we're on a walk down memory lane, thought I'd mention that our favorite boys at Fly By Midnight have been dropping AMAZING throwback covers in what they call "The Boombox Series." Among this collection is a cover of "Everything" by Michelle Branch, "Umbrella" by Rihanna, and just out today, "Complicated" by Avril Lavigne. Their take on the song is modern but does the song justice. I love their performance in the video, taking place in their local sports bar. Slavo and Justin are charming as ever.
Best for: Getting over that someone who is stringing you alone
Perfect if you like: Avril Lavigne
Anton feat. Folly Rae | "i need u here"
This song could totally fade into the sea of pop singles, but the bright percussion and the catchy hook make it memorable to me. Norwegian producer Anton collaborated with popular UK artist Folly Rae who recently has reemerged from her initial introduction at Glastonbury 2017. We're excited to see what's next for both of these artists who seem to be taking pop to the next level.

Best for: Putting on a mixtape for bae.
Perfect if you like: Hailee Steinfeld
Follow Anton on Twitter
Cub Sport | "Good Guys Go"
Aussie alt pop band Cub Sport just dropped a visual for their song "Good Guys Go." It is said that, "Lead singer Tim Nelson wrote "Good Guys Go" after reading about emotional labour and reflecting on some of the imbalanced relationships friends around him were having." This is something very much in the spotlight lately and the song feels like it really taps in on it in a significant way. Cub Sport will be headlining tours in Australia, The US, and Canada. Check out their tour dates here. The visual is vibrant but chill all the same. My favorite part is watching Tim Nelson vibe out to the awesome tune.

Best for: Being in your feelings ~
Perfect if you like: Holy Holy
Dirty Heads (Feat. The Unlikely Candidates) | "Celebrate"
I adore this fusion of rock and rap. The guitar and soundscape is overall introspective but when the beat drops and the vocals take off not only will the song creep into your head and get stuck there, it's impossible not to feel inspired and uplifted by it. Dirty Heads have been killing it with this one already charting on the alt charts with the single.
Best for: Blast while counting your blessings and repeat.
Perfect if you like: Eminem meets Maroon 5 meets Tame Impala
Oh Geronimo | "Mountains"
This song is 100% good feels and good vibes and the visual will take you on an adventure. The textures really pay homage to the song itself being so layered. The vibrant colors do the same. I love the lead vocals and the uplifting guitar riffs. Overall the song feels really human- it's definitely one I'll be sharing with my friends.
Best for: Going on an adventure
Perfect if you like: Tame Impala meets Fleet Foxes
S. Carey | "More I See"
This track is just pretty. The layering of sound and attention to detail took me. It's the kind of song that will totally consume you. S. Carey is about to set out on a headlining tour starting in March. Check out his tour dates here. If you love "More I See" check out his recent single "Fool's Gold" which is just as lush.
Best for: A slow Saturday
Perfect if you like: Bon Iver
Keke Palmer | "Pregame"
I've been a fan of Keke Palmer since her Akeelah and The Bee days and frankly I still love her. Her recent song "Pregame" got a visual and it'll make you want to party with Keke, her friends, and the random mermaid in her house. Her new single "Bossy" is also out now.
Best for: literally pre gaming
Perfect if you like: Rihanna
Anie Delgado is a contributor to Popdust and is an actress and musician based in NYC. Follow her on Instagram | Facebook | Twitter and check out her music on Spotify. Press inquiries here.
---
POP⚡ DUST | Read More…

RELEASE RADAR | Matoma and Noah Cyrus release a new banger
RELEASE RADAR | Justin Timberlake Is Dropping His First Album In 4 Years
RELEASE RADAR | Ed Sheeran and Beyoncé collaborated and it's literally perfect