TV Lists
RIP Jerry Stiller: Remembering Frank Costanza's 10 Funniest Moments
The iconic comedian is dead at 92.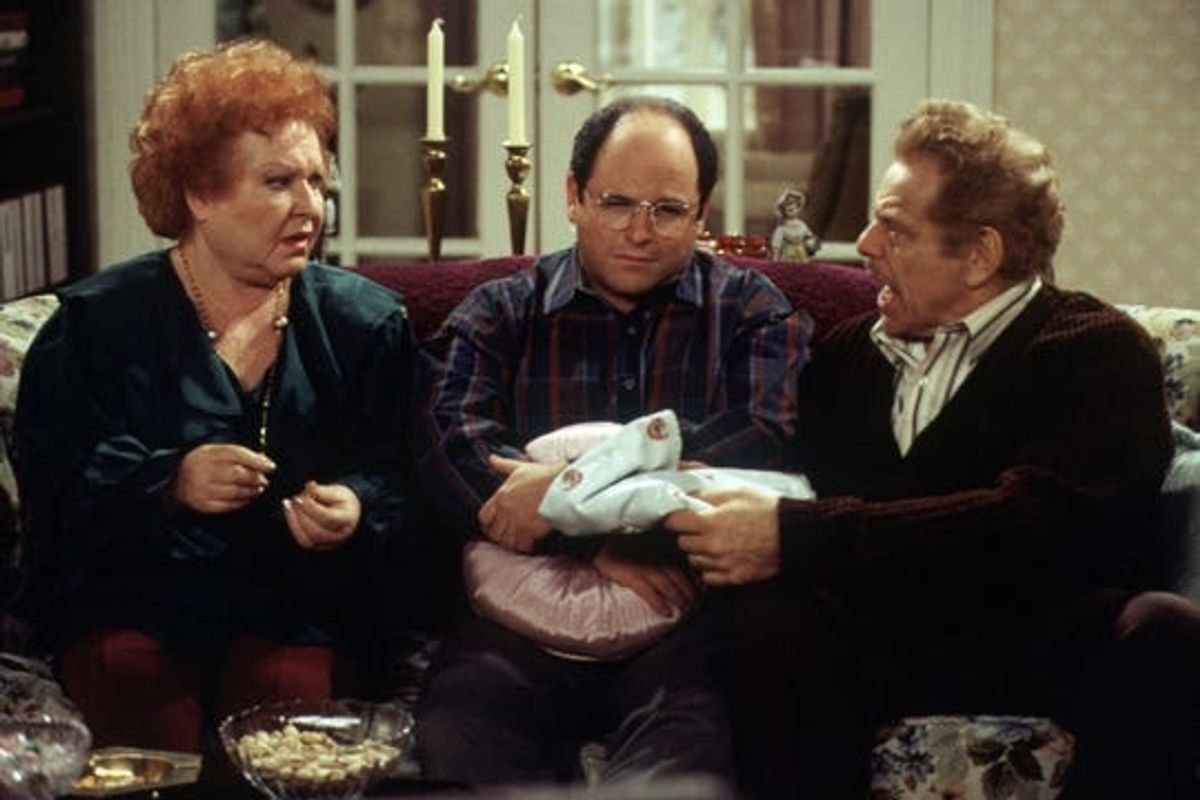 Seinfeld, NBC
Jerry Stiller, a mainstay of the American comedy world since the 1960s, has died of natural causes at 92 years old.

His son, Ben Stiller, an actor and comedy legend in his own right, tweeted confirmation of his father's death on May 11.
---
In the 1960s, Stiller appeared regularly in nightclubs as a part of a comedy double act with his wife, Anne Meara. The duo appeared on television variety and talk shows and in several memorable commercials, including this 1976 spot for Jack-in-the-Box.
Jack-in-the-Box 1976 TV ad with Stiller & Mearawww.youtube.com
After the duo stopped performing, Stiller began making a name for himself on Broadway. According to The New York Times, he appeared "in Terrence McNally's frantic farce The Ritz in 1975 and David Rabe's dark drama Hurlyburly in 1984. Off Broadway, he was in The Threepenny Opera; in Central Park, he played Shakespearean clowns for Joseph Papp; onscreen, he was seen as, among other things, a police detective in The Taking of Pelham One, Two, Three (1974) and Divine's husband in John Waters's Hairspray (1988)."
His transition to TV began with Seinfeld, but other roles included Arthur Spooner in TV sitcom The King of Queens. He also appeared with son, Ben Stiller, in movies that included Zoolander, Zoolander 2, and The Heartbreak Kid. He was also known for his role in the 1988 film of Hairspray and the musical adaptation that followed in 2007.
Of course, Stiller was best known for his recurring role as Frank Costanza on Seinfeld, a character that appeared in a mere 30 of the 180 episodes of the series, but that he managed to make into an iconic part of an already iconic show. As it turns out, Stiller's version of the character wasn't what the producers originally intended. In the interview below, Stiller explains that he had been directed to be quiet and restrained, a foil to his on-screen wife Estelle (played by Estelle Harris), who was screechy and overbearing. When filming began, Stiller sensed the dynamic wasn't working. He took a risk and debuted the comically angry version of Frank Costanza that we've all come to love. As it turns out, Larry David loved it just as much as the audience, and Frank was born.
Jerry Stiller's Seinfeld Secretswww.youtube.com
While most fans of Seinfeld can probably name their personal favorite Frank Costanza moment, we've compiled a list of the top 10 moments from the series that defined the character and proved Jerry Stiller's enduring comedic genius.
10

.

"How could Jerry not say hello!" Season 6 Episode 4
Frank regularly moved between explosive anger and calm contemplation, often ignoring his son in order to diverge on these tangents of emotion. This scene beautifully encapsulates this stormy disposition. One moment he's placidly considering the gnats in queens, and the next he's shouting so loudly the whole restaurant turns to look.
9

.

  "We're moving to Florida" Season 7 Episode 15
In this episode, Jerry and George are trying to get their respective parents to move to Florida. When George finds out that Jerry's parents don't want Frank and Estelle to move to Florida, he knows this will make Frank want to move to Florida. He is, of course, right. The above scene depicts Frank calling Morty (Jerry's father) to tell him the news. The line, "We're gonna be in the pool, we're gonnna be in the clubhouse, we're gonna be all over that shuffleboard court, and I dare you to keep me out!" is so perfectly delivered, it's become one of Frank's most iconic lines.
8

.

"So he made up his own holiday" Season 9 Episode 10
The concept of Festivus has only grown in popularity since this episode first aired in 1997, and it all began with Frank raining blows on another man in an attempt to buy his son a doll. The rest is history. Of course, this clip is also a reminder of the perfect chemistry between Jerry Stiller and Jason Alexander, whose father-son dynamic still resonates with viewers over two decades after the show went off the air.
7

.

"You have no eye for fashion" Season 6 Episode 4
No one delivers an unexpected one-liner like Jerry Stiller. "You have no eye for fashion!" may be one of his best ever.
6

.

"I feel vigorous" Season 6 Episode 21
No one has ever said the word vigorous quite like Stiller says it here.
5

.

"Serenity Now!" Season 9 Episode 3
After Frank's doctor gives him a relaxation tape to help lower his blood pressure, he starts reciting "serenity now" as a mantra to calm himself down. The pure brilliance of the bit is how much anger Jerry Stiller manages to instill in every recitation of the phrase.
4

.

"You're Grounded!" 
There are so many gems in this scene. First of all, we find out Frank is an avid collector of TV Guide. His ire at finding out Elaine took one of his copies is so perfectly Frank, the moment would have made the list on its own. But things get even better when Estelle finds a condom wrapper in her room, meaning George had sex in their bed while the couple was out of town. In response, Frank swiftly grounds George. The best part of the scene may be the way Stiller gestures with the wrapper as if it's a weapon.
3

.

"You want a piece of me?" Season 8 Episode 4
Elaine and Frank never got along, and in this scene the tension finally comes to a hilarious head. Jerry Stiller ensured that no one will ever hear the phrase, "You want a piece of me?!" and not think of him.
2

.

"The lucky ones" - Season 8 Episode 12
There are two unforgettable Frank moments in this brief scene. The first is when he looks up at the ceiling when saying "she passed," and the second is the casual delivery of "she wouldn't make it."
1

.

"I feel 10 years younger" Season 6 Episode 17
In this clip, Frank tries on the bra for men that Kramer invented. What's so special about this scene is the way it shows one of the best things about Frank: his unexpected good moods. Your average grumpy old man archetype character would never engage with an idea as silly as a bra for men, but Stiller understood the value of derailing the unexpected. Frank was such a perfect character because you never really knew what to expect from him.