In 2014, after a night of roller-skating at the local rink, Morgan Geyser and Anissa Weier took their friend Peyton Leutner to the woods.
They stabbed her 19 times, leaving her to crawl out onto a path, where a cyclist found her. All three of the girls were twelve.
Geyser and Weier had apparently been planning this for months. It was all inspired by Slender Man—the infamous tall, thin, child-eating demon who started as a concept on Creepypasta and later ingrained himself into a generation's minds through a series of Photoshopped images and gory Internet threads.
Yesterday, the now 17-year-old Leutner spoke out for the first time since the attack. She appeared on ABC's 20/20 program, which airs this Friday night, and she apparently said that she still sleeps with broken scissors "in case someone tries to murder her again."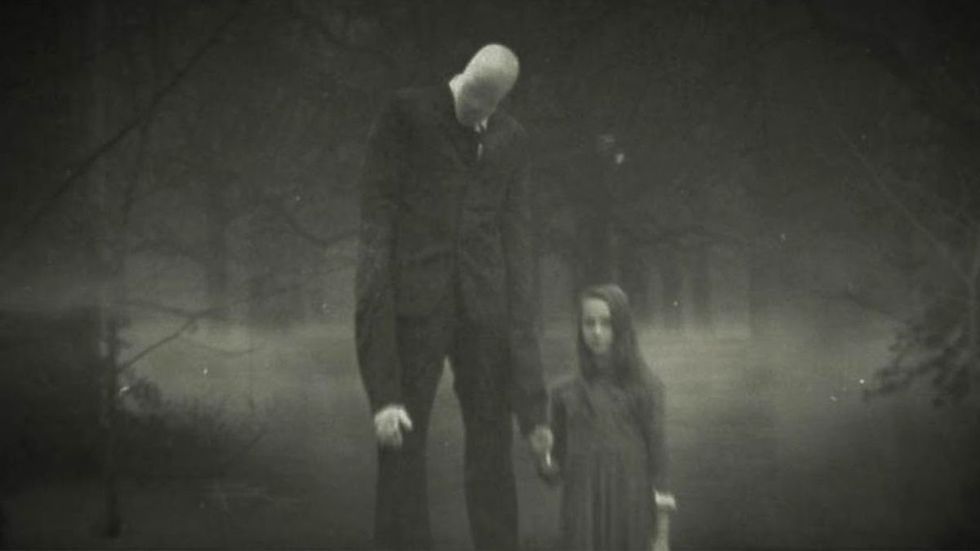 The Verge
As for why she's decided to speak out, she said, "I feel like it's time for people to see my side rather than everyone else's."

Most of the information that exists about the Slender Man stabbing concerns Morgan and Anissa, both of whom are currently in mental institutions. But this story really began over a decade ago, in the darkest and most infected laboratory known to man: the Internet.
The first mentions of Slender Man appeared on Creepypasta's Something Awful forum. It was 2009, the era of MySpace and early Internet, and a user named Victor Surge responded to a request for spooky photos by submitting an image of a tall, thin man without a face. It was captioned, "We didn't want to go, we didn't want to kill them, but its persistent silence and outstretched arms horrified and comforted us at the same time. — 1983, photographer unknown, presumed dead."
From there, Slender Man became a viral meme, the modern equivalent of a popular folktale. Evading fact and authorship, Slender Man instead seemed to exist only in echoes and whispers. Always skeletal, thin and faceless, usually seen in the woods, he fit into the old, monstrous archetype of the children-snatcher, being the kind of specter used to discourage children from running away into the night. But unlike the cryptids and stringy-haired witches that are so common in horror movies, he has no precise precedent in folklore.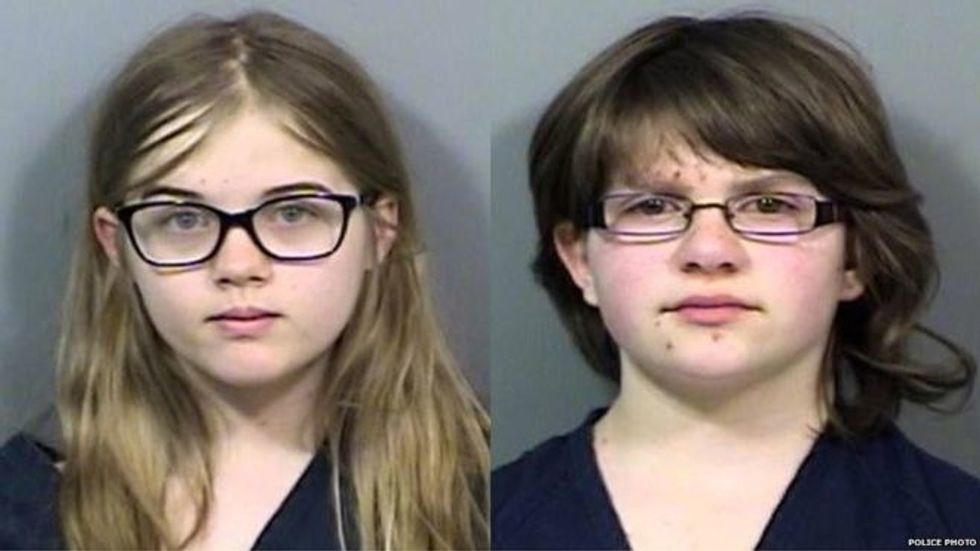 Morgan Geyser and Anissa Weier
What happened to Peyton Leutner is an absurd, random tragedy, one that evades logic. It is evidence that the things the Internet dreams up can come to life. It plays into the deepest fears of every parent who has allowed their children to go out at night or go online (regardless of the fact that very few people actually are moved to violence by what they read about online). In that, it's a tale that feels particularly resonant in 2019, when it's becoming clearer that we have far less power over the Internet than we imagined, and when we know that powerful men wearing suits have been stealing children away for quite a long time.

But maybe sometimes, all this violence can become a catalyst for healing. Inspired by what happened to her, Leutner has decided to become a doctor. When asked if there's anything she would say to Morgan Geyser, Leutner said she would thank her.
Leutner said, "I would probably, initially thank her," Leutner said.
"I would say, 'Just because of what she did, I have the life I have now. I really, really like it and I have a plan," she said. "I didn't have a plan when I was 12, and now I do because of everything that I went through. Without the whole situation, I wouldn't be who I am. I've come to accept all of the scars that I have. It's just a part of me. I don't think much of them."
'Slender Man' stabbing survivor describes horrific ordeal | Nightline youtu.be