Top Stories
Sofia Richie Summer Outfit Inspo: Sporty & Rich X Hotel du Cap-Eden-Roc
Still obsessed with Sofia Richie's wedding? Sporty & Rich just collaborated with her wedding venue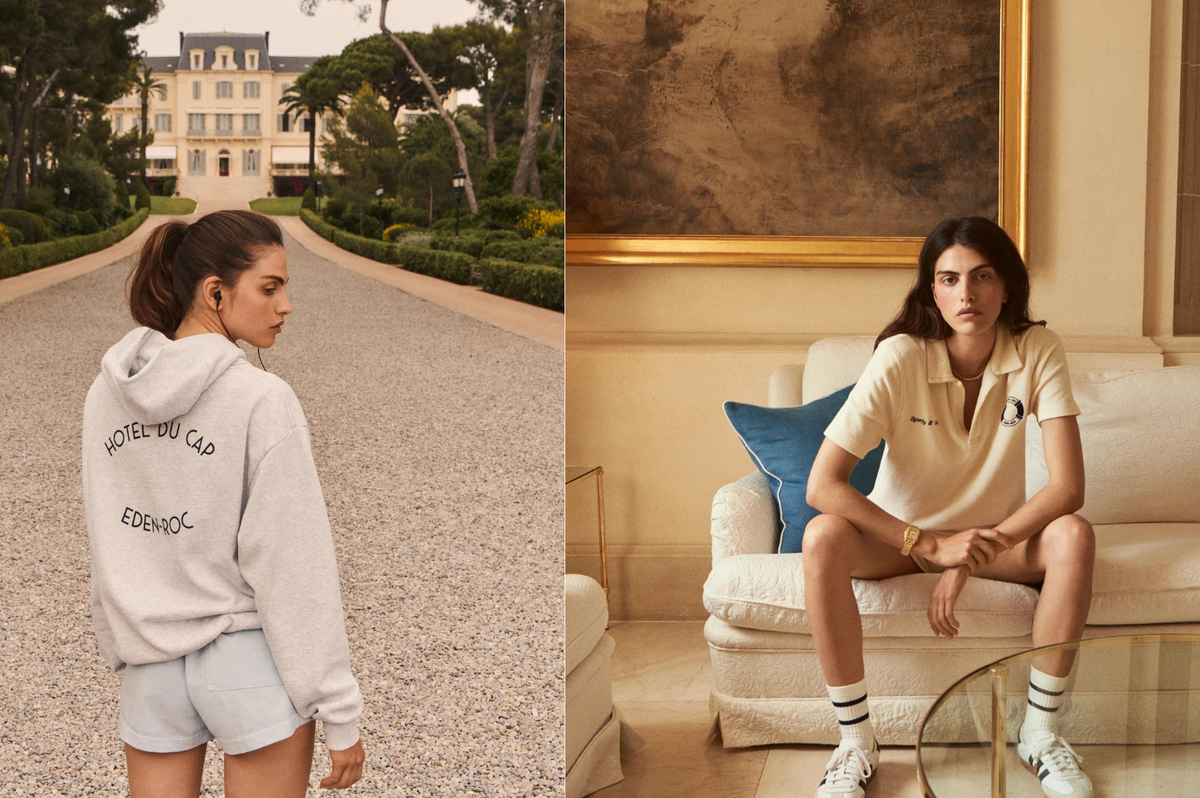 Photos by Morgan Pilcher via Sporty and Rich
Even if you haven't heard of the brand Sporty & Rich, you've probably seen their clothes all over Instagram. With an aesthetic inspired by vintage editorial branding and streetwear-turned-athleisure, the brand was ripe for social media success. But it's her keen eye for catching trends right before they take off that led founder Emily Oberg to create a brand with a cult following, celebrity co-signs, and some of the biggest collabs in fashion.

Toeing the line between athleisure and luxury fashion, Sporty & Rich curates a vibe that's both casual and aspirational. And their illustrious list of collaborations is proof.
---
They were ahead of the tennis-core trend with their collaboration with Prince. They recently launched their second collaboration with Adidas, including their own line of sambas — aka the shoe of the summer. And now they're just in time for the Quiet Luxury trend, launching a collection with Hotel du Cap-Eden-Roc in Antibes, France — which you might recognize as Sofia Richie's wedding venue.
"I have always been fascinated with the photos of the Hotel du Cap-Eden-Roc from the 70s," said Oberg on Instagram. They represent a level of elegance and chic that is simply unmatched. These photos from Slim Aarons at the Hotel du Cap have become a moodboard for my life and for our brand. We are so proud to collaborate with this iconic establishment on a collection of luxury and hotel-inspired pieces: from terry cloth sets to classic cotton fleece pieces and the mandatory pyjama sets, everything you would need for a stylish stay in the best hotel."
Aas Oberg alluded to, Hotel du Cap-Eden-Roc has always been an aspirational source of inspiration. The Slim Aarons photos solidified it as one of the ultimate status symbols for the ultra-wealthy. And as the venue for Sofia Richie-Grainge's wedding of the decade, Hotel du Cap-Eden-Roc is experiencing a whole new level of fame amongst younger demographics.
Sofia Richie has become the face of the Quiet Luxury trend and places like Hotel du Cap-Eden-Roc are now at the top of everyone's bucket list. But what makes Sofia so relatable is the same thing that draws fans to Sporty & Rich — the appeal of effortlessness and well-curated simplicity. Everything they do feels intentional, but not inaccessible.
Even if you can't afford to splash out thousands of dollars for just one night at the hotel, Sporty & Rich's elevated athleisure and loungewear essentials are making luxury accessible. Don the Hotel du Cap-Eden-Roc pajama set to walk around your apartment and romanticize your nighttime routine. Lounge around in the breezy short shorts. Run errands in the dad cap.
Whatever you do, take a little bit of that Sofia Richie-inspired effortlessness and Eden-Roc luxury wherever you go.
The collection launches on July 13. Shop it online HERE