New Releases
Ariana Grande and Justin Bieber's first official collaboration is an ode to love in the time of quarantine.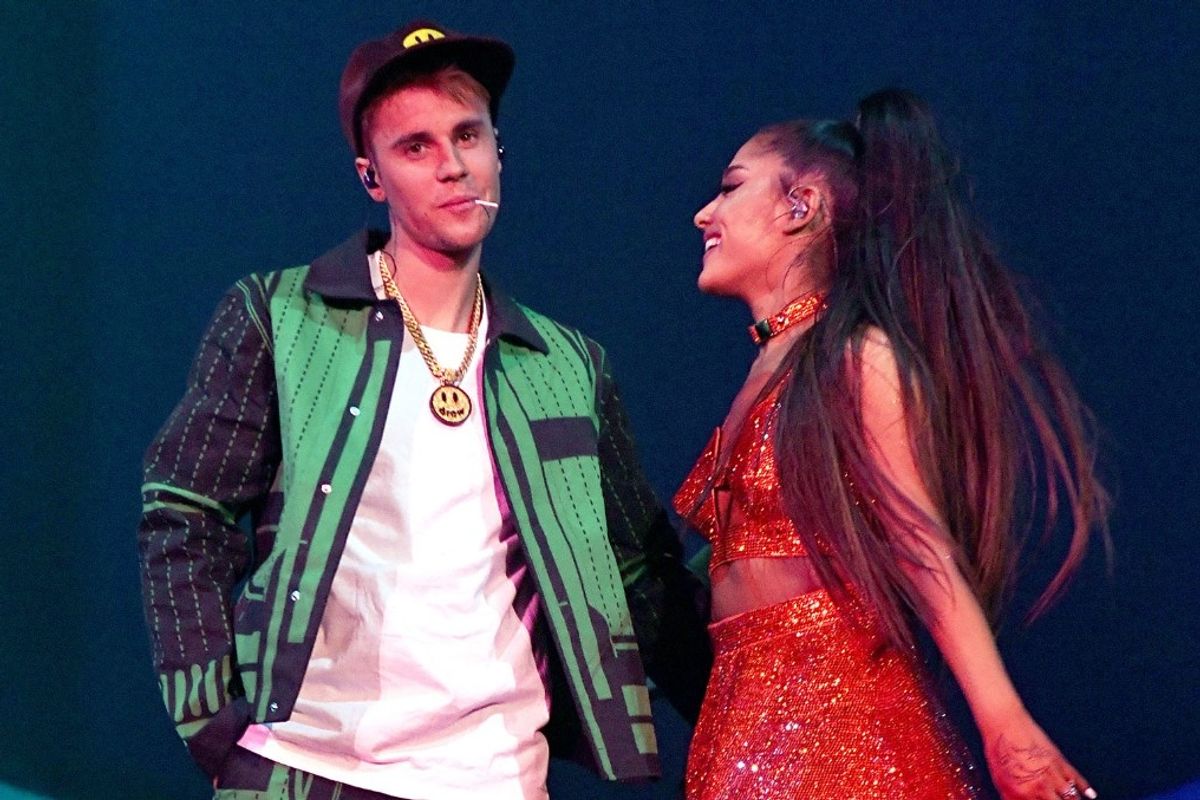 Despite sharing the stage on more than one occasion in addition to their manager, Scooter Braun, it's taken a worldwide crisis for Ariana Grande and Justin Bieber to collaborate.
The pop megastars have shared a new single together called "Stuck with U," with all net proceeds going to the First Responders Children's Foundation. The waltzy slow jam looks on the bright side of quarantine, seeing it instead as an opportunity to spend uninterrupted time with your significant other and loved ones. Grande notes her high standards in fling—"I'm not one to stick around / One strike and you're out, baby / Don't care if I sound crazy / But you never let me down," she sings—but assures that nothing will change if her partner starts driving her insane and running his mouth. Because it's not like anyone can leave, anyway!
---
Meanwhile, Bieber's verse is a bit of an eyebrow-raiser: "Kinda hope we're here forever," he sings, which is questionable. "If you told me that the world's endin' / Ain't no other way that I can spend it." I would agree if I were happily married to a model with enough of a fortune to never work another day in my life, but go off, I guess.
Like many music videos made during These Times, the accompanying clip for "Stuck with U" is endearingly DIY, featuring cute snippets from fans as well as from lots of other hot famous people: Chance the Rapper, Michael Buble, Gwenyth Paltrow, Steph Curry, and others make appearances at home with their respective significant others. "Tiger King" star Carole Baskin submitted a clip with her husband (the one she didn't murder), but Grande said she didn't approve. Meanwhile, Bieber and wife, Hailey Baldwin, are seen taking a stroll around their absolutely massive yard, and slow dance while taking a break from boxing at their in-home gym. Must be nice!
The best part of the video is that, in the midst of all the romance, Grande is primarily seen snuggling with her dog, which is much more accurate to how I'm spending my time on lockdown. But then, she pulls a fast one on us and decides to show off her new boyfriend: a not-exactly-famous—but still hot—real estate agent named Dalton Gomez.
Anyway, the song is entirely innocuous, but now I'm even lonelier than I was before. Listen below, if you dare:
Ariana Grande & Justin Bieber - Stuck with U www.youtube.com