CULTURE
Whether the post was really intended to be pro-China remains unclear, but it wouldn't really be that shocking
Instagram
Americans love to have a villain.
Someone they can really sneer at and come together to root against. But Terry Crews is usually the furthest thing from the bad guy. He's a gifted painter, a former NFL player, and a fountain of positive energy and open communication whom we loved for his role in Brooklyn Nine-Nine even before he became a hero of progressive cultural change.
In 2017, when Crews shared his personal experience with sexual harassment and assault in Hollywood, he made himself vulnerable in a way that a lot of men—particularly men who are perceived as strong and masculine—would shy away from. His story became as clear an illustration of the toxic power dynamics in the entertainment industry as most of us could imagine—showing that even someone with the strength and confidence of a literal superhero could be taken advantage of and violated by the powerful figures in a system with such pervasive problems.

How could a man who has done so much to win our love provoke American society to suddenly turn against him? By siding—or at least seeming to side—with America's favorite villain du jour: China.
Crews is currently in Shanghai with his family and apparently having a great time. Some people would probably take issue with that alone—with an Instagram post asserting that China's largest city is "INCREDIBLE!!!" and "Truly a wonder to see in person!" Many American's have so thoroughly written off China as a force of pure evil that even innocuous positivity like this, delivered with a message of "WORLDWIDE LOVE," would be unacceptable, but it's not really surprising or out of character.

What really surprised people was when Crews posted a picture of himself, earlier this week, posing in front of the flag of the People's Republic of China, with the phase "POWER TO THE PEOPLES." This is the post that opened the floodgates on a torrent of negative responses, with thousands posting messages expressing their shock.
Most of the commenters seemed particularly concerned with the protesters in Hong Kong and with the perception that Crews was aligning himself with the mainland government, against the people who have occupied Hong Kong's streets for the past seven months fighting for autonomous democracy in their city. While it seems like a stretch to assume that Crews intended the post as an endorsement of Xi Jinping's government, the image was certainly suggestive of pro-China propaganda, with Crews looking buff and tough, with the red and gold flag framing his head. It's reminiscent of Ivan Drago in Rocky IV, posing in front of the flag of the USSR. And just like Ivan, Terry's post could not be more perfectly calculated to inflame American patriotism against him.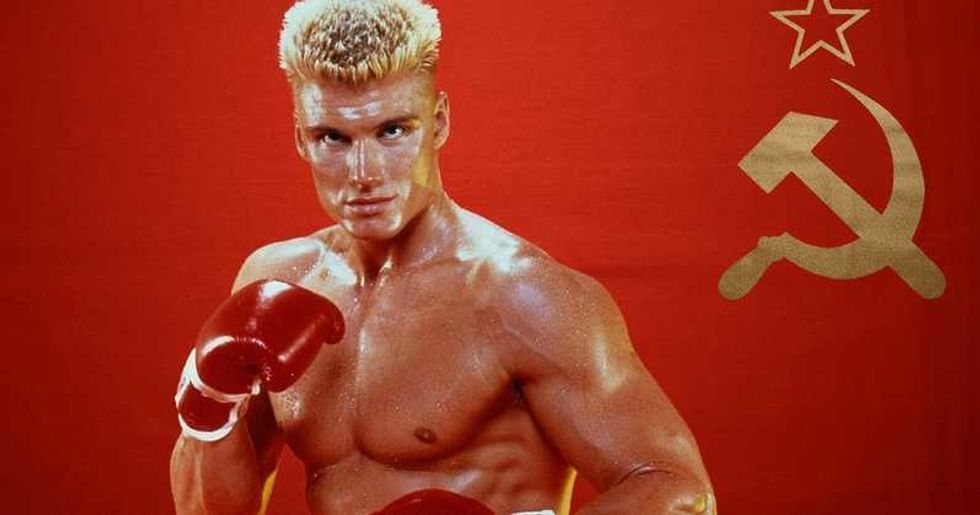 "Rocky IV" 1985
It may be that Crews is not particularly familiar with the issues in Hong Kong—he's a busy man, with a lot on his plate. Or maybe, seeing the way people live in Shanghai, he doesn't think that Hong Kong has a great deal to fear in losing their autonomy. That's debatable, but there are other, more pressing reasons to maintain a strong critical stance when it comes to China. In particular, the "Vocational Training" that is being provided to Uyghur Muslims against their will in the Xinjiang re-education camps. There are reports about various atrocities—everything from rape to organ harvesting—that may be taking place in those camps. Without a free press in China, it's difficult to say for certain what's going on there—which is a problem in and of itself.

But if Crews had instead appeared in front of an American flag—or wrapped in a flag suit like his character in Idiocracy—would people have taken that as an endorsement of Donald Trump? Does the fact that he hosts America's Got Talent mean he must deny that America also has police violence? Does it mean he should ignore the sexual assault that takes place in our concentration camps at the southern border? Maybe flags in general just make for cool backdrops. Or maybe a person can express appreciation for a nation and its people without endorsing everything the government does there.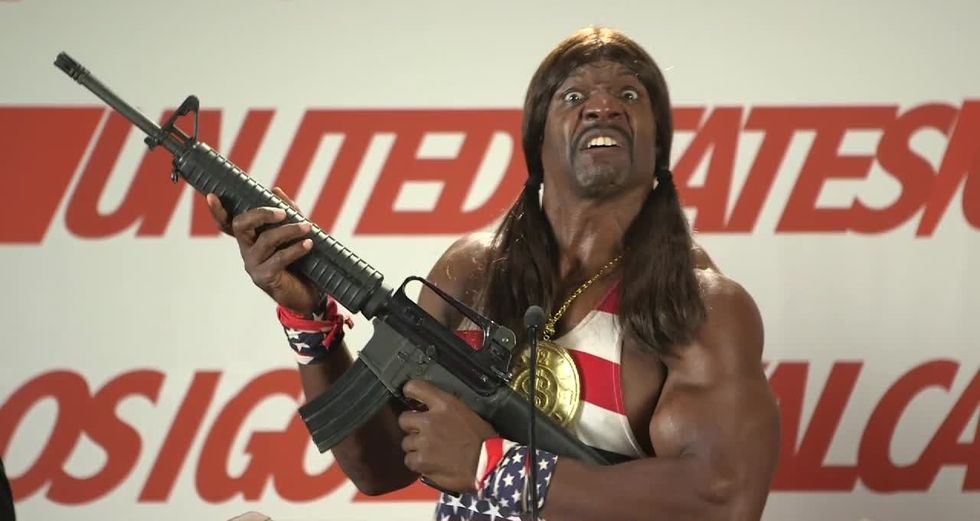 "Idiocracy" (2006)
Meanwhile, Flint Michigan, where Terry Crews grew up, still has poison flowing from many of its taps. The NFL, where Terry Crews used to play, has—at the behest of President Trump—banned kneeling on the sidelines during the national anthem to protest police violence. Los Angeles, where Terry Crews lives, is suffering from a housing crisis, with 1% of the population living on the streets or in shelters. And the United States is still officially home to the largest population of imprisoned people on earth.

It's easy to attack China's crimes, because China is far away and their political problems seemingly have little in common with our own—and there is absolutely a lot to be critical of. Their problems allow even a divided country like ours a moment of unity—with everyone from Elizabeth Warren (who penned an article titled "It Is Time for the United States to Stand Up to China in Hong Kong") to the Trump family jumping on board. It may yet turn out that Terry Crews was unaware of some of these problems, or he didn't want to take the risk of expressing his own criticisms while his family is still within the country's borders.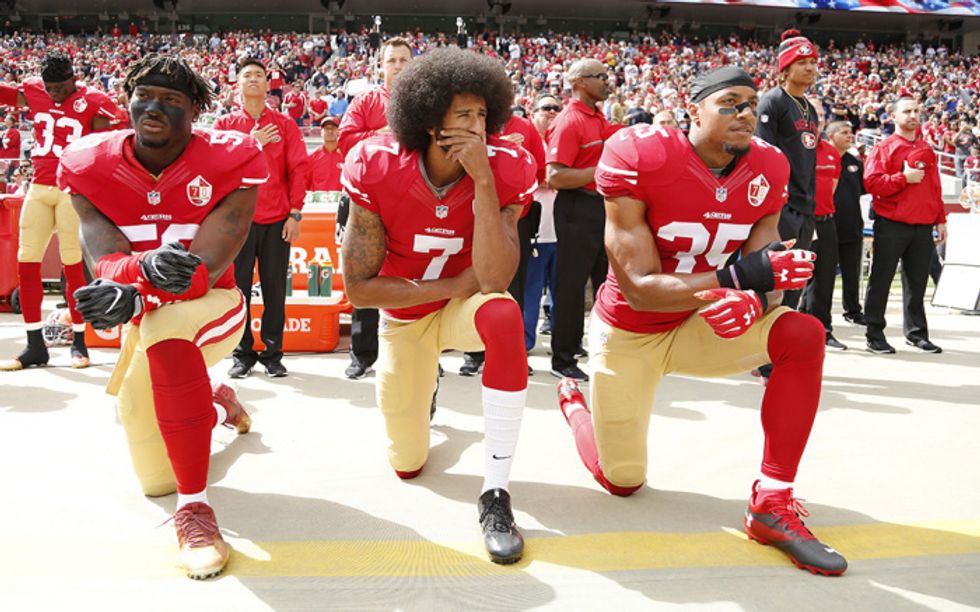 John G Mabanglo
That would be understandable. It could even turn out that "POWER TO THE PEOPLES," was meant as a subtle, pro-democracy message of solidarity—we can't really know right now. But if it's not, would it be that shocking to learn that, as a black man in the United States, Terry Crews knows better than to judge a nation simply by its worst crimes or its greatest achievements. Crews has achieved tremendous success for himself and his family, but he has also seen how badly his home country tends to treat people who look like him. Maybe he can celebrate the best of what he's seen in China—e.g. the hundreds of millions there who have been lifted out of poverty—without endorsing the worst of that government's evils.

Maybe Terry Crews is more capable of nuance than the people who break everything into heroes and villains—who praise Hong Kong protesters for throwing bricks and attack American protesters for throwing milkshakes or distracting us from football.