And they lived happily ever after?
If you've been spending the past however-many Monday nights glued to the tube as TV's best-known bachelorette has been whittling down her pack of male suitors to the final two, last night was surely the climax you've been waiting for. 28-year-old Becca Kufrin, this season's selection, started her "journey" with 28 fellas fighting to win her over, but as each "rose ceremony" went down faster than the booze the cast was constantly chugging, Becca's pool of potential partners became smaller and smaller. Dreams were broken and tears were shed, but to follow her heart, Becca had to go with her gut.

The original 28 men looking for love (or fame)Glamour.com
Last night was The Bachelorette season finale, with just Blake Horstmann, a 28-year-old sales rep from Colorado and Garrett Yrigoyen, 29, a medical sales rep from Nevada left standing. Becca confessed to the cameras that she was in love with both men, making her final decision a doozy, particularly because both guys were head-over-heels in love with her too. She met their families, they met hers, and the dates were increasingly spectacular as Becca and her guy of the moment were swept away to exclusive vacation spots filled with fun, food, and "fantasy suites."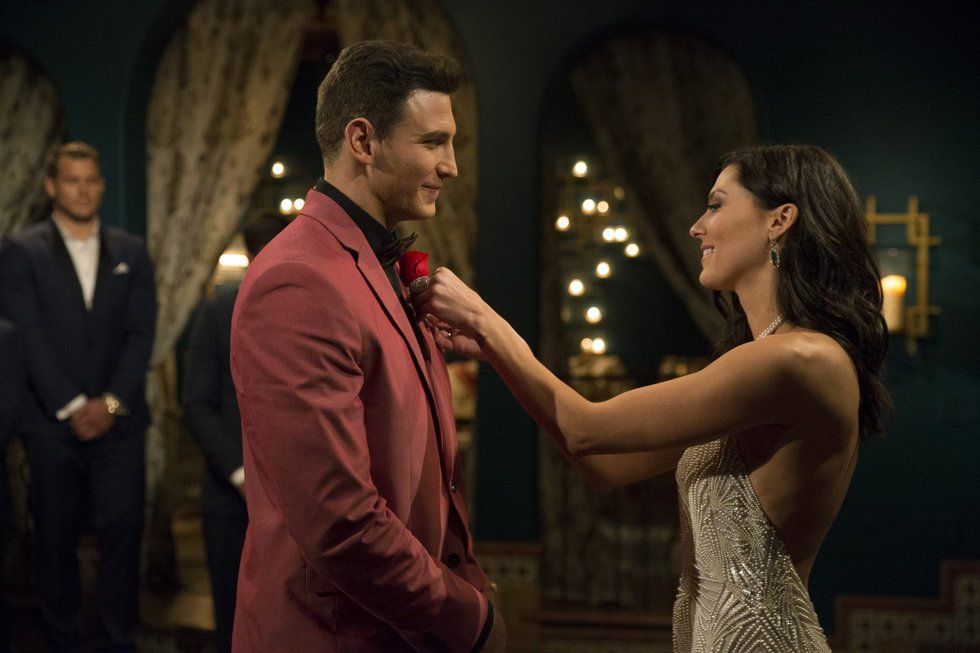 Blake got a rose a few episodes back, but he'd go home without Becca on his arm theknow.denverpost.com
Since we're into season 14, everyone knows the way the show works by now. We are strung along week after week, left in suspense until we can tune in again, and become helplessly hooked so we must keep watching 'till the very end. The finale is a 3-hour whirlwind as emotions flow, relationships get as real as they can on a reality show, and one man winds up blindsided, wondering how she could have picked "the other guy" when what he and the bachelorette has was so darn special. Naturally, said guy often becomes the next star of The Bachelor, making the whole ordeal a heck of a lot easier to get over. 28 ladies lavishing their attention on one man has a way of doing that.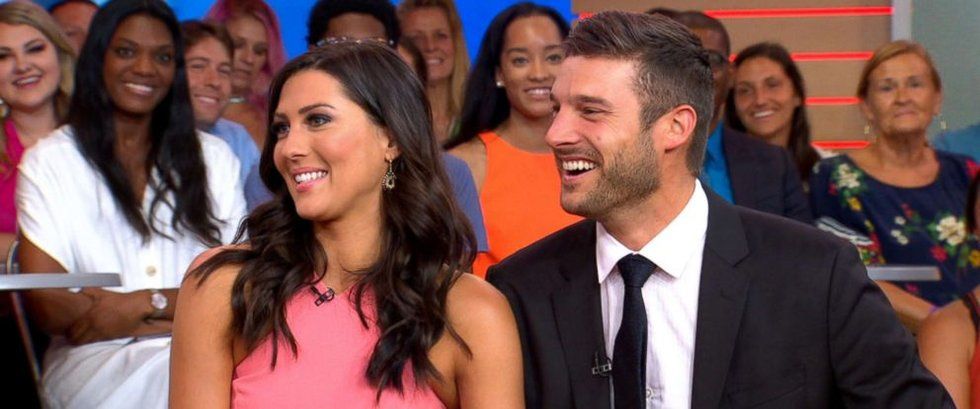 And the press tour begins! Becca and Garrett can finally go public with their relationship s.abcnews.com
So last night Becca chose Garrett. Blake was going to propose, but she cut him short to make the humiliation a little less painful. And Garrett, with his goofy smile, good looks, and apparently slightly closer connection with Becca, got down on bended knee, whipped out his Neil Lane engagement ring (thanks Neil), and popped the question. As the recipient of the "first impression rose" in episode 1, Garrett remained on top throughout, earning himself the very last rose, not to mention a fiancé, and newfound fame.
Ah, young love209magazine.com
The two seem like a good fit, but once they navigate life in the "real world," free of flowing champagne and chartered planes, we'll see how well Becca and Garrett get along. "Made-for-TV" relationships are fun for a while, but once things wrap, chores replace candlelit dinners and the hair and makeup team go home. That said, if these lovebirds can last, it's not only a boost for the franchise, but gives the rest of us hope that love can be found anywhere – even in front of a camera crew. Blake's not quite there yet.

---
Melissa A. Kay is a New York-based writer, editor, and content strategist. Follow her work on Popdust as well as sites including TopDust, Chase Bank, P&G, Understood.org, The Richest, GearBrain, The Journiest, Bella, TrueSelf, Better Homes & Gardens, AMC Daycare, and more.
---
POP⚡DUST | Read More...
No, You Haven't Taken a Trip in a Time Machine (or UFO)...ALF is Back!

Beyonce to Take Over Vogue's Sept. Issue