TV
The (Unofficial) Astrological Signs of "This Is Us" Characters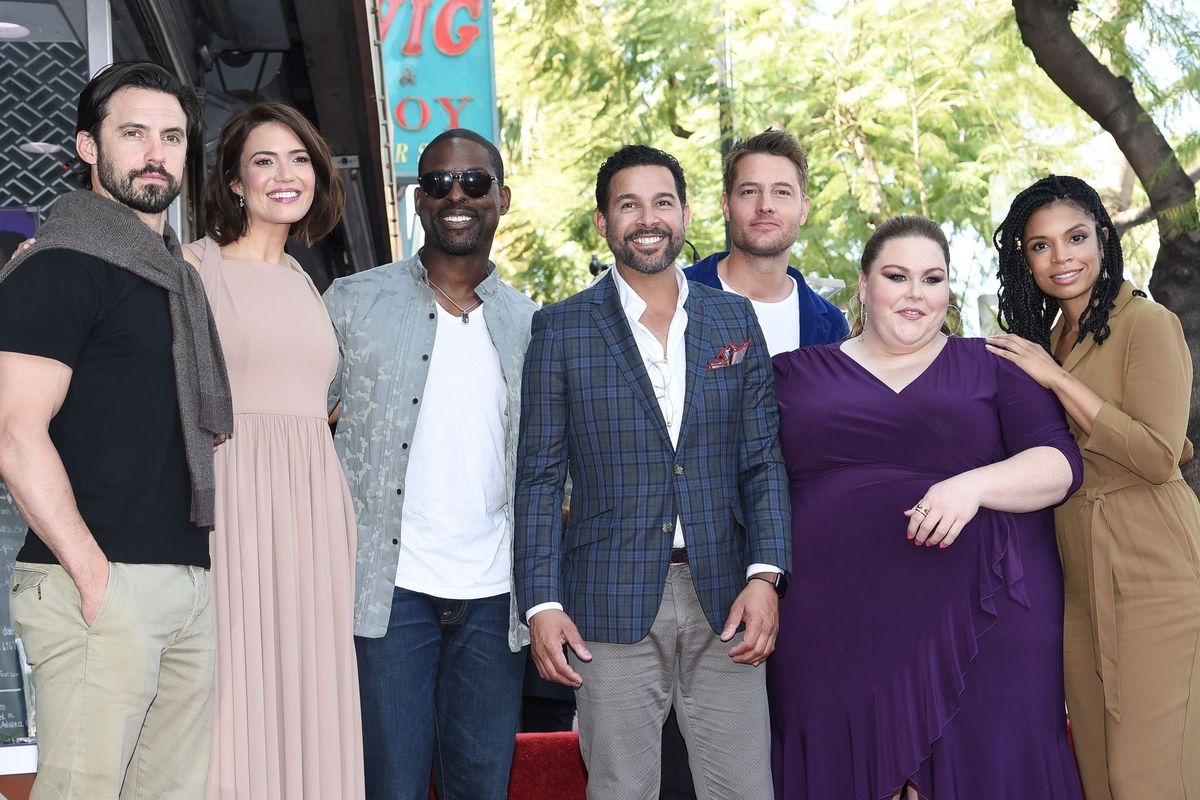 Photo by Richard Shotwell Invision-AP-Shutterstock
Either you're already sucked into this multi-timeline emotional roller coaster or someone you know is tearfully telling you how much you're missing–there's really no in-between.
---
NBC's This Is Us takes viewers on a journey through the decades with love and drama stringing it all together.
While watching, it's easy to attempt to pinpoint which characters you most resemble. Over on Spiritual Twitter, the best way to do this is to guess and assign Zodiac signs to the characters, which makes watching the heart-wrenching drama a bit more fun.
Everyone can access their full birth chart, which lays out the positioning of the planets at the time of your birth. Think of it as a blueprint to your personality, past, present, and future. Your sun sign is your base nature, the personality you show to the world, no matter internal or external variances. Your moon sign indicates how you emote and how you process your emotions. If you're interested in knowing your own moon sign (and other planetary signs), you can download your birth chart and jump down that rabbit hole of information. (For the more advanced astro people, houses and degrees will not be considered here because seriously, who has that kind of time?).
Based on the show's canon, not only do we know characters' sun signs (the main astrological sign that most people know), but we can guess moon signs as well.
Jack
RIP to the man that made everyone, men and women alike, jealous of Rebecca Pearson. Like a Virgo, Jack is calculated, precise and makes things happen. His downfall, in true Virgo fashion, was his aim for perfection and his feeling of defeat when he fell short. We know "The Big Three" and their father's birthday is August 31, making all of them Virgos, but this doesn't necessarily mean they all have the same moon sign. For Jack, a Scorpio moon is fitting because of the passion that people with this sign are able to display. The other aspect of a Scorpio moon is that their hearts are very deep, open seas; while beautiful and majestic, there are depths they will never share and no one can ever begin to find.
Rebecca
Rebecca's birthday is never revealed, but we can assume she is an emotional Cancer. Rebecca Pearson lives in her feelings in almost every scene. She involves herself in her children's and grandchildren's (hey, Tess) lives even when she's not invited, but it's all done with the best of intentions. She is passionate and loyal, which makes her perfect for Jack, who desires someone who's going to be by his side no matter what. Because of her many emotional outbursts and occasional inability to hold back, Rebecca aligns with an Aries moon. With the typical "I have to be out front always" energy of Aries moon people, Rebecca shows off her fiery nature by being bold and courageous, whether standing up to her helicopter of a mother or going out for a new job. While intense and explosive in their feelings, Aries moons can also be insecure or overly aggressive and emotional without realizing it, which could definitely be said of Rebecca.
Kevin
Along with his father and siblings, Kevin is a Virgo, but there's a strong argument for a Leo sun sign, and his moon sign could easily be Sagittarius. Sagittarius energy is never settled and always on the move. Kevin's Hollywood lifestyle takes him across the country in the blink of an eye, and that's exactly how these moons want it. The only tricky thing is getting them to sit in one place for a relationship. Unless you're looking to jet-set alongside Kev, it's going to be a bit difficult to build a solid connection. As we already know, Kevin struggles to keep a healthy relationship repeatedly on the show.
Kate
Kate has Pisces energy, but alas, she is a Virgo. For her moon, she seems like more of a fiery Leo woman. Leo moons tend to do anything to keep the attention on them and will react negatively when it isn't. Often creative, which speaks to Kate's singing talents, they dream of being center stage and enjoying that limelight. Leo moons are fun to be around and are always ready to be out having a good time (because who wants to stay indoors when you look that good?). Kate also displays some of the negative traits surrounding this fire sign: She can be extremely dramatic, overly sensitive, petty, and emotionally demanding.
Randall
Now, Randall Pearson is easily the most Virgo of his siblings with his perfectionism and organized ways. However, with a Capricorn moon, his Virgo sun is practically in hyper-drive. The double Earth sign man can do absolutely anything he puts his mind to. Very much a career-driven leader, he has a solid foundation of family, friends, and loved ones. While Capricorn moons are the sort of people that you want to go into business with, these moons are also prone to anxiety and depression from the amount of pressure they put on themselves. We see this for the first time in episode 15 of season 1 when Randall has a panic attack in his office at work. While they're loyal and dedicated partners, Capricorn moons can easily drive themselves insane trying to be perfect in everyone's eyes as well as their own (which is inherently impossible).
Beth
The human balance beam that is Beth Pearson never ends, and she just screams Libra woman. She's diplomatic and fair in her decision-making and makes an effort to ensure everyone in her household is happy and at peace. Whether that's by making sure all the girls get to their extracurriculars, helping Randall launch his many projects, starting a new career path, or making sure additional house guests feel at home, she does it all while keeping her own life and dreams alive. Whew! With this level of balance, only a Virgo moon would provide the superpowers to make it all happen. With planner in hand, Beth keeps it all together. However, similar to Cap moons, Virgos aim for perfection, which leads them to suppress negative emotions and deny personal dilemmas. Virgo moons will swallow their woes to make sure everyone else is okay before themselves, and they will only explode when they've had absolutely enough
Toby
Similar to Beth, Toby displays diplomatic and zen Libra vibes. He does what he can, but his Pisces moon makes him a little more emotional than Beth. With that strong Pisces intuition, Toby is great at noticing when his wife, Kate, is hiding her true feelings and can pick up on those emotions easily. He's also creative and dreamy-eyed about life at times, but we love this about the huge teddy bear (or buff bear) that is Toby. With this in mind, his emotions ebb and wane more than he'd like, so he keeps them balanced with prescription medication for his depression.
Don't miss new episodes of This Is Us every Tuesday at 9/8c on NBC.