TV
Phoebe Waller-Bridge can have my house, just take my house, take everything.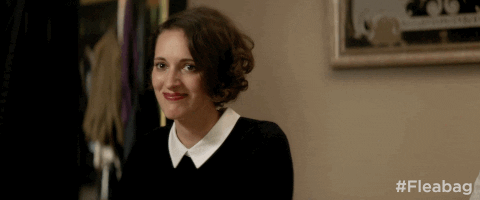 The 2019 Emmy Awards will take place on September 22nd, meaning you only have a few more days to re-watch all of Fleabag before it sweeps the awards.
If you're anything like us, you've probably been sleeping and living in your
Fleabag jumpsuit
for the last few months, so it's probably time to give that bad boy a quick dry clean in time for your Phoebe Waller-Bridge-themed Emmy watching party! To get you ready for
Fleabag
's big night, we've compiled a list of the expected winners in the major categories!
Outstanding Comedy Series
Barry (HBO)
Fleabag (Prime Video)
The Good Place (NBC)
The Marvelous Mrs. Maisel (Prime Video)
Russian Doll (Netflix)
Schitt's Creek (Pop TV)
Veep (HBO)

Our Pick: While there are some stellar series on this list, it's really a no brainer who will be taking home the Emmy: Fleabag. While the other series may be funny, nothing can really compare to the funniest, most heartfelt show ever made. If you aren't convinced, just watch the opening scene of Season 2. Praise be to our lord and savior, Phoebe Waller-Bridge.
Fleabag Series 2: The Opening Scene www.youtube.com
Outstanding Lead Actress in a Comedy Series
Christina Applegate, Dead to Me
Rachel Brosnahan, The Marvelous Mrs. Maisel
Julia Louis-Dreyfus, Veep
Natasha Lyonne, Russian Doll
Catherine O'Hara, Schitt's Creek
Phoebe Waller-Bridge, Fleabag
Our Pick: Are you even paying attention? It's embarrassing I even have to say it: Phoebe Waller-Motherf*cking-Bridge. How many times have you watched her monologue at the salon about the importance of hair? WRONG. The answer is not enough times.
"Hair is everything." Excerpt from Fleabag episode, Season 2. www.youtube.com
Outstanding Drama Series

Better Call Saul
(AMC)
Bodyguard
(Netflix)
Game of Thrones
(HBO)
Killing Eve
(BBC America)
Ozark
(Netflix)
Pose
(FX)
Succession
(HBO)
This Is Us
(NBC)
Our Pick: Okay, so this one is a really difficult call; after all, Waller-Bridge also wrote Killing Eve. But we're gonna have to go with...Fleabag. Yes, I recognize Fleabag isn't actually nominated in this category, but do you remember the scene between Fleabag and Belinda at the bar? DO YOU REMEMBER? Show me a more brilliantly well-crafted dramatic scene than this one. I'll wait.
Why You Should Look Forward To The Menopause | Fleabag Series 2 www.youtube.com
Outstanding Lead Actor in a Comedy Series

Anthony Anderson, black-ish
Don Cheadle, Black Monday
Ted Danson, The Good Place
Michael Douglas, The Kominsky Method
Bill Hader, Barry
Eugene Levy, Schitt's Creek
Our Pick: I know, I know. Neither Phoebe Waller-Bridge nor Fleabag are in this category, and it wouldn't have even been possible for them to be nominated. In light of that, our official pick is...Hugh Skinner! Skinner plays Harry, Fleabag's meek boyfriend/ex-boyfriend, and is undoubtedly one of the funniest parts of the show. Remember when Fleabag tried to prank him in the shower? Watch it again, anyways.
Fleabag Season 1 - Clip: Prank | Prime Video www.youtube.com
Outstanding Lead Actor in a Drama Series

Jason Bateman, Ozark
Sterling K. Brown, This Is Us
Kit Harington, Game of Thrones
Bob Odenkirk, Better Call Saul
Billy Porter, Pose
Milo Ventimiglia, This Is Us
Our Pick: Everyone knows This Is Us is one of the most dramatic, cry-inducing shows ever made, and it's hard to compete with anything Billy Porter does, but that's not gonna stop us from picking Andrew Scott! No, yes, Fleabag is technically not a drama series, and no, Andrew Scott is not eligible in this category, but I'm honestly tired of your negativity, so just shove it, okay? Watch the final scene of Fleabag season 2 and then try to tell me Andrew Scott doesn't deserve this award. Also, KNEEL.
Fleabag 2x06 - "I Love You" - Ending Scene (1080p) www.youtube.com
Outstanding Lead Actress in a Drama Series
Emilia Clarke, Game of Thrones
Jodie Comer, Killing Eve
Viola Davis, How to Get Away with Murder
Laura Linney, Ozark
Mandy Moore, This Is Us
Sandra Oh, Killing Eve
Robin Wright, House of Cards
Our Pick: Look at me. Look at me. "Are you alright, Father?" "Oh, look at you calling me father like it doesn't turn you on just to say it..." Sorry, had to get that out of my system real fast.
Anyways, the Emmy goes to Phoebe-Waller Bridge! Also, can we throw a few of those golden statues Olivia Colman's way? She's just the best.
If you have ever questioned whether Fleabag was the best show ever created, let this revisitation of Waller-Bridge's confessional monologue set your mind at ease.
FLEABAG (season2 ep4) www.youtube.com