WHAT'S TRENDING
"Flower Boy" is Tyler's New Masterpiece
Tyler the Creator's aggressive bars paint a beautiful soundscape unique to his rap persona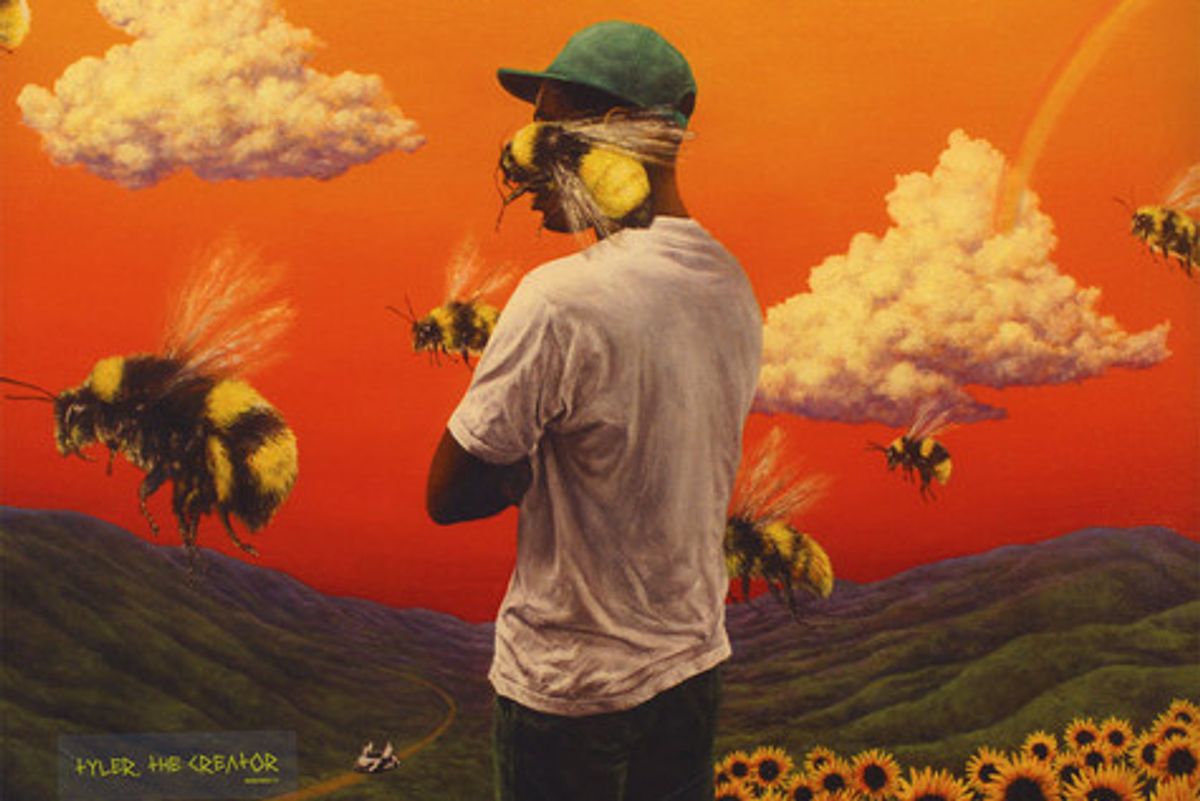 Eric White
 Tyler, the Creator is infamous for his outlandish tendencies and his aggressively entertaining music style.
---
He is a master of the weird and knows exactly how to display his perspective on life in a cool way. The artist struggles with separating himself from other rappers in the game, yearning to prove that while yes, he does rap, that doesn't occupy the entirety of his character. This is obvious in Tyler's most recent album: Flower Boy, in which he paints a beautiful picture of rap bars and chorus vocals blending hand in hand.
This masterpiece shows a different side to the hardened lyricist we know Tyler to be.
While there are of course still some fast paced songs such as: "Who Dat Boy" and "I Ain't Got Time" the album also presents softer tracks like "See You Again" and "911/Mr. Lonely". This perfect combination of flow and beat leaves listeners wondering the meaning behind it all. Of course, Tyler had some specific people and messages he wanted to portray in the album, but its further meaning is to personalize it to whoever may be listening. Its near impossible to play "See You Again" and not have that someone special in mind. While we may have no idea who Tyler was talking about in these songs exactly, we can fit someone personal to us into the lyrics. Here's a review of some of the major tracks in the album:
"See You Again"
This song starts with Tyler fantasizing about someone who "only lives in his dream state". Eventually accompanied by Kali Uchis' beautiful vocal skills, this track is the perfect summer serenade to whoever resides in your daydreams. Not only will this song woo your boo, it really helps when going through romantic struggles (at least in my experience it does).

"Who Dat Boy"
In classic Tyler, the Creator style, the collab with A$AP Rocky "Who Dat Boy" is nothing short of greatness. The video itself shows Rocky performing a gory face transplant on Tyler, leaving him with some white dude's face. Quick verses accompanied by an aggressive chorus proved perfection for this track that left listeners wanting more. Which is Tyler's specialty.

"Boredom"
Yet another gentle song, "Boredom" opens with Rex Orange County pouring the chorus out as sweet as honey. Tyler makes his first appearance on the track about a minute and a half in, with a sick verse rhyming in classic Tyler fashion."911/Mr. Lonely"
"911/Mr. Lonely"
A favorite to many listeners, "911/Mr. Lonely" features Frank Ocean, making the track truly sensational. These two artists share an amazing chemistry, proven by their previous works together, such as "She". Tyler speaks on certain aspects of loneliness, a topic which many of us can relate to. The track is a rollercoaster of emotions which can play to whatever the listeners feeling: sad or happy, it doesn't matter.

Overall, "Flower Boy" is arguably Tyler's greatest creation. Seriously, if you haven't given the album a listen you've been missing out.
---
POP⚡DUST | Read More…

MUSIC MONDAY | Scruffy Pearls Brings us Soul-Pop Sweetness
MUSIC MONDAY | Chris Jobe gives us some "Love in the Morning"
---