FILM
Including mermaids, holograms, and aliens aplenty.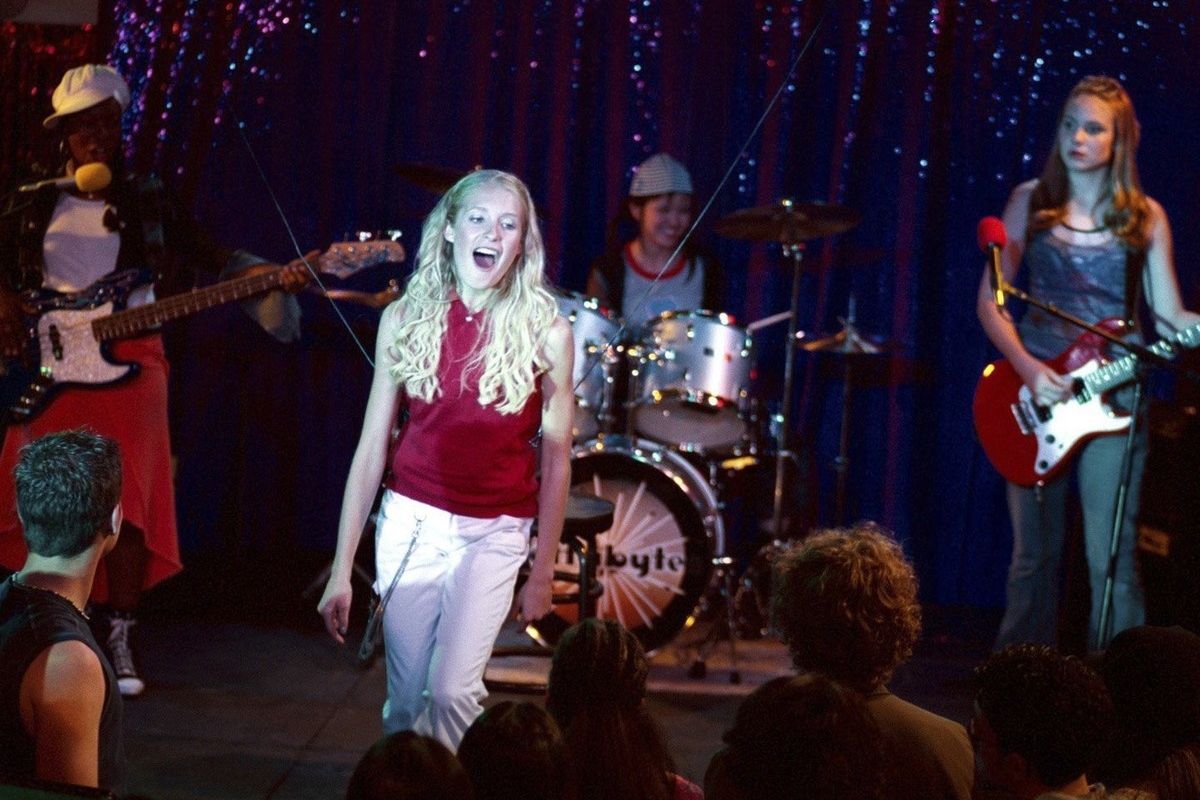 Disney+ is trickling its way into our daily dependence on streaming services.
This means we've unlocked a whole new world (Aladdin pun intended) of movies to watch half-attentively while we also scroll on our phones. You probably already know of all the classic Disney Originals that are at your disposal, but what about the Disney Channel Originals?
It's probably a given that big hits like High School Musical, Zenon, and Camp Rock are now available for your adult self to stream and reminisce, but that's only the tip of the iceberg. Name a DCOM, and it's likely available on Disney+, including all the strange, ridiculous low-fliers you might've forgotten about. Here are just nine to kickstart your nostalgia trip.
1. Alley Cats Strike!
Anything goes in the Disney Channel universe, including a bowling match to settle a basketball championship tie between rival towns. Why are both towns so invested in high school bowling? Why do the teenage winners get to pick the name of a new school in the area? We don't know, but we're still chasing the high of that final scene.
2. Stepsister from Planet Weird
In this sci-fi comedy from 2000, a literal alien refugee is immediately welcomed into the popular crowd at her new high school on Earth, despite thinking her human form is "grotesque." Not to mention that the emperor of her home planet is defeated by hair dryers and wind blowers.
3. Can of Worms
On the other end of the spectrum of Disney Channel's alien fixation, Can of Worms centers around Mike, who lives an entirely normal life besides believing he doesn't belong on Earth at all. After he accidentally sends a message to space, he's visited by an alien lawyer who deems Earth's living standards subpar. Strangely eerie 20 years later, isn't it?
4. The Thirteenth Year
Cody's birth mother is a mermaid who left him on a random boat when he was a baby. Now, as Cody approaches his teens, his merman features are beginning to present themselves, and he nearly gets accused for cheating during his swim meet. It's just fins, not steroids!
5. Luck of the Irish
There's little to take away from this film other than a white teenage boy finally embraces that he is both Irish and from Ohio, but leprechauns and river dancing will never not be amusing.
6. Motocrossed
Five years before Amanda Bynes posed as her own twin brother in She's the Man, Disney Channel offered their own adaptation of Shakespeare's Twelfth Night. After Andi's brother gets injured, she decides to fill in for him in an all-male motocross tournament, chopping her hair off and all. The sexism is abundant, but—spoiler alert—Andi can totally take on the guys.
7. The Other Me
Poor Will. His grades are slipping, his dad is threatening to send him to military camp, and he just accidentally made a clone of himself who turns out to be way cooler and smarter than him, so they switch places. Kinda like the Parent Trap, but sciencey.
8. You Wish!
The lesson this film attempts to impart is: don't wish away your little brother, because he might instead become a child TV star and make your life even more of a living hell than it was when you lived under the same roof.
9. Pixel Perfect
The perfect pop star doesn't exist, until, of course, you make a hologram of her. Loretta Modern might have been programmed to become an overnight sensation, but she just wants to be a regular human, damn it! She ends up being helpful in more ways than one, but like all modern technology, she can't last forever.
Maybe they didn't all make total sense, but there's a reason DCOMs became such an integral part of growing up in the 2000s. DCOM creators conceived some of the strangest, most fringe ideas, and served them to a market that didn't mind how nonsensical they were; pair that with Disney Channel's omnipresence in the typical middle-class American household, and these oddly lovable films serve as a timestamp for an era.