CULTURE
The talk show host is going viral for her wildly insensitive comments about a TikTok star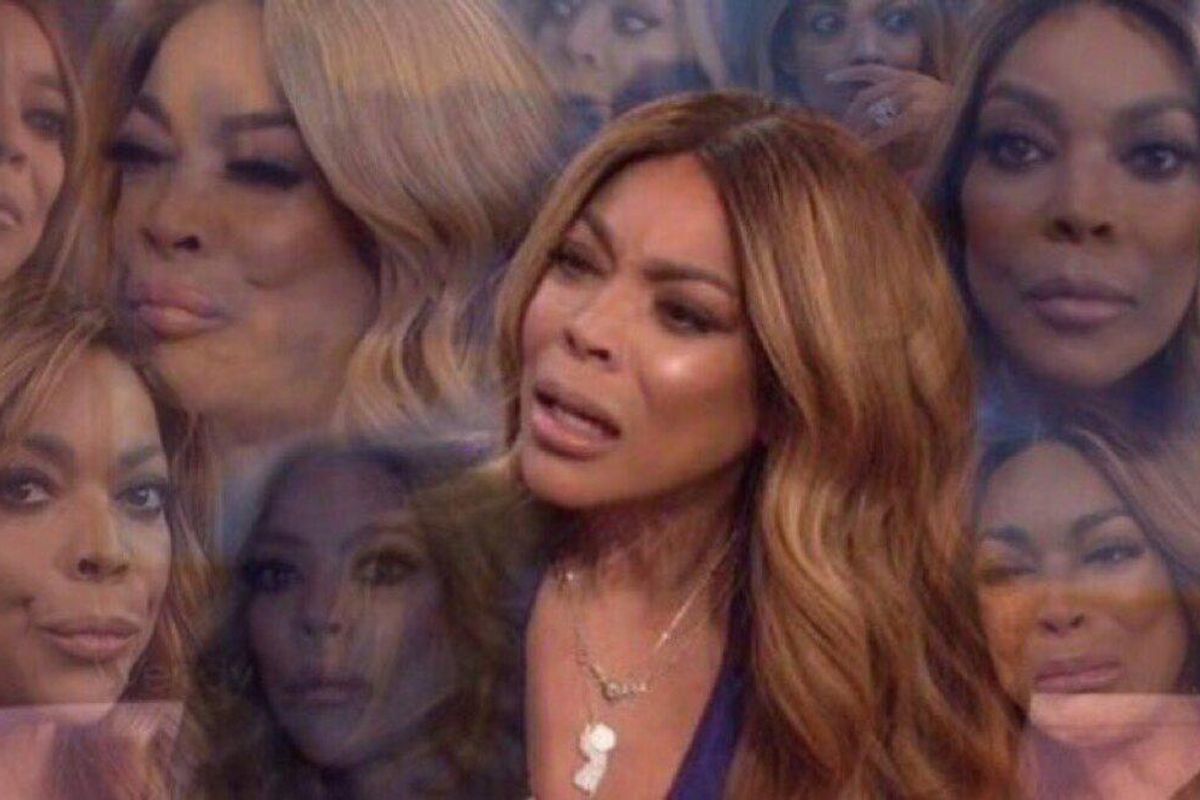 via Film Daily
Oh, Wendy Williams, who is she if not a perpetual meme?
The mind that gave us "Dula Peep," countless reaction gifs, and the iconic fainting clip (we're glad she's okay, but the drama, the camp, the complete bizarreness of that moment will live on forever), is now viral once again, but this time for a more jarring reason.
---
In a clip that went viral on Twitter, Wendy Williams showed a picture of a young TikTok star, Swavy, and began to ask the audience if they knew who he was.
Swavy, AKA Matima Miller, amassed more than 3 million followers on TikTok under the handle @babyface.s. The 19-year-old Delaware resident often went viral on the app for his dances and memes.

But it seems Swavy's cultural impact did not reach Wendy Williams. In the "Hot Topics" portion of her show, Williams started the segment by saying, "I have no idea who this is … neither does one person in this building."
The segment continues in similar disdainful fashion as Williams described the 19-year-old as just "a TikTok star." With palpable bitterness, she says, "He's got more followers than me," when a team member behind the camera interjects to qualify her statement to say, "On TikTok. But on Instagram, you have more followers."
Williams doubles down on her derision for TikTok and, in effect, Swavy — even garnering laughs from the audience from how she looks at the photo of him displayed behind her.
Then the other shoe drops. With no tact, or trace of empathy, Williams turns back from her shady staredown of his picture to say: "He's 19, and he was murdered Monday morning."
The audience was shocked. And viewers of this clip across social media have shared a similar horror — not just at what happened to Matima Miller but at the insensitive way Williams delivered the news.
Miller died in a shooting in Delaware on July 5, after which his family posted a brief statement on Instagram, saying: "He was taken away from us due to a senseless act of gun violence. Unfortunately, due to legality we are not able to provide much information on the events surrounding his passing."
Miller's passing is tragic for his family, for his fans, and for his community. But Williams' segment failed to show any sort of empathy or understanding to the grief and trauma of the people close to him.

Instead of commenting on the violence that took Miller's life, Williams chose to be salty about his number of TikTok followers?
Social media naturally rushed to criticize Williams' complete lack of self-awareness, making her go viral for all the wrong reasons.
@AlexTMcNair Every moment, every SECOND, every. cut. of. this. feels like a hostage situation. Those too-long pause… https://t.co/LOzPU9h7ew

— anerbananers🍌🌈 (@anerbananers🍌🌈) 1625784703.0
wendy williams still the undisputed queen of the type of television they use in a horror/sci-fi movie to communicat… https://t.co/IW1BI0j5NQ

— Ryan (@Ryan) 1625782603.0
If we didn't already know that we live in the worst timeline, The Wendy Williams Show is proof that the simulation needs to be shut down. Wendy Williams completely dehumanizing a 19-year-old Black child for shock value? I didn't think that's what I'd see on the TL today.

Williams using Miller's death for a bit about her own disdain for TikTok is so chaotic that if I didn't see it myself, I might not believe it.
But the question is: Is it just Wendy Williams herself who is so far out of touch that she thought this was appropriate? Or are we really this desensitized to violence against Black men? The fact that Williams thought she had to spice up the lede to report on the tragic death of a beloved internet star is telling of what we are socialized to expect for Black boys.
And for someone with such a platform, one that purportedly caters to Black audiences, to be so insensitive must be a brutal blow for Miller's grieving family.
With so much to unpack in this short clip, someone just cancel The Wendy Williams Show already — her reign of chaos has gone from chaotic neutral to chaotic evil, and she's doing more harm than good.
Black Twitter agreeing to cancel Wendy Williams around the table after watching that video... https://t.co/CAnHKoqO5j

— Jermaine (@Jermaine) 1625799299.0
Black Twitter agreeing to cancel Wendy Williams around the table after watching that video... https://t.co/CAnHKoqO5j

— Jermaine (@Jermaine) 1625799299.0
From Your Site Articles
Related Articles Around the Web