Culture News
What If Colton Underwood Is Just Asexual?
If asexuality were a more widely known, understood, and validated orientation, would people like Underwood have such a difficult time accepting their lack of interest in sex?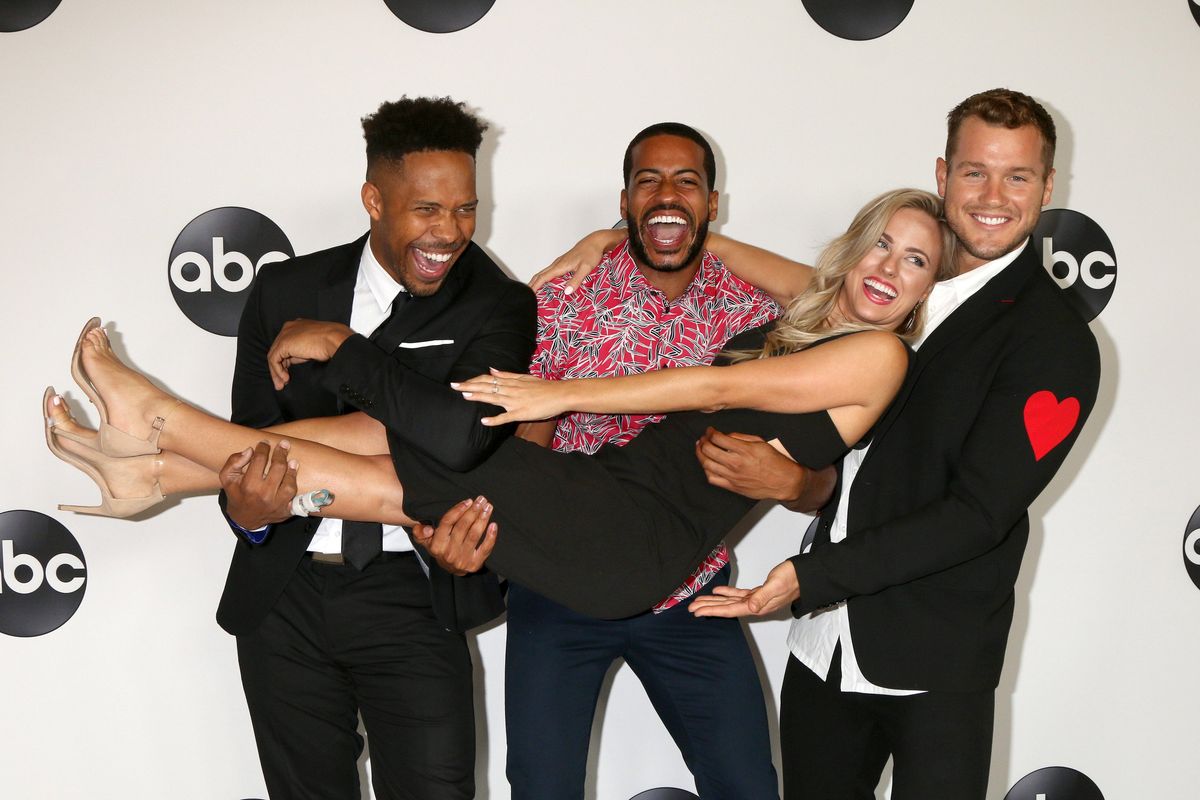 Photo by Kathy Hutchins (Shutterstock)
America has had a problem with Colton Underwood's sexuality since he became "the world's most famous virgin" in 2019.
While a reality TV show like The Bachelor is no place to find enlightened social commentary, the series' first virgin lead put the concept of virginity under public scrutiny. What is virginity? Does it even exist? In reality, it's as much a social construct as gender. Still, we seem to agree that women have the right to be as (in)experienced as they want, but if a 28-year-old man (and former pro-football player, no less) is still a virgin, then he must be gay, right?
As Underwood told Entertainment Tonight while promoting his book, The First Time: Finding Myself and Looking for Love on Reality TV, he's been plagued by rumors about his sexuality for years. "Even now, I still battle gay rumors when I'm with Cassie, but that's how it was for me as a young kid in grade school and high school," he said. "I can deal with them now."
---
Underwood wouldn't sate The Bachelor fans' rabid curiosity over whether or not he gave his virginity to his series' winner, Cassandra Randolph: "Cass and I, for our relationship, have decided we don't want to share that...We sort of just laugh and smile, and move on past it." One chapter in his book vaguely alludes to his intimacy with Randolph but explicitly comments, "[It's] none of your business."
But Underwood does credit the show for confirming that he's straight. "[The show taught me] that I'm straight and I'm very, very attracted to Cassie [Randolph] and women," he said, "but it would have been OK if it would have been the other way too."
He added, "I think that's the biggest message I have for people. If anybody takes anything from this or is going through this, if I help one young man or one young woman go through something that they're struggling with–to let them know that they're not alone–then I consider the book a huge success."
Now that Underwood's parted ways with Randolph and is allegedly dating actress Lucy Hale, public speculation won't abate any time soon. Earlier this year Underwood toldPeople, "My virginity became my identity on the show." He added, "I don't want to be known as the virgin for the rest of my life. There is so much more to me. And I let my story be controlled for too long. Now, I'm all about taking ownership."
Specifically, in his book he recounts years of questioning his sexuality because he simply didn't experience the desire to have sex. Even as he entered professional football and said he felt "stuck in a hyper masculine culture," he says, "The struggle for me was like, 'How do I talk about this with anybody?' I didn't." He adds that his confusion was a product of various influences, "between my parents' divorce in college sort of messing me up, between being bullied in grade school and high school and literally Googling, 'Am I gay? Why don't I want to have sex?' and then internalizing it all and sort of moving forward with football–I think it's a mixture of all those," he said.
That struggle is all too common–at least for the 1% of the population who identify as asexual.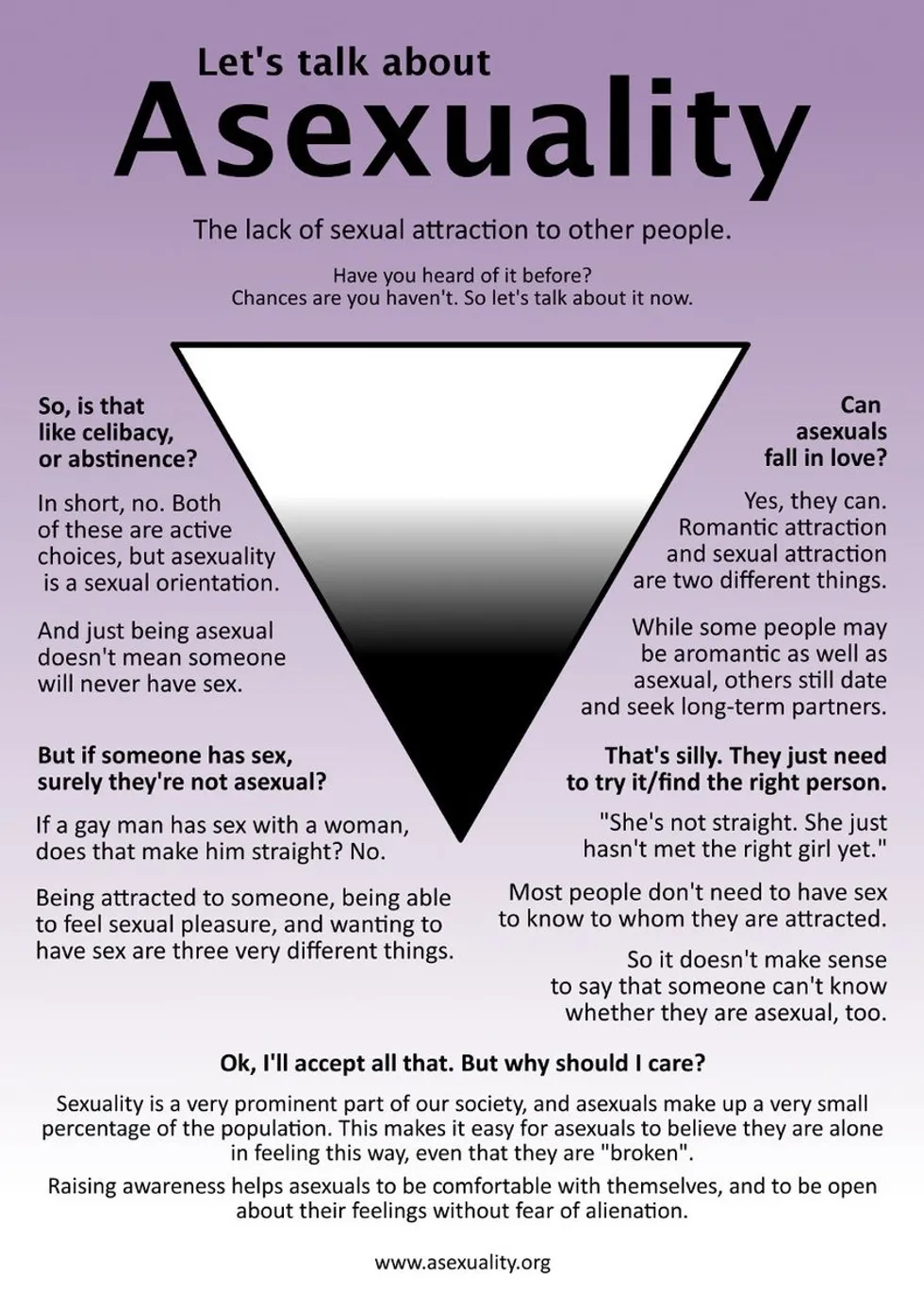 asexuality.org
Millions of people never experience sexual attraction. That doesn't mean they don't feel romantic attraction, date, marry, or even have sex (after all, a person's sexual behavior doesn't completely define sexual orientation; so asexual people can still have sex in the same way gay people aren't turned straight if they have heterosexual sex).

Is Colton Underwood asexual? That's no one's business but his own; but the fact that fan and media speculation have centered the entire (intrusive) conversation around the gay-straight binary is woefully blinded to the whole spectrum of sexual orientation–not to mention the fact that sexual attraction and romantic attraction are, in fact, separate things. Albeit, it's common to feel them simultaneously, but, just as commonly, people fall into lust rather than love, which is simply experiencing sexual attraction without romantic interest.
To be clear, a person can be asexual and still feel romantically attracted to someone. Alternatively, anyone of any orientation can lack the ability to feel romantic attraction, which just means they're aromantic–and no, being asexual doesn't automatically mean being aromantic, or vice versa. So, hypothetically, Underwood could very well be "very, very attracted to...women" and still be somewhere on the big, purple, white, and grey spectrum of asexuality.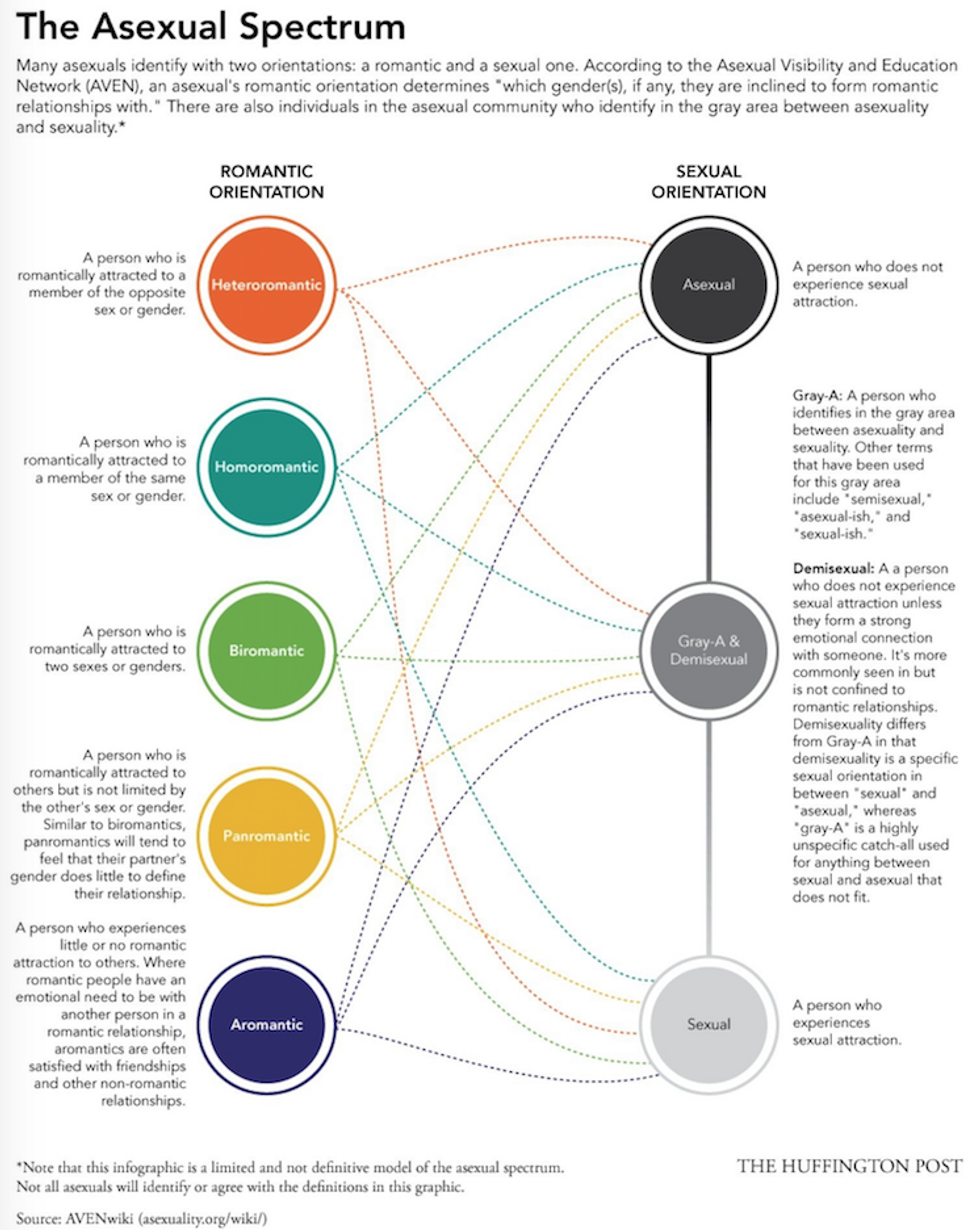 Underwood, for his part, understands why people want to put him in a box. Having grown up in a conservative, faith-based family, he says he's always "lived within boxes." On The Bachelor, he didn't try to disguise his lack of interest in sex by saying he was waiting for marriage due to his faith. Looking back on his struggles to understand his sexuality, he said, "There is no one thing that is on your road that changes your life. There is very rarely that one instinct, and that's the case with this virginity. It's not just one thing. I wish I could say it was all God, because I know that's what he wants for us, but it's not. That's not the case."

If asexuality were a more widely known, understood, and validated orientation, would people like Underwood have such a difficult time accepting their lack of interest in sex? The now-28-year-old says he even understands why people assumed he was gay: "People, sometimes when they don't understand, they have to get from Point A to Point B somehow, and that's a line that they draw. That's just what they do to make sense of things in their mind."
But if our culture's hetero-homo binary wasn't so rigid, so arbitrarily assumed to be the only two expressions of valid sexuality, then it wouldn't be so difficult to understand sexualities that happen to be unlike our own.
---

Want to READ MORE?