TV Reviews
The Bachelor's Colton Underwood's Virginity Is a (Bad) Joke
Even Judd Apatow was asked to get in on the joke — so what's the intrigue about a "virgin bachelor"?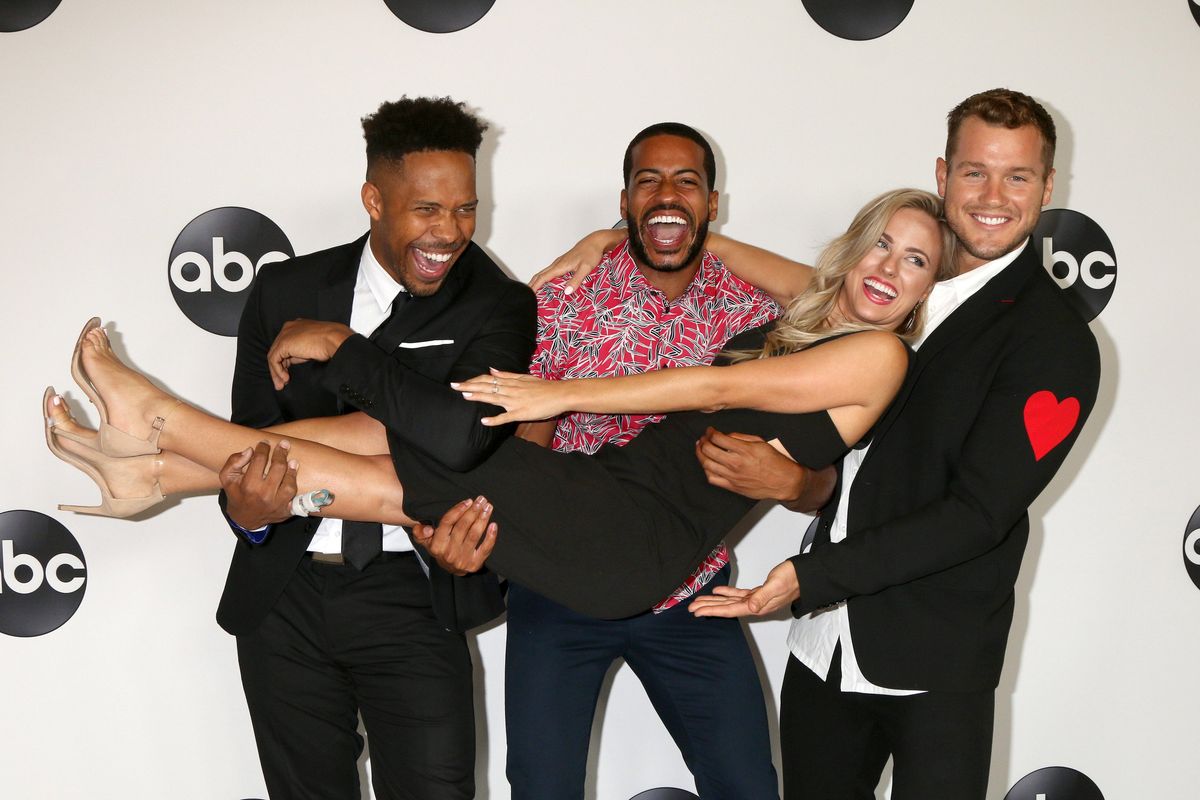 Photo by Kathy Hutchins (Shutterstock)
Colton Underwood, the star of this season's The Bachelor, has never once had sex.
---
Watching the trailer quickly gives away the fact that the show, in its 23rd season, is featuring its first-ever virgin lead, with the word "virgin" mentioned four times within the first 40 seconds. Is Underwood being marketed as "purity" propaganda? Not likely. As The Washington Post notes, "[T]his season will be more sex-obsessed than ever before," with the show only underlining the 26-year-old's virginity in order to build anticipation over him losing it.
The Bachelor Season 23 Previewyoutu.be
After the season premiered Monday night, viewers shared their bemused reactions to the hour-long barrage of virginity jokes that kicked off the episode's unnecessary three-hour length. The contestants' parade of cringe-worthy jokes include an uncreative card trick about a "V-card," a popped red balloon representing Underwood's "cherry," and poorly worded kickers like: "Did you know that dolphins are the only mammals other than humans who have sex for pleasure... other than Colton." Then there was the contestant in a head-to-toe sloth costume solely for the sake of the quip, "I heard you like to take things slowly."
Host Chris Harrison sat down with the former professional football player to address initial negative reactions to Underwood being named the Bachelor, with the hashtag #NotMyBachelor spreading on Twitter. Harrison asked, "How much of the negativity and the 'he's not ready' has to do with your virginity?" Colton responded, "That's sort of the stigma around being a virgin. Oh, he's not romantic. Oh, he's not going to be a good bachelor—" Harrison interjected, "He's not a man."
There have been nine contestants to appear in TheBachelor and its spinoffs who've said they were virgins, most of which were women, with season 17's Sean Lowe identifying as a celibate "born-again virgin." Underwood himself has appeared in previous seasons of The Bachelorette and Bachelor In Paradise, but taking up the mantle of the bachelor puts his virginity under a microscope for millions of viewers. He said that the decision was "the hardest thing I've ever had to do in my life."
So what's the intrigue about a virgin bachelor?
Some say the appeal is simple mockery. Sociologist Laura M. Carpenter told Vox, "If it [were] a woman, then historically it would be a tantalizing thing: 'Will I be her first?' And although there is kind of a countercultural narrative about male virgins in that way, there's also a stronger narrative that you see it in things like The 40-Year-Old Virgin: 'What's wrong with this dude for not having had sex?'"
Indeed, promo materials for this season went so far as to have Judd Apatow release the artwork used to promote 40-Year-Old Virgin so the show could riff on it by replacing Steve Carell's character with a picture of Underwood.
Despite what ABC executive Rob Mills toldVariety, the show has clearly been marketing Underwood's sexual history as if "virginity" is an identity. How far they push the blunt, unsophisticated narrative of "which beautiful contestant will Colton lose his virginity to?" will frankly depend on the ratings. Mills stated, "I think by a certain point, it's just going to get old. If we don't have other angles in — which is the girls and the relationships he's forming — then people are going to start checking out."

Esquire vouched for Carpenter's take on a man's virginity being stigmatized with an article condemning the double standard of a society that freely mocks men who abstain from sex, while doing the same to a woman would be considered crude. Justin Kirkland writes, "[I]n this weird franchise where virginal women are typically good and virginal men are a mystery, it makes you think that either there are some very tired women out there or, perhaps, we have a double standard on our hands."
To be clear, of course, Underwood is benefiting from the publicity and revived fame from appearing on three of the Bachelor franchise's reality shows. But the show's heavy-handed marketing of virginity banks on the belief that abstinence is a contradiction to an attractive and successful man's appeal. Underwood has also clarified that he's not making a religious stance with his celibacy, stating, "I'm not waiting for a ring, I'm not waiting for marriage. I'm waiting to be in love," he says. "I'm waiting for it to feel right to take our relationship to the next step."
Altogether, society's double standard when it comes to men's and women's virginity is actually the entire premise of Underwood's appeal. Carpenter surmises, "So they're sort of mocking him, because some people in the audience are going to see this as 'Oh, what an idiot for not being sexually active.' But then other people who would value that, think it's wonderful and special."
Of course, no one is counting the steaming hot tubs and crocodile tears of the Bachelor franchise as high art. But when scanning the reality show for representations of sexuality, double standards, and the interests of prime-time media, virginity is at best overblown as an exotic identity and at worst a lazy pejorative that demeans sexless lives as less than human.

POP⚡DUST | Read More...
Margot Robbie Signs On to Play Barbie in New Live Action Film
R. Kelly Threatens to Sue Lifetime in Response to "Sex Cult" Testimonies
Chance the Rapper Doubted R. Kelly's Accusers "Because They Were Black Women"