MUSIC
The Band's Namesake on New Projects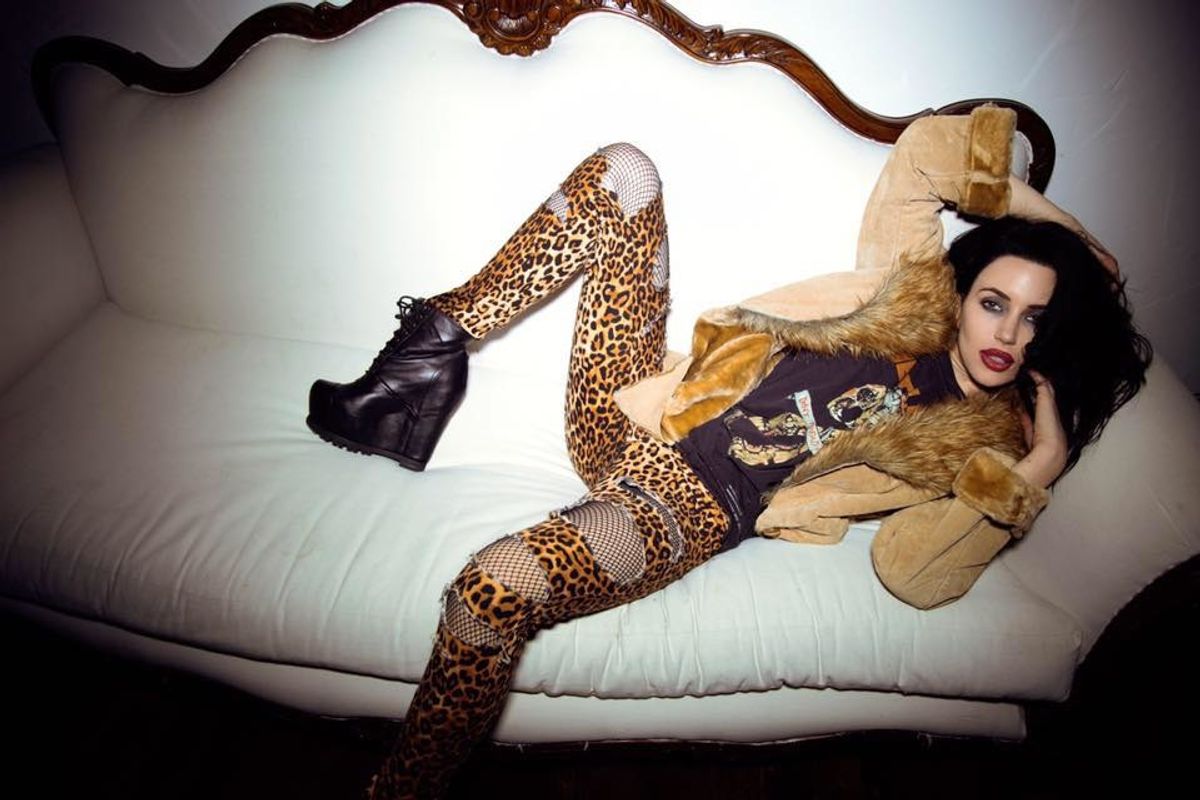 https://www.facebook.com
"I feel empowered now because I chose to surround myself with good people and develop my people-reading skills."
Women are killing it in the music industry, and song lovers couldn't be happier! In our column, #WomenCrushWednesday, each week, we'll feature an awesome lady whose tunes are blowing up our playlists and ask them about their musical journey.
This week, Dorothy Martin of the band Dorothy speaks with us about her alternative-rock band's whirlwind career thus far, which includes a super expansive tour (we've got all of the dates for you to check out). She also discusses the recent release of their second album, experiences as a female fronting an all-male band, and who has inspired her as an artist.
---
How did you become interested in music?
Ever since I was a little girl I loved to sing. I would do karaoke in my room, learning every song I could get my hands on and later on I picked up the guitar in my late teens.
What artists have inspired you in your writing and recording?

Creedence Clearwater Revival, Fleetwood Mac, Pink Floyd, Aerosmith, The Doors, The Rolling Stones, Janis Joplin, Mama Cass, Jefferson Airplane, and in the past Sabbath and blues classics.
You perform with a band. How did all of you begin making music together?
Our latest record ( 28 Days in the Valley) was produced by Linda Perry so she brought in some new players. We all became friends, except for Eliot Lorango, who was my original bass player. We go way back.
How do you feel as the female lead of an all-male backing band?

I don't even think of that to be honest. We are all equal and we all love music.
What's your experience been like as a woman in the music industry?
I'd be lying if I said I never had sketchy experiences and didn't get taken advantage of. These experiences made me wiser and more aware. I feel empowered now because I chose to surround myself with good people and develop my people-reading skills.
Your band recently released your sophomore album, 28 Days In The Valley. What was the writing and recording process for that like?

We got in a room and jammed, and we wrote at Linda's studio until we had about 16 songs. At least 10 of those told a story and sounded like they went together. Her studio has good energy. It's full of vintage gear and iconic rock and roll photographs.
I read that this album for inspired by events in your personal life. What was it like working with writing about this material?
It was cathartic and healing.
Have you got any favorite tracks off the record or has it changed for you in the short time it's been released?

I love the songs "Mountain" and "On My Knees."
What's coming up next for you?

We will be playing ARROYO SECO, LOLLAPALOOZA, SUMMERFEST, VOODOO FEST, and a headlining leg of our own FREEDOM TOUR.
---
A full list of tour dates can be found below:
FREEDOM 2018 TOUR & FESTIVALS
June 24 – Arroyo Seco Weekend – Rose Bowl Park Area – Pasadena CA +
July 7 – Summerfest – Milwaukee WI +
July 12 – Fulton 55 – Fresno, CA
July 13 – The Glass House – Pomona, CA
July 14 – Beauty Bar – Las Vegas, NV
July 15 – The Crescent Ballroom – Phoenix, AZ
July 17 – Lowbrow Palace – El Paso, TX
July 19 – Yerberia Cultura – McAllen, TX
July 20 – House of Rock – Corpus Christi, TX
July 21 – Sam's Burger Joint – San Antonio, TX
July 23 – Outland Ballroom – Springfield, MO
July 24 – Cain's 2nd Stage – Tulsa, OK
July 25 – Sticky Fingerz – Little Rock, AR
July 27 – The Forge – Joliet, IL
July 28 – Route 20 – Racine, WI
July 31 – Green Bay Distillery – Green Bay, WI
Aug 1 – The Loft – Lansing, MI *
Aug 3 – Piere's Entertainment Center – Fort Wayne, IN
Aug 4 – Lollapalooza Official After Party w/ Greta Van Fleet – Chicago, IL
Aug 5 – Lollapalooza – Chicago IL +
Aug 8 – McGrath Amphitheatre w/ Joan Jett – Cedar Rapids, IA
Aug 9 – Stugis Motorcycle Festival – Sturgis, SD *
Aug 10 – Bourbon Theatre – Lincoln, NE *
Aug 14 – Sidetracks Music Hall – Huntsville, AL *
Aug 15 – The Stage on Bay – Savannah, GA *
Aug 17 – The Tarheel – Jacksonville, NC *
Aug 18 – The Windjammer – Isle of Palms, SC *
Aug 19 – Capone's – Johnson City, TN *
Aug 22 – Aggie Theatre – Fort Collins, CO *
Aug 24 – Knitting Factory Concert House – Spokane, WA *
Aug 25 – Knitting Factory Concert House – Boise, ID *
Aug 26 – Pain In The Grass – Seattle WA +
Oct 13 – Aftershock – Sacramento CA +
Oct 25 – Voodoo Festival – New Orleans, LA +
+ Festival Performance
* Newly added
GRETA VAN FLEET TOUR
Sept 7 – The Paramount Theatre – Seattle, WA
Sept 8 – The Paramount Theatre – Seattle, WA
Sept 11 – Shaw Conference Center – Edmonton, AB
Sept 12 – BMO Centre – Calgary, AB
Sept 14 – Arlene Schnitzer Concert Hall – Portland, OR
Sept 17 – Fox Theater – Oakland, CA
Sept 18 – City National Civic – San Jose, CA
Sept 19 – The Masonic – San Francisco, CA
Sept 23 – The Observatory North Park – San Diego, CA
Sept 25 – The Marquee – Tempe, AZ
Sept 26 – The Marquee – Tempe, AZ
Sept 28 – Union Event Center – Salt Lake City, UT
Sept 29 – The Fillmore – Denver, CO
Oct 1 – The Fillmore – Denver, CO
---
---
Rachel A.G. Gilman is a writer, a former radio producer, and probably the girl wearing the Kinks shirt. Visit her website for more.
Have a female or femme-identifying artist we should profile? Send a pitch email to Rachel
---
POP⚡DUST | Read More #WomanCrushWednesday...
#WomanCrushWednesday | The Beaches
#WomanCrushWednesday | Linda Bella