After an overly ambitious line-up, delayed ticket sales, and an overall lack of organization, Woodstock 50 finally caved under its own weight today, losing funding from the Dentsu Aegis Network.
"Despite our tremendous investment of time, effort and commitment, we don't believe the production of the festival can be executed as an event worthy of the Woodstock brand name," the company said in a statement. "As a result and after careful consideration, Dentsu Aegis Network's Amplifi Live, a partner of Woodstock 50, has decided to cancel the festival."
Arranged in honor of the iconic 1969 festival's 50th anniversary, the lineup was a music lover's wet dream, with headliners including Jay-Z, Robert Plant, John Mayer, Halsey, Miley Cyrus, Imagine Dragons, The Killers, Santana, and David Crosby. "As difficult as it is, we believe this is the most prudent decision for all parties involved," the statement read. The news comes after repeated delays in the festival's ticket sales launch, which sparked rumors of cancellation earlier this month. The festival's founder, Michael Lang, originally dismissed the rumors. "Woodstock is a phenomenon that for fifty years has drawn attention to its principles," he had said in a letter to Billboard.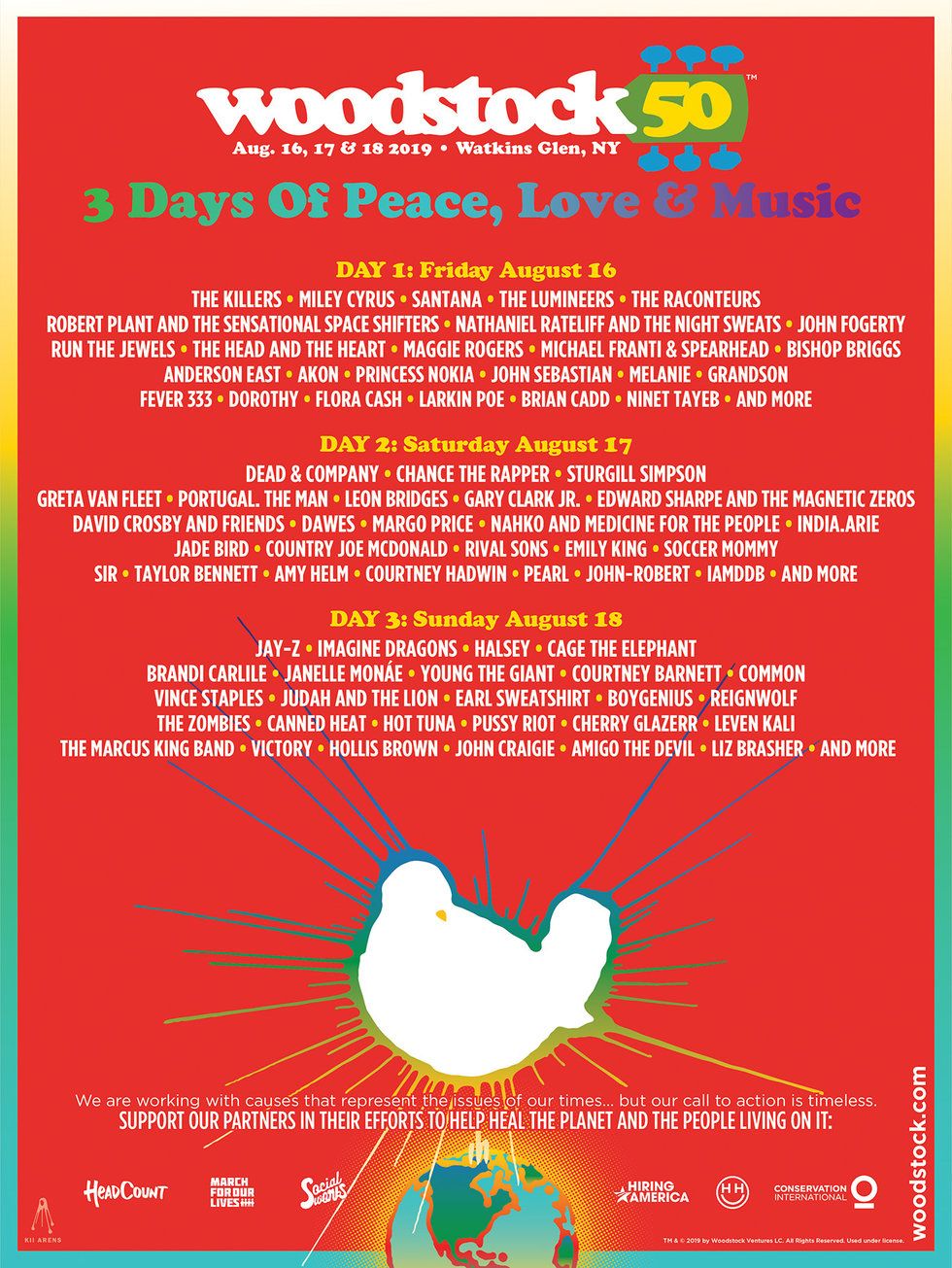 Woodstock 50 LineupWoodstock
While many are definitely bummed that the weekend turned out to be too good to be true, we have to remember that the "principles" of the original Woodstock were all but absent from the anniversary festival's conception. What transpired in the Catskills in 1969 was a disgusting, underfunded mess, and it would have been shut down if it had taken place in 2019. Labeled as a "free festival" and remembered as a pinnacle of the 70's hippie movement, the three days of "peace, love, and music" were three days full of insane debt, food shortages, and some intense medical tragedies. Costing around $3.1 million to put on (equivalent to $15 million today), the event only took home about $1.8 million from the festival weekend and ultimately took over a decade to turn a profit (the family of founder John P. Rogers agreed to cover the cost of the festival as long as they were eventually reimbursed). Nothing about the weekend was meant to be free, and the only reason it seemed that way was that thousands of people vandalized and destroyed the barriers keeping the festival separate from the rest of the world.

From then on, the festival descended into chaos. There was only one toilet for every 833 people, and each one we overflowing, causing puddles of raw sewage to form and soak the BARE FEET of festival-goers. Let's also remember it rained the entire time, causing dense mud to form around the BARE FEET of festival-goers. In fact, so many people were barefoot that the festival saw 938-foot lacerations, 135-foot punctures, and 346 other miscellaneous foot injuries.
Additionally, the number of involuntary drug overdoses were astronomical and forced medical staff to set up separate "Trip Tents" in order to treat people experiencing drug-induced freakouts. According to the Journal of Emergency Medical Services, there were around "25 freak-outs" every hour, and since psychedelic trips last a while, each tent filled up to capacity very quickly. And let's not forget about 17-year-old Raymond Mizak, who died in his sleeping bag when a tractor towing a water tank rolled over him. According to a 1995 article from the Times Herald-Record, the driver couldn't see Mizak sleeping, since he was covered "in a pile of soaked garbage and sleeping bags."
Now, take into account three-day long traffic jams, a massive shortage of food. and the chaos that unfolded during Woodstock '99, and it's hard to maintain that the recent cancellation of Woodstock 50 was really such a lost opportunity. Again, "We don't believe the production of the festival can be executed as an event worthy of the Woodstock Brand name," Dentsu Aegis Network said. Considering the brand has come to represent violence and squalor, maybe that's for the best.
---
Mackenzie Cummings-Grady is a creative writer who resides in the Brooklyn area. Mackenzie's work has previously appeared in The Boston Globe, Billboard, and Metropolis Magazine. Follow him on Twitter @mjcummingsgrady.
---
Afrojack on the Key to Longevity and His New Single "Sober"
Alesso on His New Song "REMEDY" and Why He's Not Slowing Down