Film News
Aparicio, an aspiring teacher nominated for an Oscar for her starring role in Roma, may have found her largest classroom yet.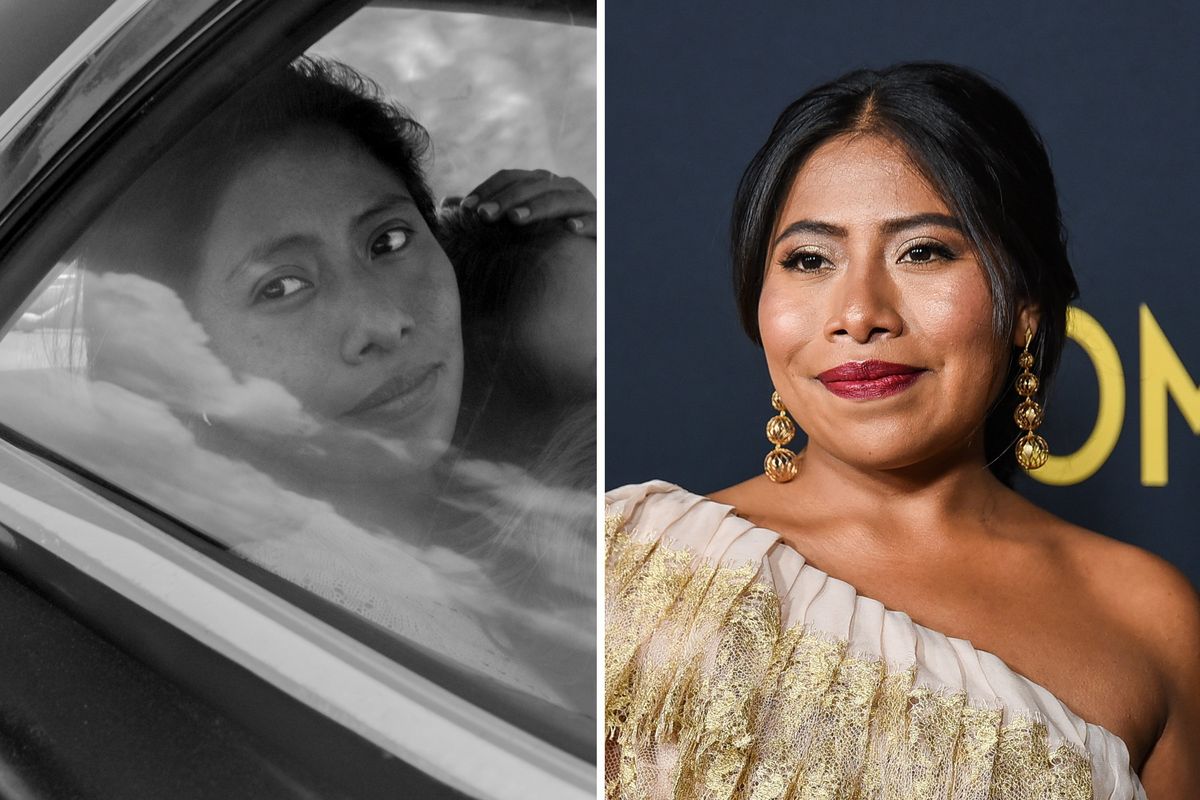 Yalitza Aparicio didn't mean for any of this to happen.
When she auditioned for Alfonso Cuarón's Roma on a whim—mostly to appease her pregnant sister, who insisted she go to the open casting call in her place—she never imagined it would launch her into the jet-setting life of a social media star, a press junket darling, and an Oscar nominee.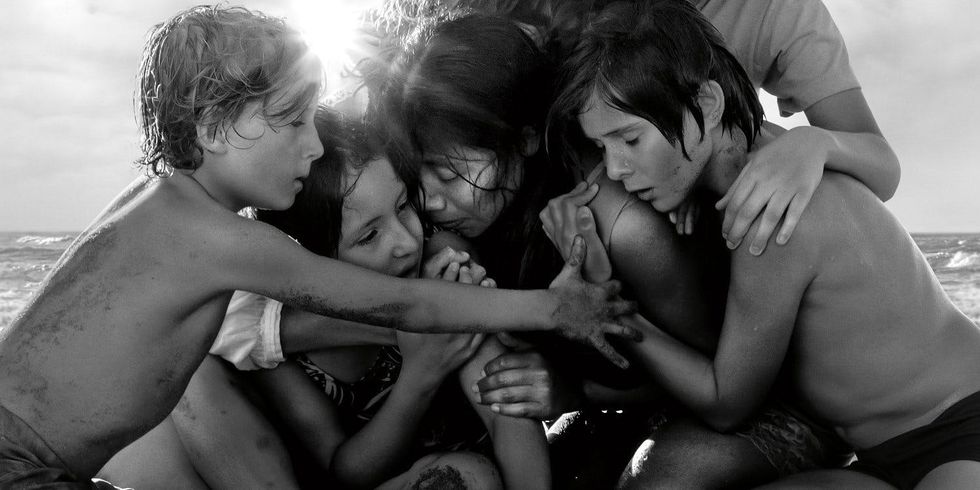 The cast of Roma embraces at the end of the film.Photo via screenrant.com
"There has never been a casting before in our hometown," Aparicio told Deadline in December. "I thought that it could be related to human trafficking, because they never do castings in Oaxaca." But she went anyway, and the rest is history.
When he first saw Aparicio, Cuarón knew instantly that she was his star. Things were less clear to her, an aspiring school teacher with no acting experience; she told the Times that she originally turned Cuarón's offer down, wanting to focus on teaching. But she had some time before application season, and after consulting with her family, she told Cuaron, "Well, I think I can do it. I have nothing better to do."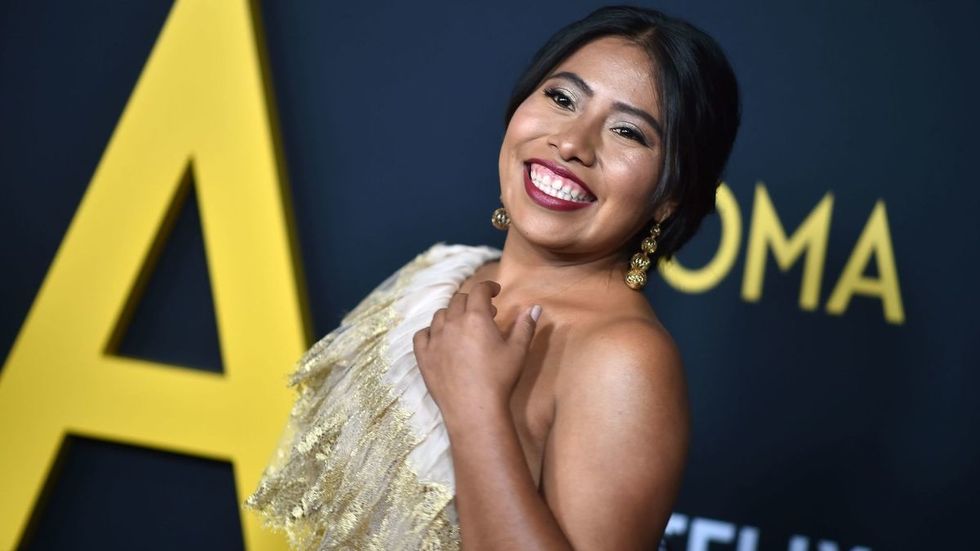 Aparicio proves herself a red carpet natural.Image via the Los Angeles Times
Flash forward to today, and now she is the first indigenous woman to ever garner an Oscar nomination. Before the nomination was announced, the New York Times asked Aparicio what an Oscar might mean to her. "I'd be breaking the stereotype that because we're Indigenous we can't do certain things because of our skin color," she said. "Receiving that nomination would be a break from so many ideas. It would open doors to other people—to everyone—and deepen our conviction that we can do these things now."

Certainly the Oscar nod, coupled with Aparicio's presence on the cover of Vogue and on the red carpet, will light the way for new faces who might not otherwise be able to entertain Hollywood dreams. Of course, indoctrination into Hollywood may not be the key to healing the disadvantages that violent colonization has always caused Indigenous peoples—changes to the structural forces that keep Indigenous people in poverty could do the trick—but Aparicio's emergence as a voice for her culture is at the very least a move towards counteracting traditional, constrictive beauty standards.
Roma, on the whole, operates in a tenuous duality; it is an indictment of stereotypes about indigenous people, but it also remains true to them. Aparicio's character spends the majority of her time picking up after the Spanish-speaking family whom she works for; her role is less of a tale of female empowerment than a document of the real. Her ascension to the limelight belies a similar underlying complexity, as her elevation to press and Instagram darling could be read as both a triumph of diversity in media and a tokenization of the Indigenous identity.
The film addresses the complexities of this issue by both addressing and not addressing it, portraying Aparicio's character Cleo as a three-dimensional but reserved and withdrawn character. It treats politics this way, too. Roma takes place against a backdrop of violence in the 1970s, which it shows only in short glimpses, mostly focusing instead on the minutiae of its characters' domestic lives.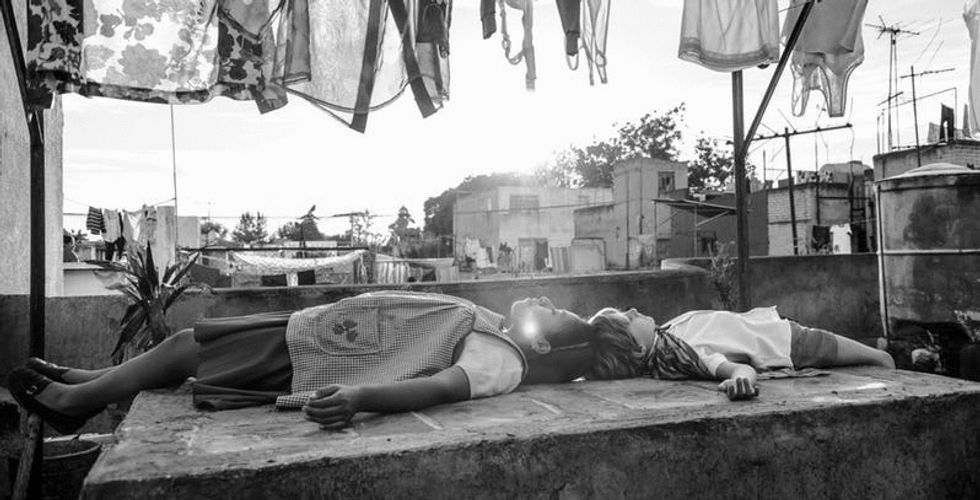 Aparicio and Pepe share an introspective moment.Image via screenrant.com
But violence was very much present in Mexico of the 1970s—a fact that remains true of much of Mexico today. Aparicio is acutely aware of the tensions currently overwhelming much of her country. "Think about just the disappearance of students in Ayotzinapa [in 2014]—it's very recent," she told Vox of one of the recent acts of violence that has plagued Mexico, forcing many to flee to the U.S.'s borders in search of asylum. Ironically, one of Roma's stars, Jorge Antonio Guerro, has been denied a visa to the U.S. despite submitting letters of proofs to immigration services three separate times, according to Newsweek. He still hopes to be able to enter in time for the Oscars, as Roma itself took 10 nominations overall.
As for Aparicio, she still harbors dreams of being a schoolteacher. But she does see a correlation between teaching and acting, telling Deadline that "as a teacher, you educate. And films educate too, but they do it in a massive way."
Her performance in Roma is a master class of its own. She works the camera with such a natural elegance that it's easy to forget the learning curve she was up against. Not only has she never been on film before; she also had to master Mixtec, one of the Indigenous languages of the Oaxaca region that her character speaks on and off, and she had to learn to swim for the film's final beach scene.
In a way, with Roma she's just stepped into a much larger classroom, and she has plenty of words of wisdom and hope to share with the world. "I'm not the face of Mexico," Aparicio told The Times. "It shouldn't matter what you're into, how you look—you can achieve whatever you aspire to."
---
Eden Arielle Gordon is a writer and musician from New York City. She loves coffee, electric guitars, and subway rides to Coney Island.

---
POP⚡DUST | Read More...
The Strange Ballad of John McAfee
RELEASE RADAR | Backstreet's Back after Six Years