TV Features
Even to this day, "Dark Tournament" remains the defining shonen "Tournament Arc."
Shueisha
Oftentimes, it's impossible to separate the quality of the anime we grew up watching from the sense of nostalgia those series evoke.
Case in point: Dragon Ball Z. Historically, DBZ is likely the most influential anime series of all time, both redefining the shonen genre for every series that came after it and introducing an entire generation of Western kids to Japanese animation through the legendary Funimation dub on Cartoon Network's Toonami block. Chances are high that if you meet someone who loves anime and grew up in the late '90s or early 2000s, they'll have a deeply personal bond with DBZ.
At the same time, it's hard to argue that DBZ holds up in the modern day, especially for new viewers coming in with fresh eyes. The pacing of the original series is super slow, the fights drag out forever, and while DBZ created so many of shonen's most prevalent tropes ("This isn't even my final form!"), almost everything DBZ ever did has since been done better by other series.
---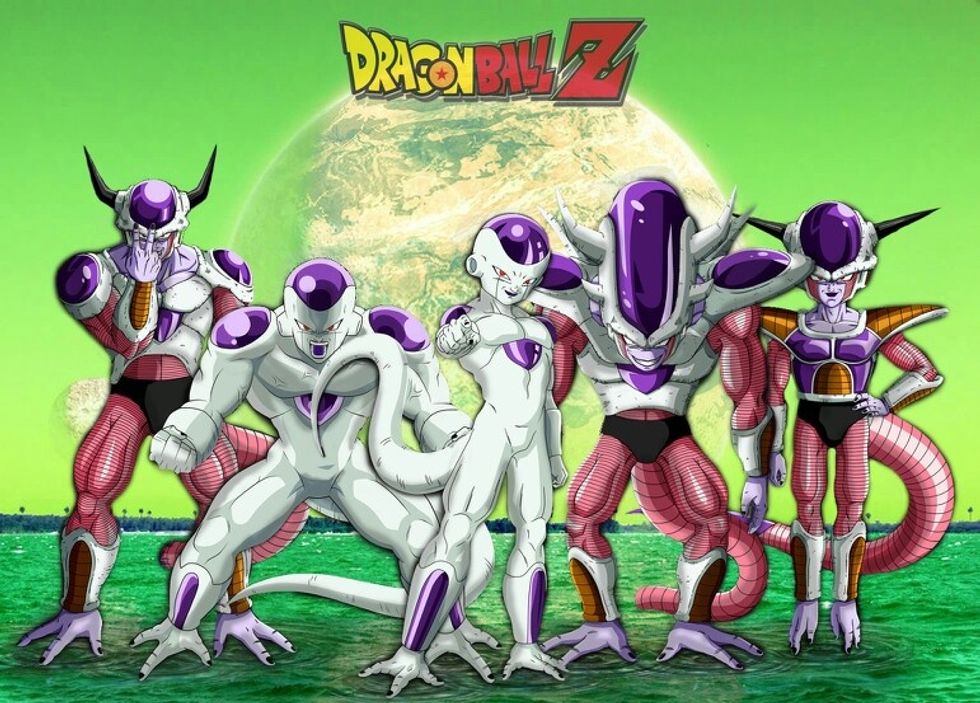 Shueisha
The same can be said for many older anime series, which makes recommending pre-2000s anime to newer anime fans an incredibly difficult task. But there are an exceptional few series that truly have stood test of time—series that, even with a knowledge of everything that came after, make you think, "Wow, they really might never top this." Yu Yu Hakusho is one of those rare series.

Created largely in response to the massive success of Dragon Ball Z, Yu Yu Hakusho was intended to be a heartfelt story that evolved into a battle manga. The result was a series with strongly defined characters who, when they eventually entered the larger-than-life battles typical of the shonen genre, did so with deeply personal, grounded, relatable stakes.
The series follows the adventures of Yusuke Urameshi, a high school punk who unexpectedly dies while trying to save a child from a speeding car. Due to Yusuke's unexpected act of heroism, there's no reserved space for him in the afterlife. The resulting limbo leads to his appointment as a "Spirit World Detective"—a human capable of liaising between the human world and the Spirt World.
The Yu Yu Hakusho anime aired from 1992 to 1994, but even to this day, its second major arc remains the defining shonen "Tournament Arc."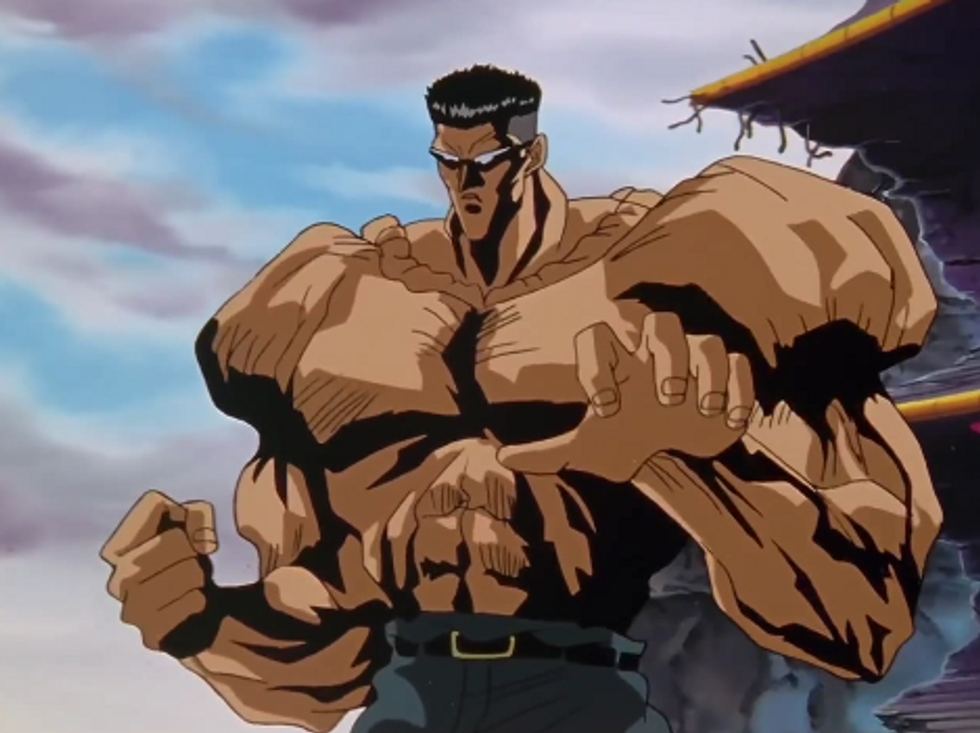 Shueisha
The "Tournament Arc" trope—literally, a story arc that revolves around a tournament of some sort—has been repeated in almost every major shonen series since, but it's never quite matched the greatness of Yu Yu Hakusho's "Dark Tournament."

Typically, tournament arcs are a fun excuse to jam-pack a show with as many fights as it possibly can in quick succession. "Dark Tournament" is no exception, but Yu Yu Hakusho series creator, Yoshihiro Togashi, did an exceptional job imbuing the saga with heavy emotional stakes.
In almost every other anime with a tournament arc, the characters are participating of their own volition in order to achieve some sort of goal—winning and being the strongest in DBZ, progressing to the next Ninja Rank in Naruto, showing off their powers to Pro Heroes in My Hero Academia.
But in Yu Yu Hakusho, Yusuke enters the tournament against his will, threatened by the arc's main antagonist—an insanely powerful demon named Toguro—with the brutal murder of all his friends and family should he refuse. The tournament itself is a battle amongst demons, and Yusuke and his team enter as the lone human contestants, earning them the vicious hatred of the bloodthirsty demon spectators.
Whereas earlier tournament arcs, namely those in DBZ and Saint Seiya, revolved around martial arts and occasional energy blasts or special attacks, Yu Yu Hakusho upped the ante. Its demon contestants utilized absurd powers and weaponry, ranging from yo-yos to mystical gas that reverses one's age. Moreover, considering the fact that many of the contestants were demons, cheating and unfairness abounded. Every single battle placed Yusuke and his team in a life-or-death underdog situation, making for one of the most consistently high-tension seasons in anime.

The animation is top-notch, too, full of strange color palettes and warped perspectives, giving specific scenes and attacks an incredibly unique flavor that still stand out amongst a sea of battle shonen (Hiei's Dragon of the Darkness Flame comes to mind).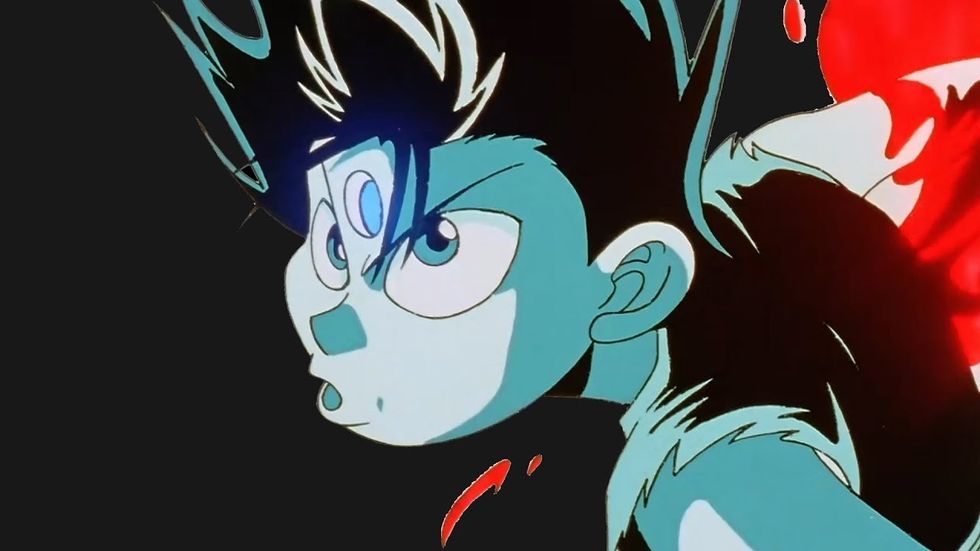 Shueisha
On top of incredibly inventive fights and captivatingly high stakes, Toguro ended up being much more than a one-note villain. Throughout the Dark Tournament, his motivations are fleshed out in a way that make him both tragic and understandable, ultimately putting his obsessive interest in Yusuke into full perspective.

As a whole, the Dark Tournament feels like much more than the sum of its parts.
The following two arcs in Yu Yu Hakusho continued the series' creative streak with bizarre powers and distinct art direction, along with its willingness to flesh out villains in interesting ways. Still, the Dark Tournament stands out in its ability to execute such a common trope in such a memorable fashion, unmatched even over 25 years later.
So for anyone who likes shonen anime, be it old classics like DBZ or new hits like Demon Slayer, do yourself a favor and check out Yu Yu Hakusho.