MUSIC
'Testing' is Eager to Find a New Sound in Hip-Hop, but Not New Ideas.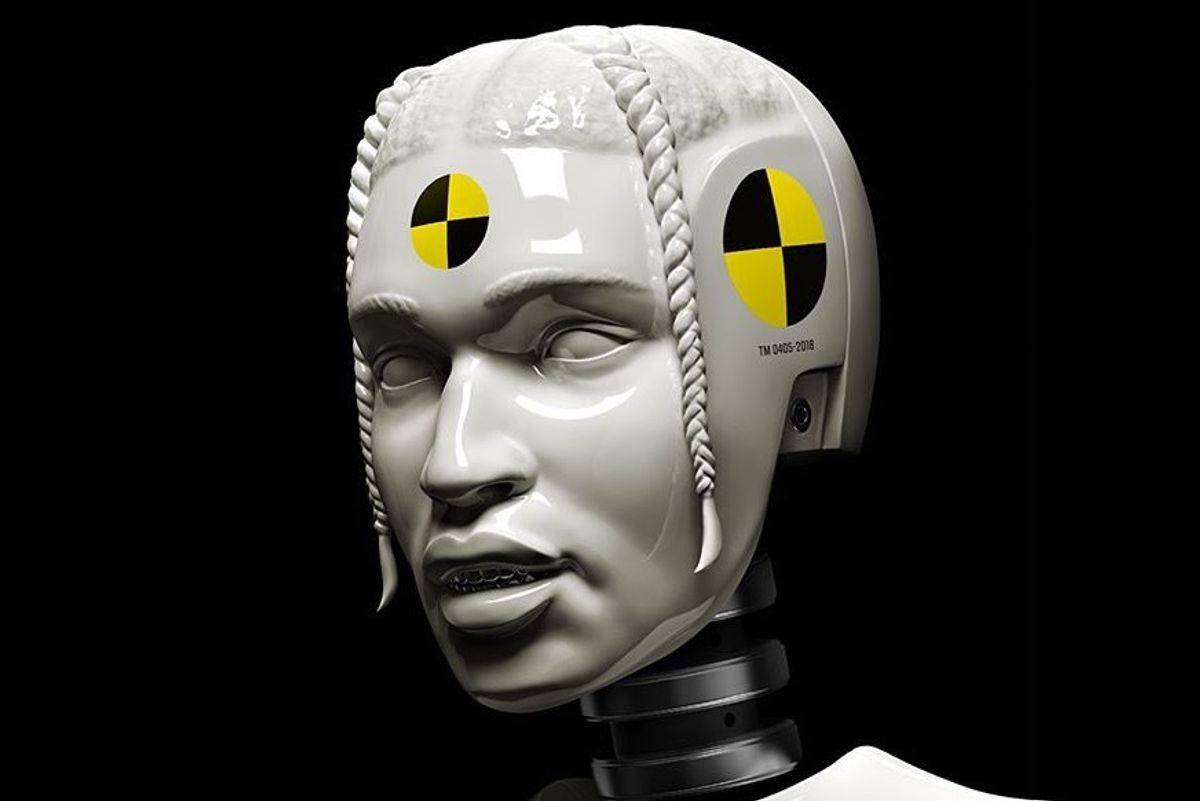 A$AP Rocky 'Testing'
The Skepta-assisted "Praise the Lord" is pure hip-hop gold, an eargasm that embodies what Rocky does best: boast about himself.

Like Kanye West, A$AP Rocky is another narcissist, but a pretty one. And he's jiggy—don't forget. Testing is Rocky's I'm-a-90's-boy-with-Harlem-swag-and-model-exes psych-rap album that infuses the same sticky, distorted, feverish psychedelia he explored on At.Long.Last.A$AP.
On Testing, the title confirms the same static friction bellowing under the surface of nearly every song, with Rocky mumbling his most emotional and honest bars; meaning Rocky talks about how hot he is and the occasional adversity he faced on his way to the top, or as he proclaims, "I put New York on the map." Before who specifically, Rocky? His bravado is commendable since no other rapper sounds like him—that much can be said.
But his range is starting to show. Rocky can talk about two things well: his model girlfriends and his clothes. He's not an intellectual; his music isn't the type to win a Pulitzer Prize, though it's emblematic of his style and charisma as a young MC. What he lacks in substance, he makes up for in pure swag. He has the voice of a rapper, a cool and collected braggadocio that excuses moments where he seems incapable of going deeper. He remains on the surface, quite literally summarizing his childhood and rise to fame. The connective tissue between Rocky as a young drug dealer to a Dior-wearing fashion icon is disconnected, leaving the limbs of the album frail and malnourished. The look is there. The vibe is there. Now think of a Rocky who actually tells a story, says something more profound than what hair color and sexual orientation he prefers his ever-growing collection of women.
The Skepta-assisted "Praise the Lord" is pure hip-hop gold, an eargasm that embodies what Rocky does best: boast about himself. The production is clean, sexy, jiggy, and sounds like a 90's banger—everything you'd want in a rap song. Skepta's voice is a delight, his accent adding a rush of energy to the chorus. Rocky samples Moby, an unlikely choice for a Harlem rapper, but it speaks to his eclectic tastes; his vision—he's shown in everything from his music, fashion, and acting—isn't black or white.

"Hun43rd" is a dizzying kaleidoscopic vision of what rap could become if artists were willing to deviate from sounds traditionally heard in mainstream music. It's oddly beautiful as a composition: It grates at the ear, right before it drops into a woozy, luminous bubble where Rocky details the rhythm and spirit of his Harlem neighborhood. Those moments feel and sound so good, you forgive Rocky for his botched attempts at enlightened political discourse ("My newest President a asshole / I guess that's why I'm leaving turd stains.") Our political climate is certainly disappointing, but it shouldn't cause incontinence. Go see someone for that, Rocky.
The feature roster on this project is impressive: Frank Ocean, T.I., Diddy, Tyler the Creator, Kid Cudi, FKA Twigs, and several others lend their voices, creating a performative fabric around the album, a weird collaborative project that lacks heart in the songs that need it most. "Purity," is a strong close and maybe a look into a new Pretty Boy Flacko, one who has something more to say.
---
Shaun Harrisis a poet, freelance writer, and editor published in avant-garde, feminist journals. Lover of warm-toned makeup palettes, psych-rock, and Hilton Als. Her work has allowed her to copyedit and curate content for various poetry organizations in the NYC area.
---
POP⚡ DUST | Read More…